If you're looking for more video we have full length versions on our Everest Base Camp Trek Difficulty post and for Bhaktapur and Kathmandu. Expect more soon!
What Food Can You Expect in Nepal and On The Treks?
The food in Nepal is typically cheap, tasty and vegetarian friendly. Here's a guide to Nepal's favourite dishes, but common meals include Nepalese dumplings called momos and dal bhat, a lentil soup with rice and vegetables. You'll also find noodle soup and fried rice, omelettes and porridge on trekking routes, as well as more expensive western staples in touristy areas.
What's The Trekking Accommodation Like in Nepal?
While some wilder treks in Nepal, such as the Upper Dolpo, require tents and camping gear, you'll mostly be staying in basic tea houses. These feature private rooms with two or more beds, communal sinks and toilets and a central dining room where you can relax and eat. Rooms usually cost between $1 and $5 but you're expected to buy your main meals in the tea house. Some don't have showers, often the shower will be in a hut, outside and you'll pay for hot water. You'll also probably have to pay to charge your electrical devices. As you trek into more isolated areas, you'll find that standards are less western and you may encounter squat, outdoor toilets and scarce electricity.
Kathmandu – Where You'll Start
Nepal's capital, Kathmandu, is the start and end point for most hiking adventures in the country. It's the perfect place to spend some time acclimatising to the altitude, grab gear for your trek, organise onward travel and see the sights. Check out these fascinating places to visit in Kathmandu, from Durbar Square to Freak Street. Want to explore more of Nepal before or after your trek? Here are some of the country's top destinations:
Top Routes for Trekking in Nepal
There's something for every trekker in Nepal, from day hikes to multi-day adventures through lush forests to moon-like landscapes surrounded by Himalayan peaks. Here are some of the top treks in Nepal.
Everest Base Camp (EBC)
Length: 12-16 days is usually quoted, we took 3 weeks and added trekking up from Phaplu.
Maximum elevation: 5,365m
Permits required: TIMS and Sagarmatha National Park permit
This iconic trek winds through mountain villages, pine forests and across suspension bridges. For most trekkers, the journey begins and ends with a hair-raising flight from Kathmandu to Lukla, dubbed the most dangerous airport in the world for its short landing strip nestled between peaks. Highlights include hillside monasteries, the Khumbu icefall and Base Camp tents, hiking to Kala Patthar's 5,600m summit and of course, coming face-to-face with the world's tallest mountain: Everest (known as Sagarmatha to the Nepalese).
You can extend your Everest Base Camp trek with various add ons including Gokyo Lakes and the trek up to Lukla from Phaplu
Gokyo Lakes Trek
Length: 10-12 days
Maximum elevation: 5,360m
Permits required: TIMS and Sagarmatha National Park permit
An alternative or extension to the EBC trek, this route takes you to the village of Gokyo and the area's six emerald lakes. Branching off at Namche Bazaar, you'll encounter waterfalls, high-altitude wetlands and the longest glacier in the Himalayas, Ngozumpa. The trek also boasts views of some of the planet's highest mountains including Everest, Lhotse, Cho Oyu and Makalu. Ascend Gokyo Ri for some of the best panoramic views of the Himalayas.
Three Passes Trek
Length: 18-20 days
Maximum elevation: 5,545m
Permits required: TIMS and Sagarmatha National Park permit
This is a tougher alternative to the EBC and involves a similar route, crossing three passes that top 5,000m. The first is Kongma La at 5,545m, followed by Cho La at 5,420m and Renjo La, which reaches 5,345m and offers views of Lhotse, Everest and Makalu. You can incorporate stops at Everest Base Camp and the Gokyo Lakes into your itinerary for the ultimate Khumbu region trek.
Annapurna Circuit
Length: 12-18 days
Maximum elevation: 5,416m
Permits required: TIMS and Annapurna Conservation Area permit
This is one of Nepal's most popular treks, loved for its diverse landscapes. You'll pass through subtropical forests, pastures and barren plateaus surrounded by views of the Annapurna Range. Highlights of the circuit include ethnic villages, the world's widest pass Thorong La, its deepest gorge Kali Gandaki and beautiful Tilicho Lake. Note that road construction has compromised the unspoiled feel of the circuit in places.
Ghorepani Poon Hill Trek
Length: 4-7 days
Maximum elevation: 3,210m
Permits required: TIMS and Annapurna Conservation Area permit
The Poon Hill trek is a shorter, easier hike that follows an ancient Trans-Himalayan salt trade route. You'll still get spectacular views of the Annapurna and Dhaulagiri ranges and pass through Rhododendron forests and local Gurung and Magar villages. The trek starts just 45 minutes from Pokhara and you'll get great sunrise views of the Himalayas from Poon Hill.
Annapurna Sanctuary/Base Camp Trek
Length: 10-14 days
Maximum elevation: 4,130 metres
Permits required: TIMS and Annapurna Conservation Area permit
This is a more demanding take on the Annapurna range. The trail takes you through forests and villages to Annapurna Sanctuary, a glacial basin surrounded by 10 incredible peaks. Annapurna Base Camp lies half-way along the trek and is the gateway for hiking nearby peaks such as Singu Chuli at 6,501m. Highlights include Modi Khola Gorge, Poon Hill and Rhododendron forests.
Helambu Circuit
Length: 6-7 days
Maximum elevation: 3,640m
Permits: TIMS and Shivapuri National Park permit
Set near the Kathmandu Valley, the Helambu trek takes you through valleys, forests and peaceful Buddhist villages in the Himalayan foothills. The lower altitude means it's a more comfortable trek that starts just two hours from Kathmandu in Sundarijal. The hike involves plenty of bridge crossings, waterfalls and spring wild flowers.
Langtang Valley Trek
Length: 7-10 days
Maximum elevation: 4,984m
Permits: TIMS and Langtang National Park permit
It might lack the highest Himalayan peaks, but Langtang boasts pristine forests, meadows and streams. You'll also get to trek close to the Tibetan border and enjoy views of Mt. Langtang Ri, Langtang Himal and Tserko Ri. The lower altitude and shorter length make this a relatively comfortable trek which starts around eight hours from Kathmandu in Syabrubesi.
Manaslu Circuit Trek
Length: 14-18 days
Maximum elevation: 5,115m
Permits required: TIMS, Restricted Area Permit, Manaslu Conservation Area permit and Annapurna Conservation Area permit
Circle Mount Manaslu, Nepal's eighth-highest peak, on this testing trek. You'll traverse the border of Tibet and head into the Annapurna area on this rugged trail. The route only opened in the 1990s and passes through Tibetan-style villages with steep climbs, suspension bridges, monasteries and intricate carved stone tablets called Mani walls.
Makalu Base Camp
Length: 20-23 days
Maximum elevation: 5,250m
Permits required: TIMS, Restricted Area Permit and Makalu Barun National Park permit
Makalu is the world's fifth-highest mountain, which you'll see up close on this difficult trek. Set in the Everest region, you'll trek through the Makalu Barun National Park where the landscape varies from forests to meadows and glaciers. As Makalu lies just 14 miles east of Everest, you'll get to see some of Nepal's highest peaks along the way.
Kanchenjunga Circuit
Length: 18-20 days
Maximum elevation: 5,160m
Permits required: TIMS, Restricted Area Permit and Kanchenjunga Conservation Area permit
This extremely remote route runs along the border of Tibet in one of the least-populated regions of the country. Highlights include tropical lowlands, forests, the Yalung glacier and views of Makalu and Kanchenjunga, the world's third-highest peak at 8,586m. The demanding trek includes a day of crossing the Lapsang pass, which reaches 5,160m.
Upper Dolpo
Length: 21-25 days
Maximum elevation: 5,250m
Permits required: TIMS, Restricted Area Permit and Shey-Phoksundo National Park permit
Explore Tibetan Buddhist culture in western Nepal on the Upper Dolpo trek. It's challenging, as you'll spend multiple days above 4,000m and cross passes like Jeng La, which reaches 5,000m, but the pay-off is that you get to experience untarnished culture. Top sights include Shey Phoksundo Lake and Shey Gomba monasteries and the chance to glimpse wildlife such as snow leopards and blue sheep.
Upper Mustang
Length: 10-14 days
Maximum elevation: 3,810m
Permits required: TIMS, Restricted Area Permit and Annapurna Conservation Area Permit
This route only opened up in 1992 and passes through a politically-sensitive area close to Tibet. Navigate harsh landscapes in this former desert kingdom, with monasteries carved into cliff walls, deep ravines and snowy peaks. The Upper Mustang trail gives an insight into the trans-Himalayan region, offering views of Nilgiri, Annapurna and Dhaulagiri.
Still More Trekking Options in Nepal
Nagarkot day hikes
Mardi Himal
The Great Himalayan Trail
Kagmara La
Nar Phu Valley
Dhaulagiri Circuit
Rara Lake
Royal Trek
Bookmark to Pinterest!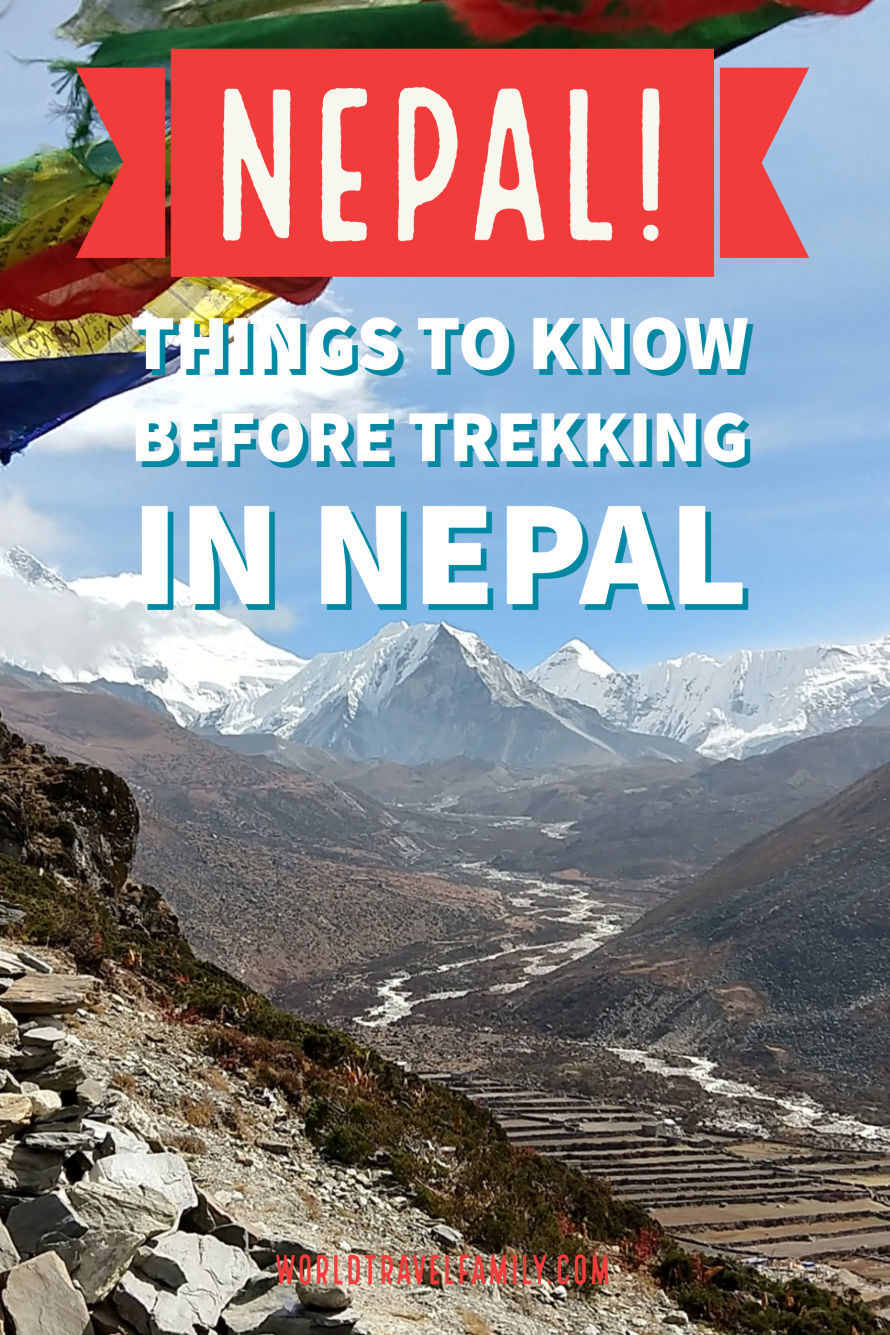 Your Pinterest image was taken by me on the Everest Base Camp trek, above Dingboche on the acclimatisation hike for that 2 night stop. Click the Pinterest button to save!
Conclusion
Trekking in Nepal has been one of the highlights of our entire lives, a bucket list item we ticked off and then kept revisiting. We have another Nepal hike in the planning stage for 2019, wait and see what that is! If you're unsure, I'd urge you to go. If, like me, you're terrified of heights, yes, that can be an issue. Is it safe ? Well, accidents do happen. But if a small part of you thirsts for the mountains and the people of the mountains, do it, don't live with regret. We've done it from 8 years old to 52 years old and I think I have a few treks left in me yet. I'd suggest you don't take very young kids, I wouldn't take mine for safety and health reasons, but keep going until you can't walk any more.