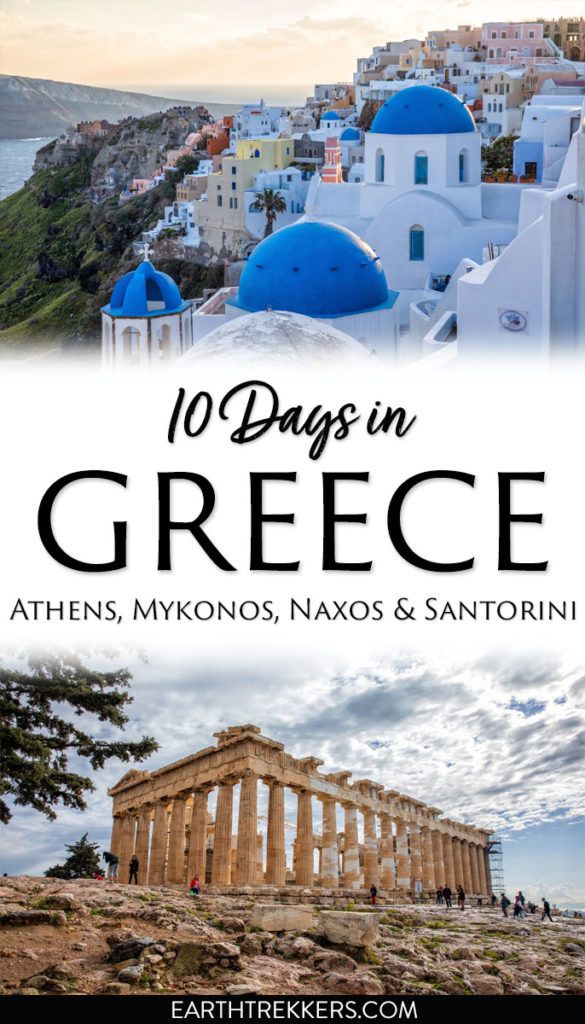 On this 10-day Greece itinerary, visit three beautiful Greek islands and the city of Athens. Start in Santorini, a volcanic island that is dotted with picture-perfect villages and is famous for its legendary sunsets. Next, travel to Naxos, a quieter, greener island that is easier on the wallet and an unexpected surprise for many travelers. Spend a day in Mykonos, exploring wonderful little Mykonos town and relaxing on the beach. Finally, tour the city of Athens and get one of the best history lessons in Europe.
About this Greece Itinerary
On this itinerary, you will be using quite the array of transportation: planes, ferries, automobiles, the metro, and maybe even taxis and buses. Logistically, it may seem like a lot to figure out. To help you take the headache out of planning this trip, we have lots of tips about how to get around and make your reservations.
You will start in Santorini and work your way back towards Athens, hopping from island to island by ferry. Ferry and flight cancellations can and do happen. If you end your trip in Athens, you do not have to worry about flight or ferry cancellations to cause you to miss your departing flight home. So, if a ferry get cancelled, you might end up spending an extra day in Mykonos (rather than missing a flight home) and this is not such a bad problem to have.
You can do this itinerary in the opposite direction: Athens to Mykonos to Naxos to Santorini. Then, take a flight back to the Athens airport and fly home from here. This is what we did and it worked out fine, but we got lucky. It was very windy on our day of departure and flights out of Santorini were delayed, but not enough to cause us to miss our international flight home. I have heard many other stories of people who were not so lucky and that's why I recommend you make Athens your final stop.
Day 1
Arrive in Santorini
Your tour of Greece starts in Santorini. You may be able to book a flight directly into Santorini, depending on your country of origin. If not, fly to Athens International Airport and take a connecting flight to Santorini. There are also numerous cities in Europe that offer direct flights into Santorini.
From the Santorini airport, you can take a taxi to your hotel or you can arrange a transfer to your hotel. Some hotels will do this for free and others will charge a fee. If you have plans to rent a car, you can do so at the airport.
Should You Rent a Car in Santorini? Driving gives you the freedom to visit everything on the island at your own pace. However, driving the narrow, twisting, busy roads can be a headache and finding a parking space can sometimes be a nightmare.
For this itinerary, renting a car is not necessary, at least not in Santorini. We found that driving was such a hassle that taking tours can be a more pleasant experience than self-driving on Santorini. Of course, you can still do this same itinerary with a rental car if you prefer to travel independently.
From our experience, this is one of the rare times that we actually recommend tours over renting a car.
Get settled into your hotel, have dinner, and enjoy your first sunset in Santorini.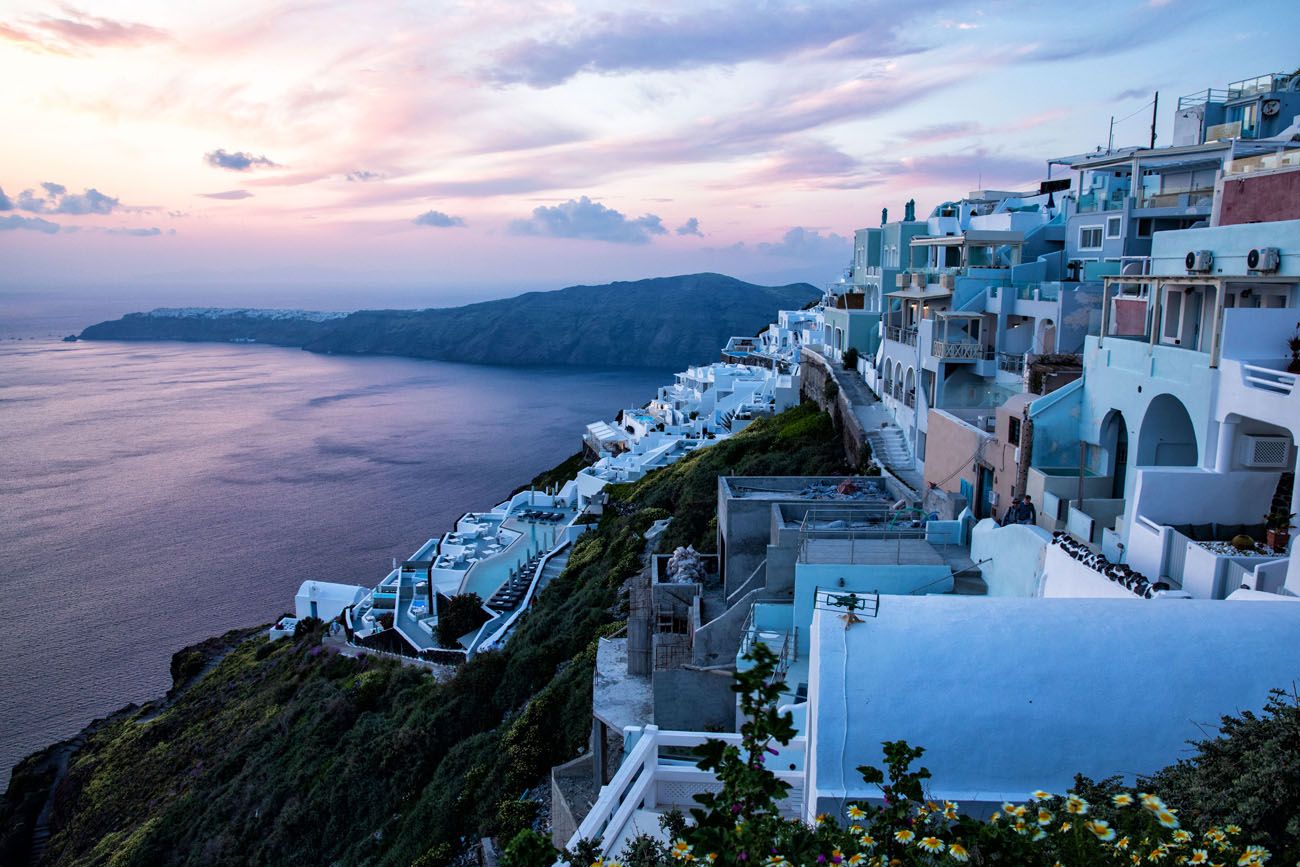 Sunset in Imerovigli
Where We Stayed
We stayed at Absolute Bliss in Imerovigli. This was a big splurge for us, but if we were ever going to pay for a hot tub with a view, Santorini would be the place to do it. We had a wonderful experience at this hotel. It's quiet, it's private, the views are amazing, and the service is 5-star.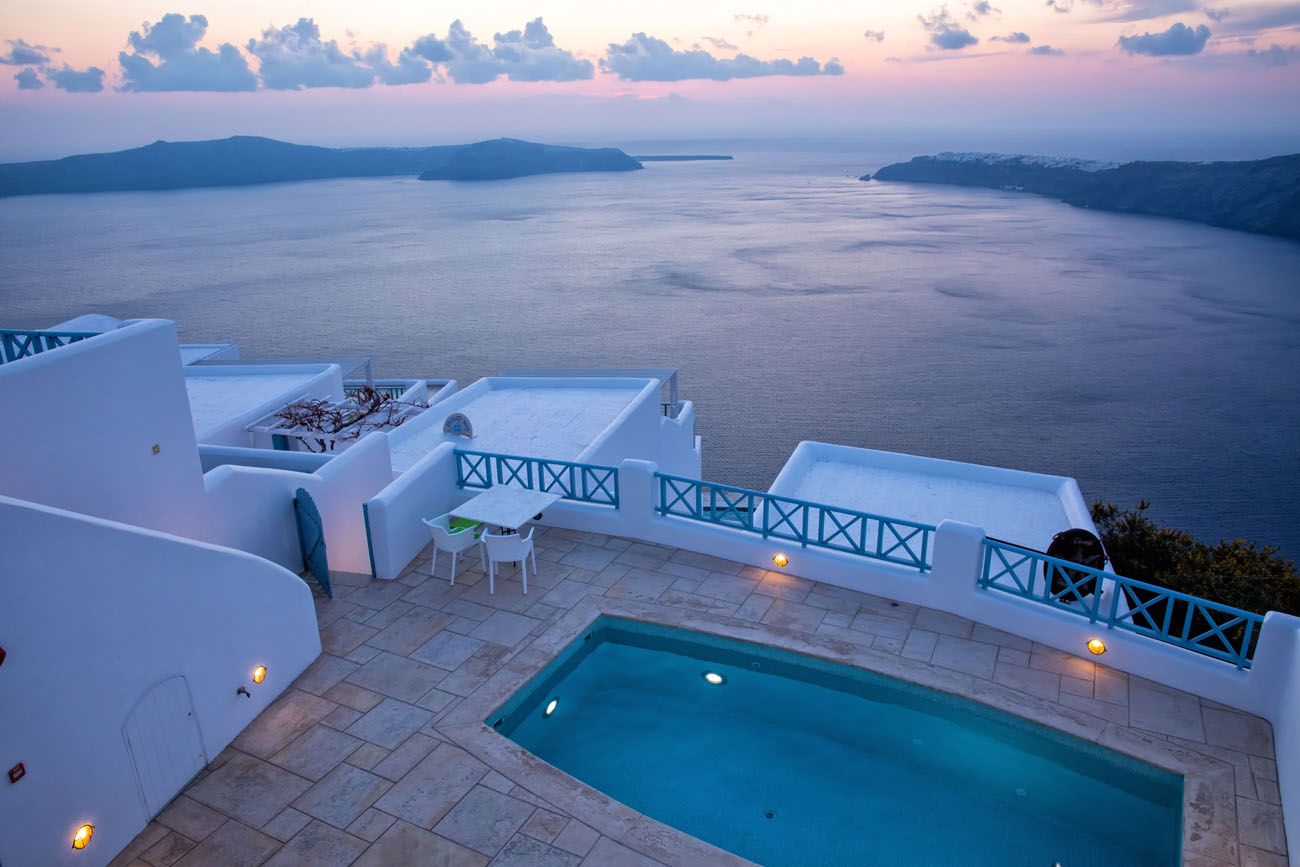 Day 2
Santorini
Take a tour of top sights in Santorini. Visit the black sand beaches at Kamari or Perissa and see the unique Red Beach. Drive to the top of Profitis Ilias, the highest point on the island. Visit the ancient ruins at Akrotiri (similar to Pompeii in Italy) or Ancient Thira. Tour a winery, visit the small villages, and have lunch in Metaxi Mas, one of the best restaurants on the island.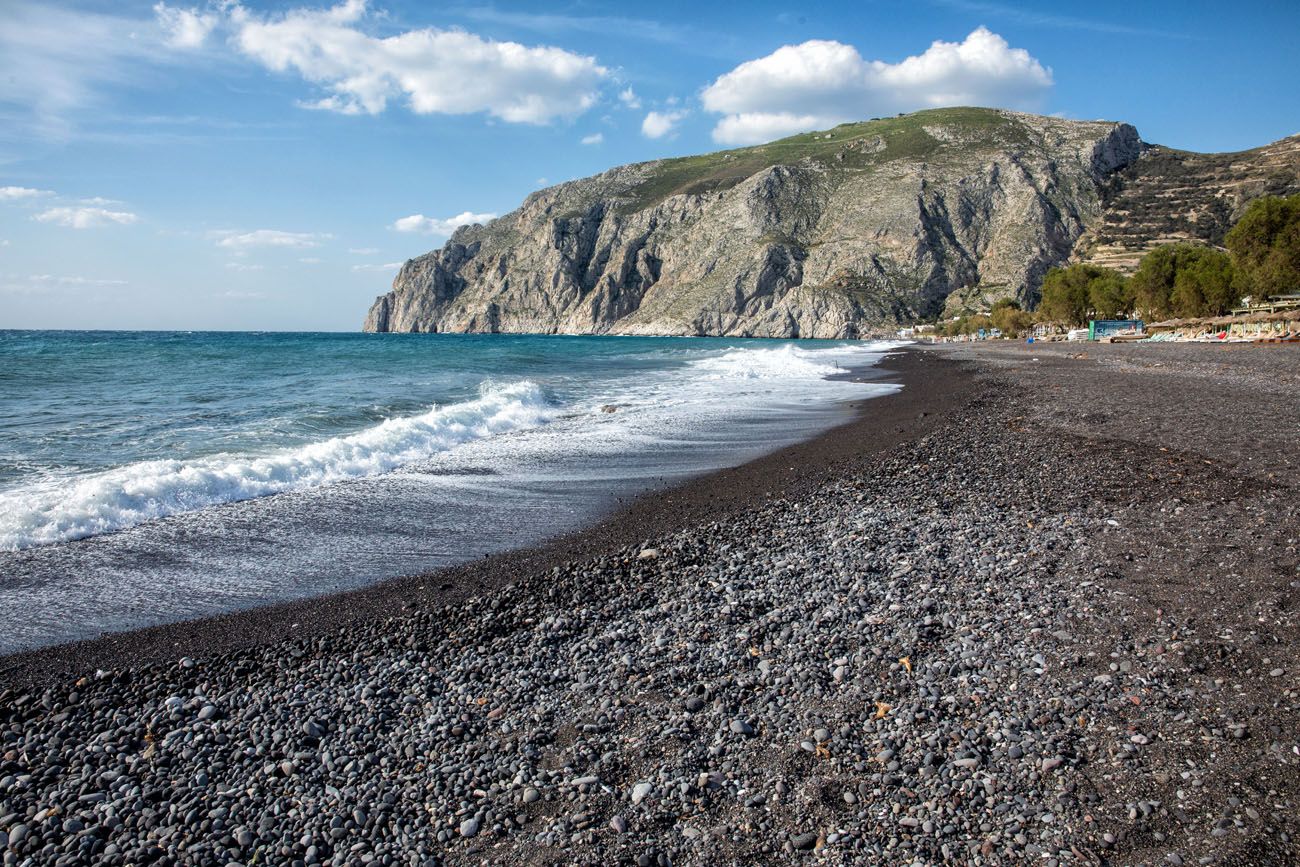 Kamari Beach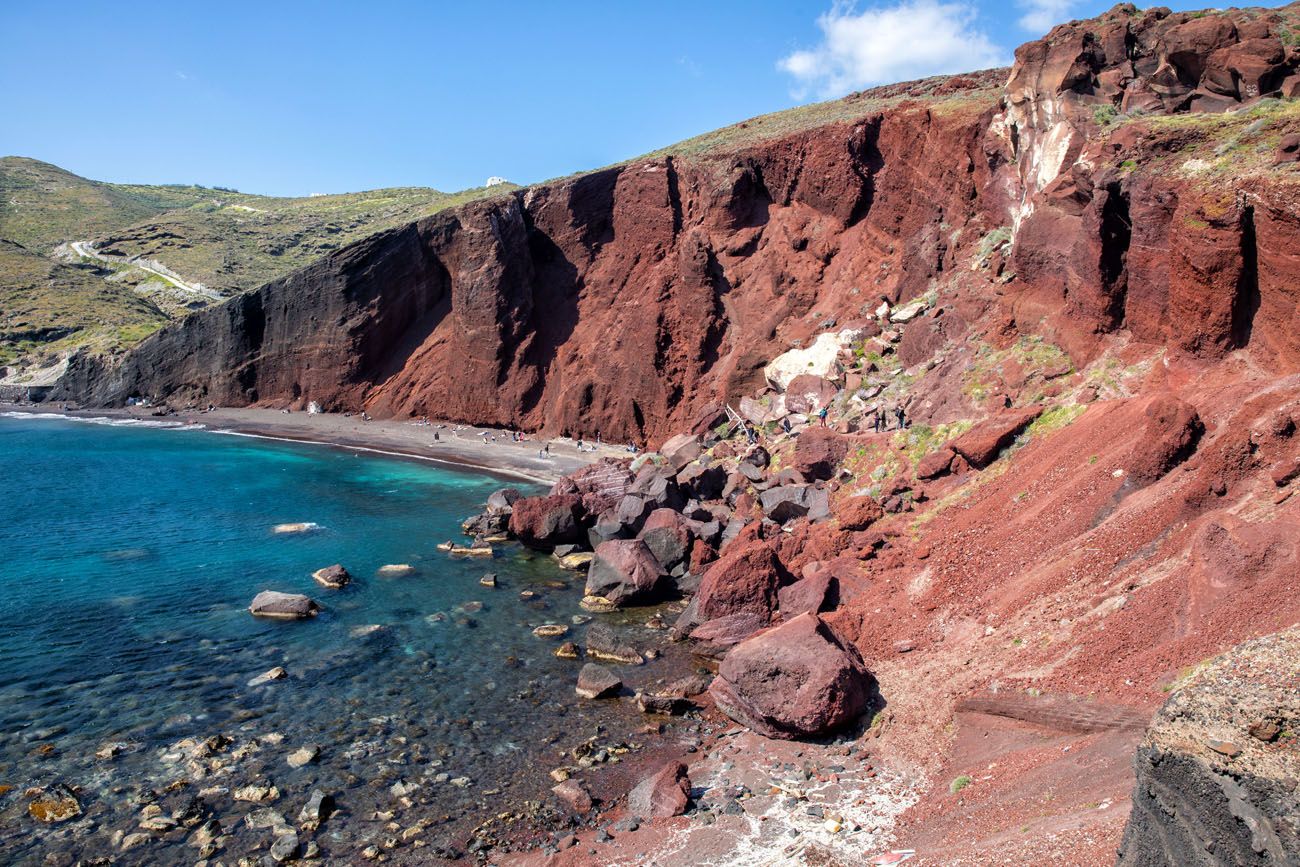 Red Beach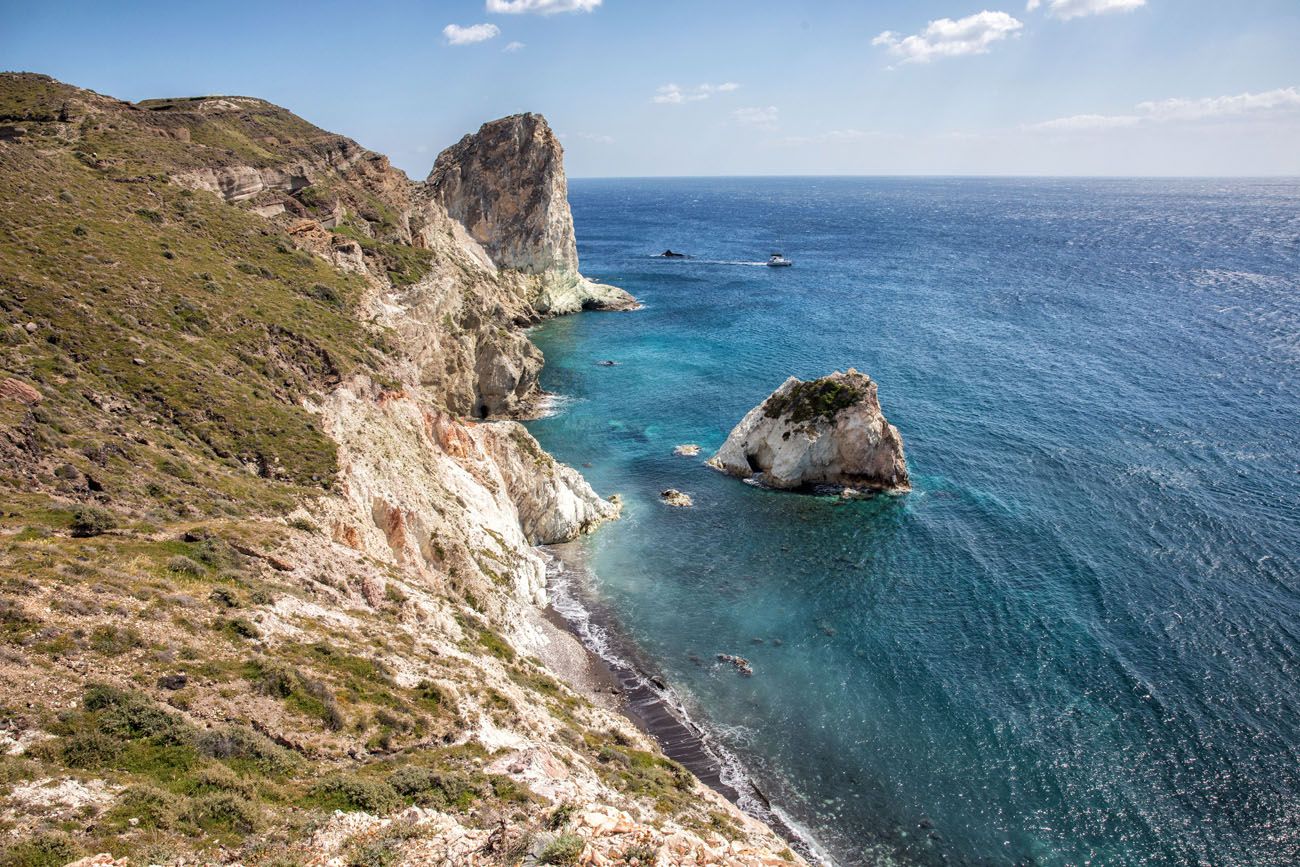 White Beach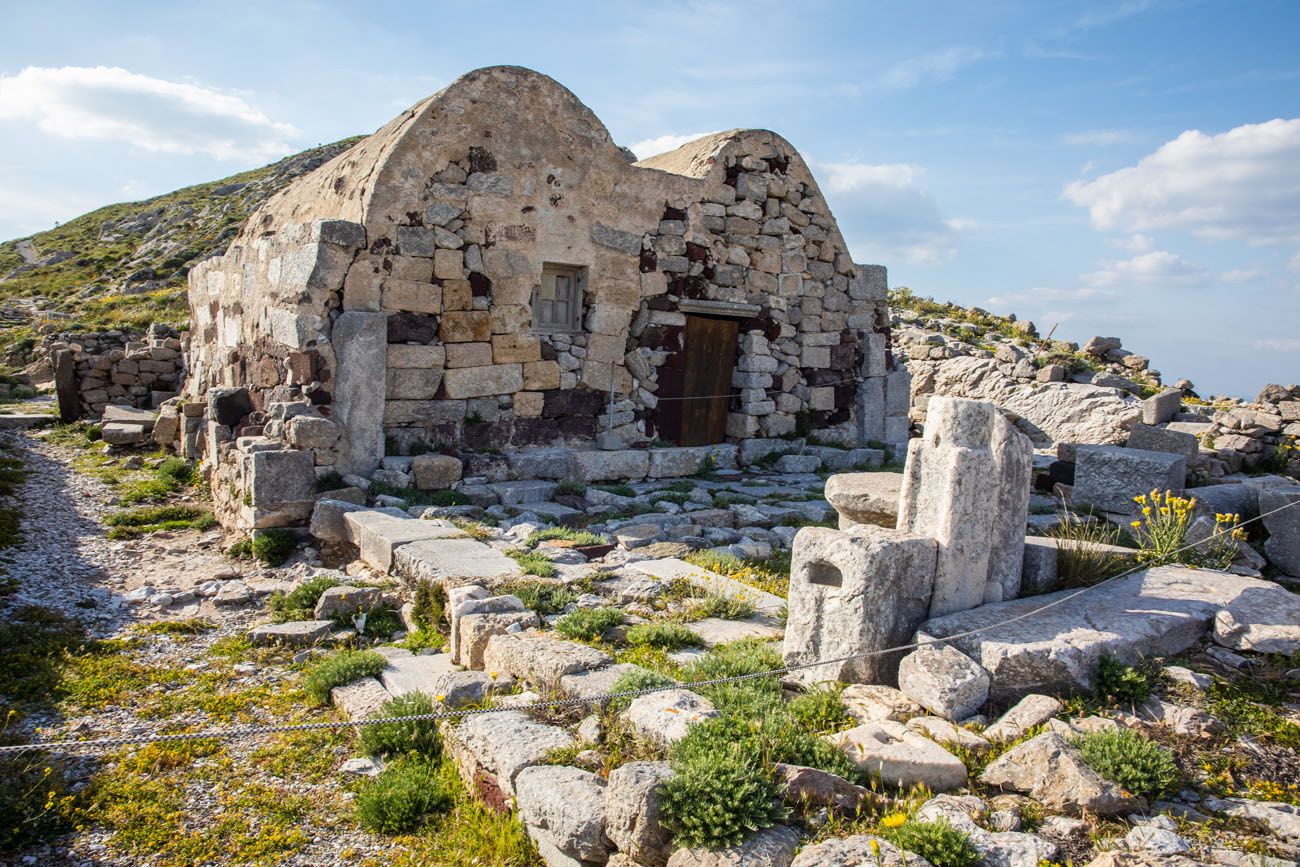 Ancient Thira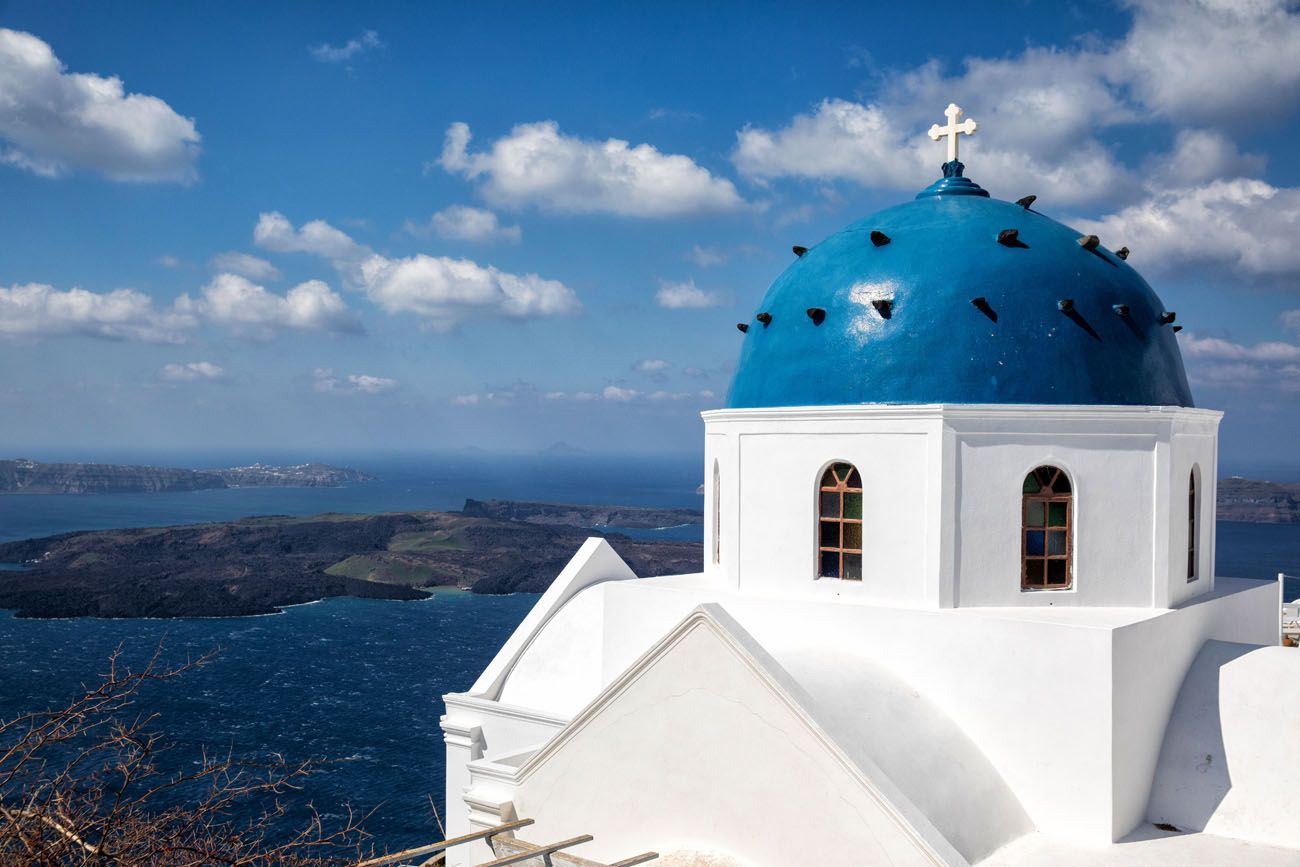 Blue dome church in Imerovigli
If you are traveling on a budget, consider taking the full day tour of the island that takes you to the top sights for a budget-friendly price. If you want be on your own or if you want to design your own sightseeing itinerary, take a private tour of Santorini.
If you take a half-day tour of the island, you will have the late afternoon and evening available. With this time, relax on the beach, explore the village where you are staying, go out to dinner, or relax at your hotel.
Where to Eat in Imerovigli
Imerovigli has quite a few outstanding restaurants. One of our favorite things to do in Santorini was to eat. We had a blast searching out the best restaurants with sunset views of the caldera. Here are some great restaurants in Imerovigli to try:
La Maison was our favorite restaurant but also the most expensive. The sunset views, the service, and the food were unbelievable.
The Athenian House serves Greek food with a twist and offers caldera views from their terrace.
Kapari Wine Bar gets great reviews for their food. We didn't eat here but we did have a drink and we loved the experience.
We ate at Avocado twice for lunch and highly recommend it. You won't get views of the caldera from this restaurant but the food is very, very good.
Other restaurants that made our list are Mezzo, Anogi, and Le Moustache.
Pro Travel Tip: Make your reservations several days in advance and if you are dining in a restaurant that offers a view of the caldera, request a table with a good view.
Day 3
Santorini
Cruise the caldera of Santorini. Most cruises last 5 hours and will take you to the hot springs, one or two beaches in Santorini, and provide lunch or dinner.
If you take an early cruise, your afternoon and evening will be available for dinner and another magical sunset from the rim of the caldera. If you are staying at a hotel with a hot tub or plunge pool, try to get back to your room in time to enjoy the sunset from the privacy of your balcony. You also have the option to take a sunset wine tour.
If you book a cruise for the afternoon, your day will end with dinner and sunset views from the catamaran. In the morning, go the beach or relax at your hotel.
Day 4
Santorini
On this final day in Santorini, you will spend most of your time in picture-perfect Oia.
In the morning, walk from Fira to Oia. The walk from Fira to Oia allows you to explore four wonderful little villages (Fira, Firostefani, Imerovigli, and Oia), get breathtaking views along the caldera, and end with dramatic sunset views on Oia.
Start in Fira and end in Oia. The walk is 10 km (6 miles) and can take 3 to 5 hours, depending on your pace and how frequently you stop.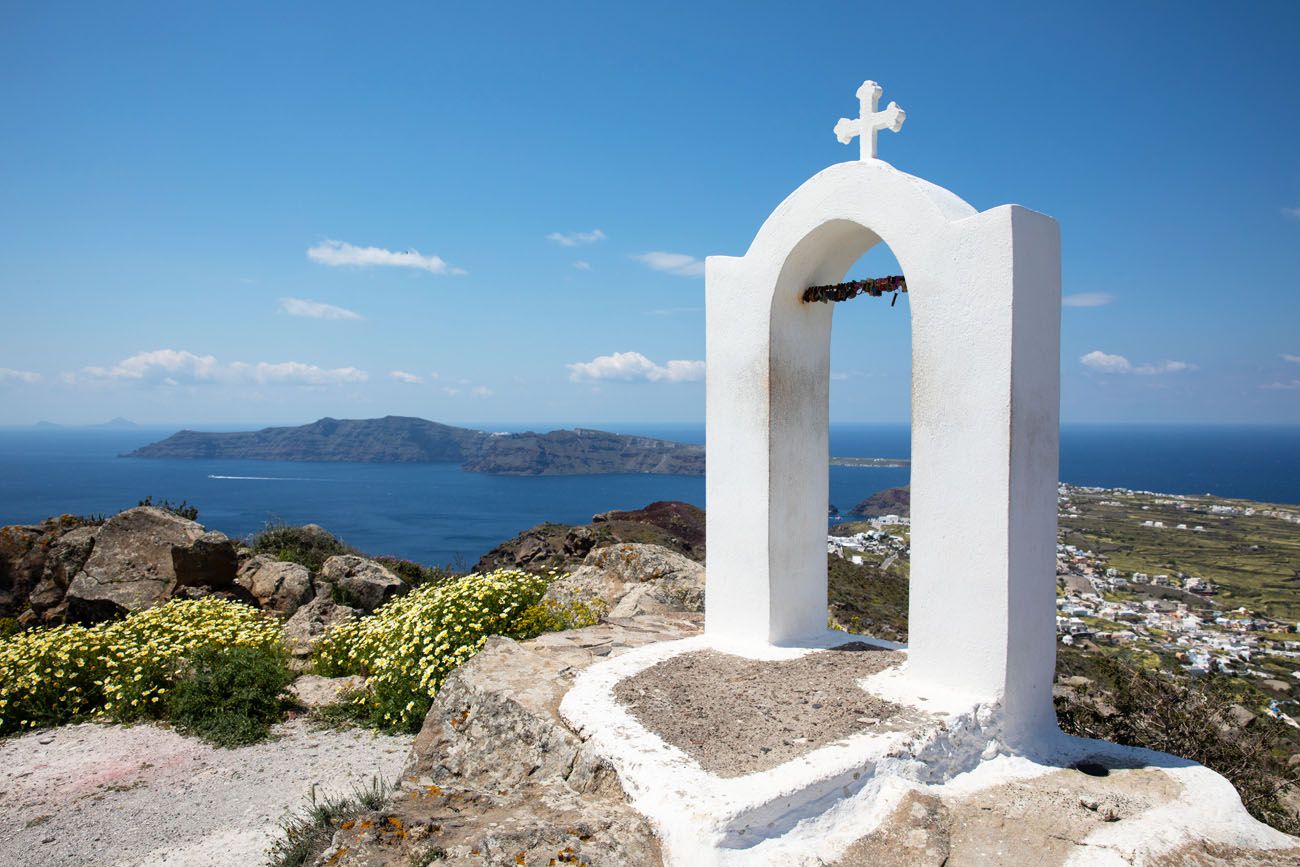 Spend the rest of the day exploring Oia, cliff jumping in Ammoudi Bay or dining at one of the restaurants here, and then end the day with views of the sunset that makes Oia so famous.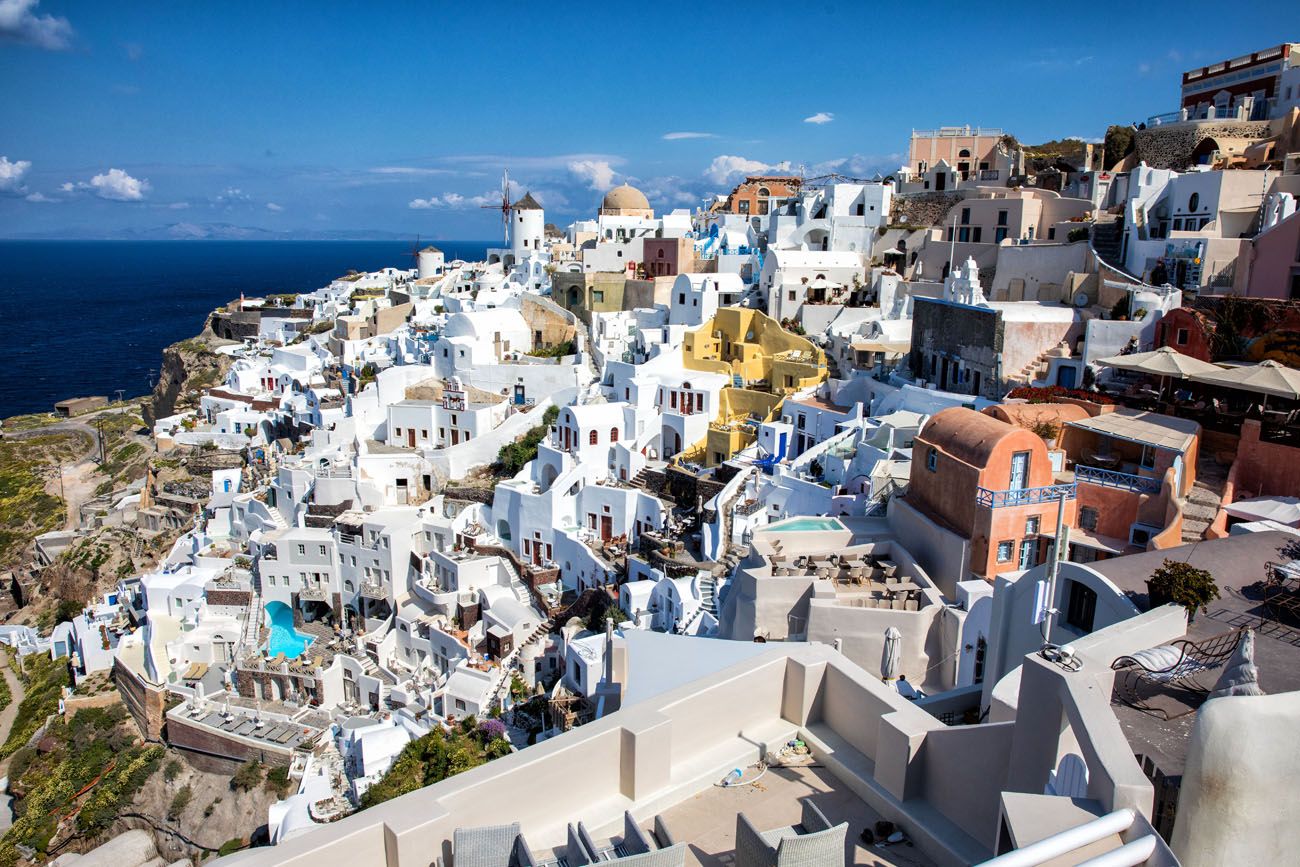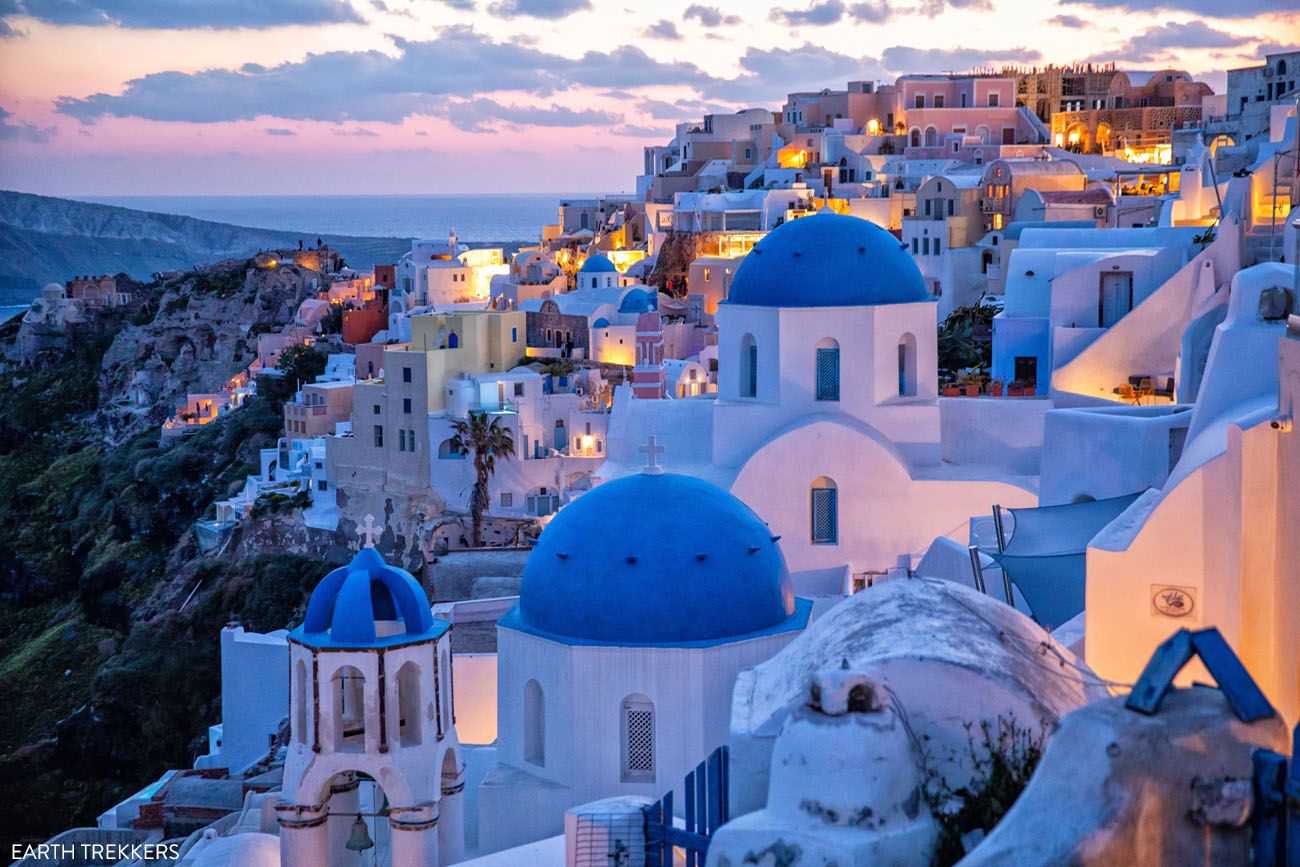 Where to Eat in Oia
Oia Vineyart gets rave reviews. Regional dishes are made from locally-sourced ingredients and paired with wines made on Santorini.
At Pelekanos, the food is terrific and you get a nice view over Oia from the rooftop setting. We ate an early dinner here before watching the sunset.
Both Fino Cocktail Bar and Melitini were on our list but we could only eat so many dinners in one night.
For dessert, go to Lolita's for gelato.
Day 5
Naxos
We loved this island. Naxos feels quiet, peaceful, and uncrowded. With its green rolling hills and mountains, Naxos is much different from the other islands in the Cyclades. The beaches are beautiful, the small villages are a joy to explore, there are numerous opportunities for hiking, and you can lounge at the beach or go windsurfing.
Since Naxos is not as popular as Mykonos and Santorini, this island is much more affordable and less crowded.
Ferry to Naxos
Take a morning ferry to Naxos. Ferries can take between 1 to 3 hours to travel from Santorini to Naxos. In general, Seajets is going to have the fastest ferries with average times just over one hour. Blue Star ferries will be slower, but they are also larger boats so seasickness and cancellations due to bad weather happen less frequently.
Ideally, book a ferry that has you arriving in Naxos midday. You can book your ferry tickets online on ferryhopper.com or directly on the ferry company's website.
During the summer months, there will be many ferries to choose from throughout the day, but even so, there are only a few morning ferries that sail directly to Naxos. During the off-season months of April, May, September, and October, there are fewer ferries to choose from. If you are traveling during these months, there is a chance that you will only be able to take an afternoon ferry. If so, consider taking the afternoon ferry on day 4 (your last day in Santorini), in order to give yourself enough time on Naxos.
Flying between Santorini and Naxos is not a great option since flights transfer in Athens. I have not seen direct flights between Santorini and Naxos.
Pro Travel Tip: Most ferry companies do not offer electronic tickets (Golden Star is the only company that currently offers e-tickets). You will have to pick up your tickets at the office at the port before you get on the ferry. It is recommended that you arrive at least 30 minutes early to give yourself enough time to do this. Or, if you book your tickets online in advance well before your travel dates, for a small fee you can have your tickets mailed to you.
Once in Naxos, pick up a rental car. There are rental companies in Naxos city, within walking distance of the port (so there is no need to arrange transportation to your hotel on Naxos). We rented from Hertz. Get settled in your hotel.
Where to Stay in Naxos
We stayed at the fabulous Naxos Rock Villas. This small property offers three villas (but they will be adding on more rooms in the near future). We stayed in the Apollo villa and had two bedrooms, three bathrooms, a kitchen and living area, and the most amazing terrace with an infinity pool. For what you get, the price is relatively low, especially compared to hotel rates in Santorini and Mykonos.
In the mornings, we would have breakfast on the terrace, with views of Mount Zas, Naxos City, and the rolling hills of Naxos. In the evenings, we literally rushed back to the villa, eager to hang out again on the terrace. Do you blame us? Look at this place!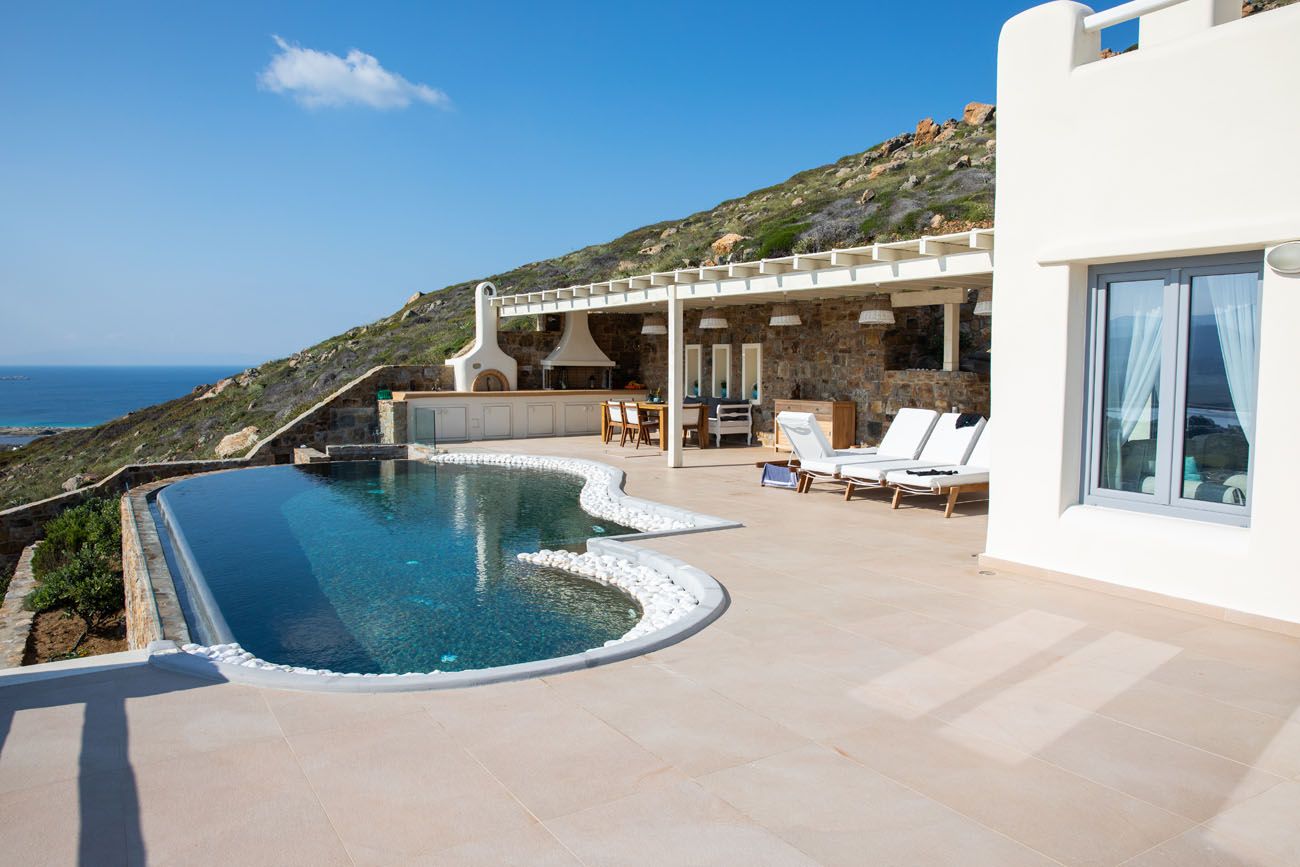 Naxos Village Walk
The center of Naxos is mountainous and dotted with small, picturesque villages. It is a beautiful area and it looks remotely different from the landscapes we saw on Mykonos and Santorini.
This is a nice, easy walk that takes you through several villages and to one historical site on Naxos. Start and end in the town of Melanes, walk on ancient marble paths, visit the Kouroi of Flerio, and enjoy the views along the way. This wonderful walk only takes a few hours of your time and it is a great way to explore this part of Naxos.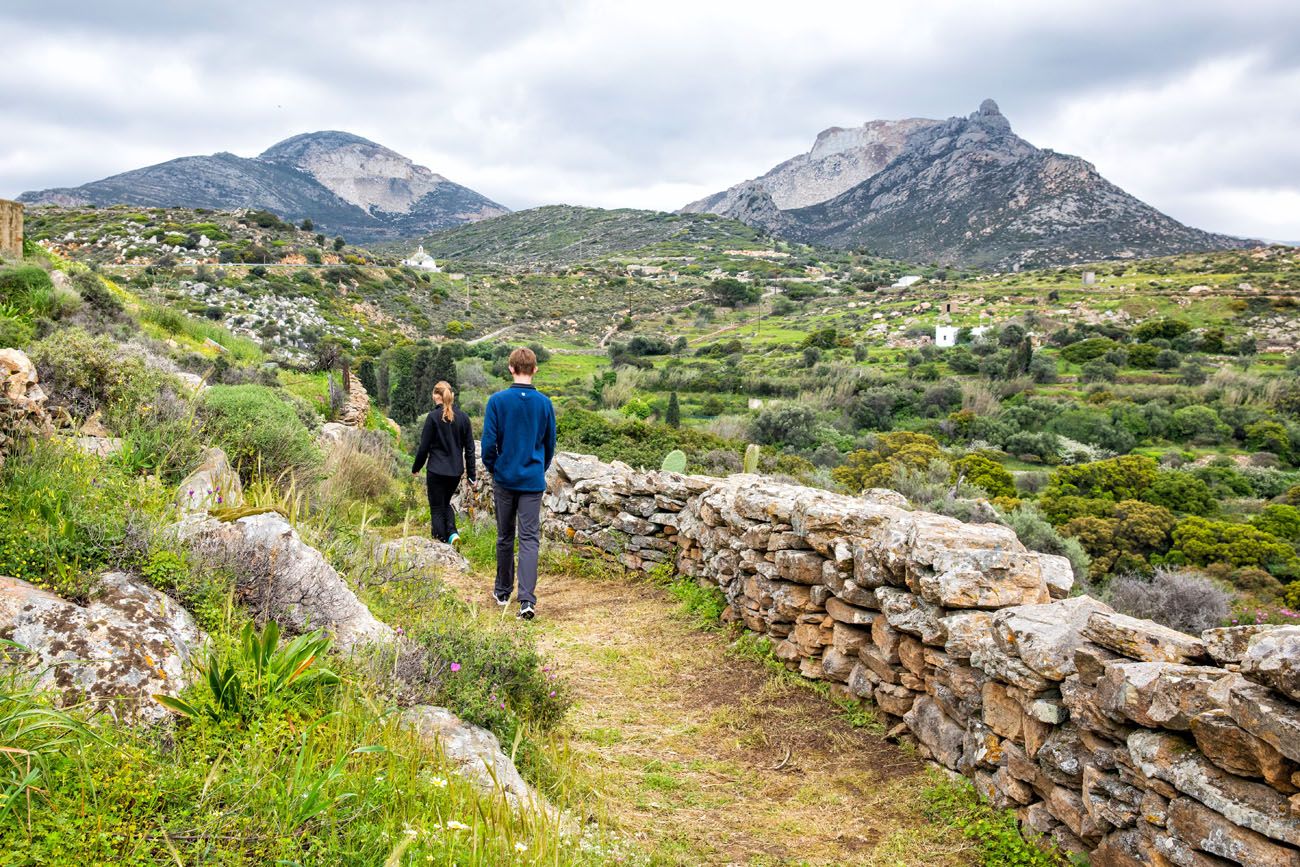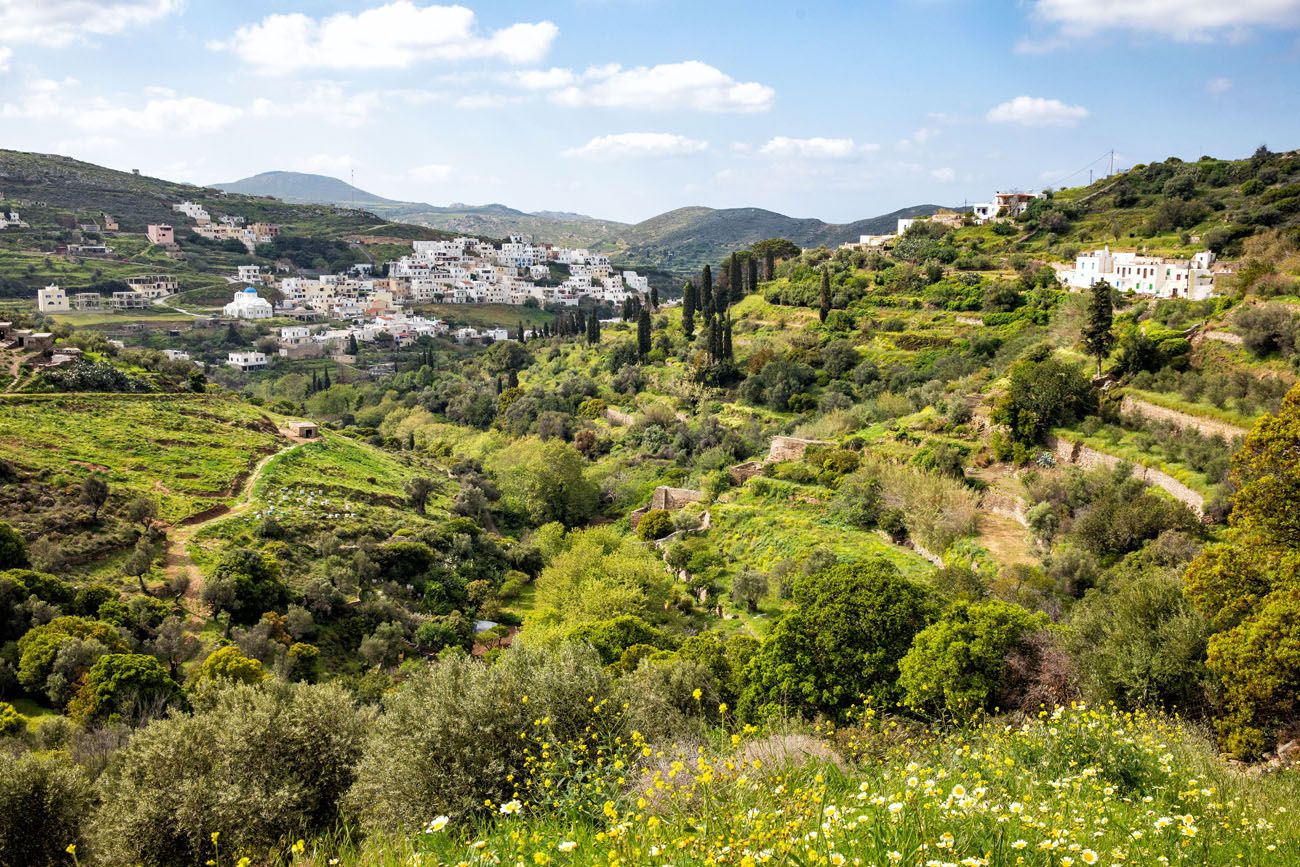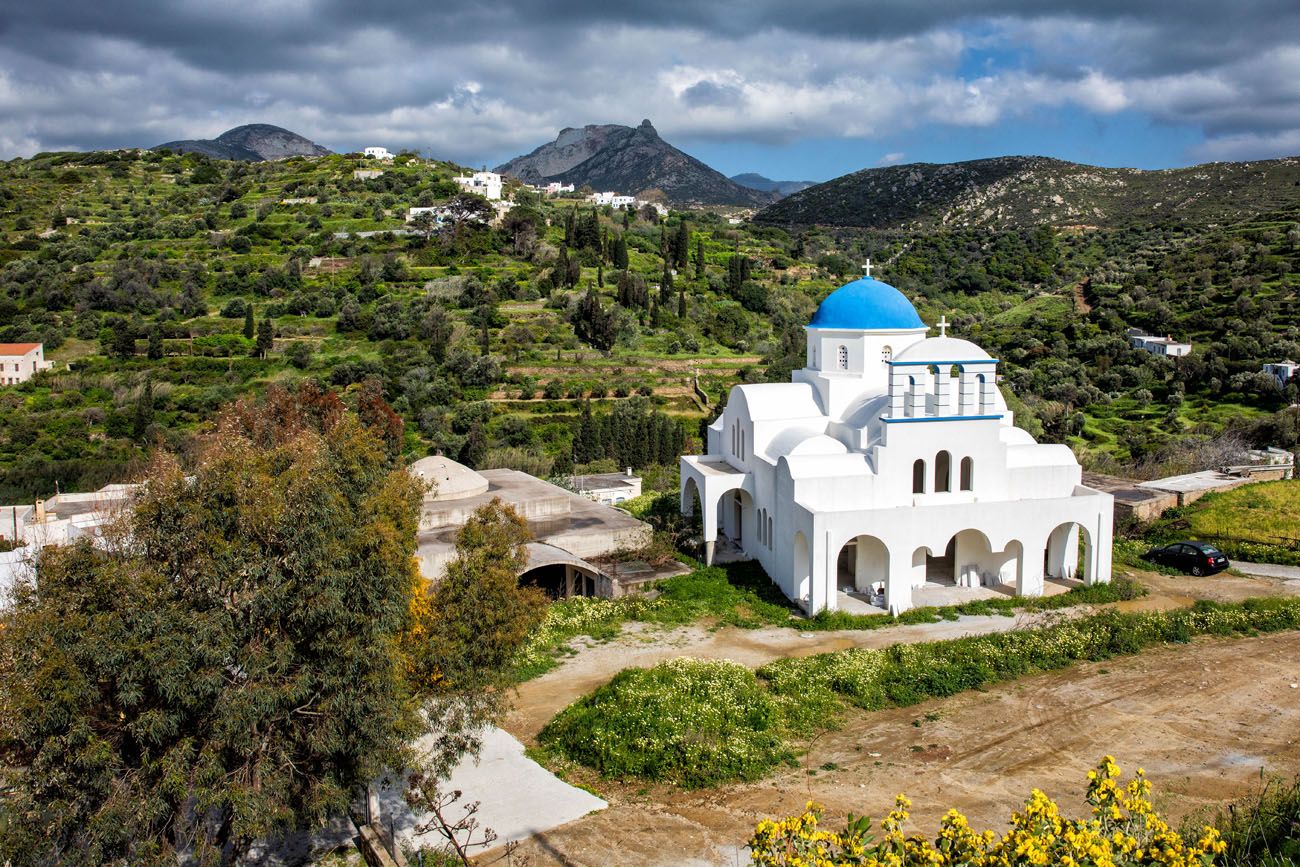 Hike to Apano Kastro
If you don't like the idea of walking from village to village, but like the idea of going on a hike, consider the short but beautiful hike to Apano Kastro.
Apano Kastro is the remains of an ancient Venetian citadel perched on a hilltop in the center of Naxos. It's only a 5 km (3 mile) hike through rural Naxos. The best part is the stunning view across the island. We really enjoyed the village walk, but this short hike to Apano Kastro was one of our favorite things to do on Naxos.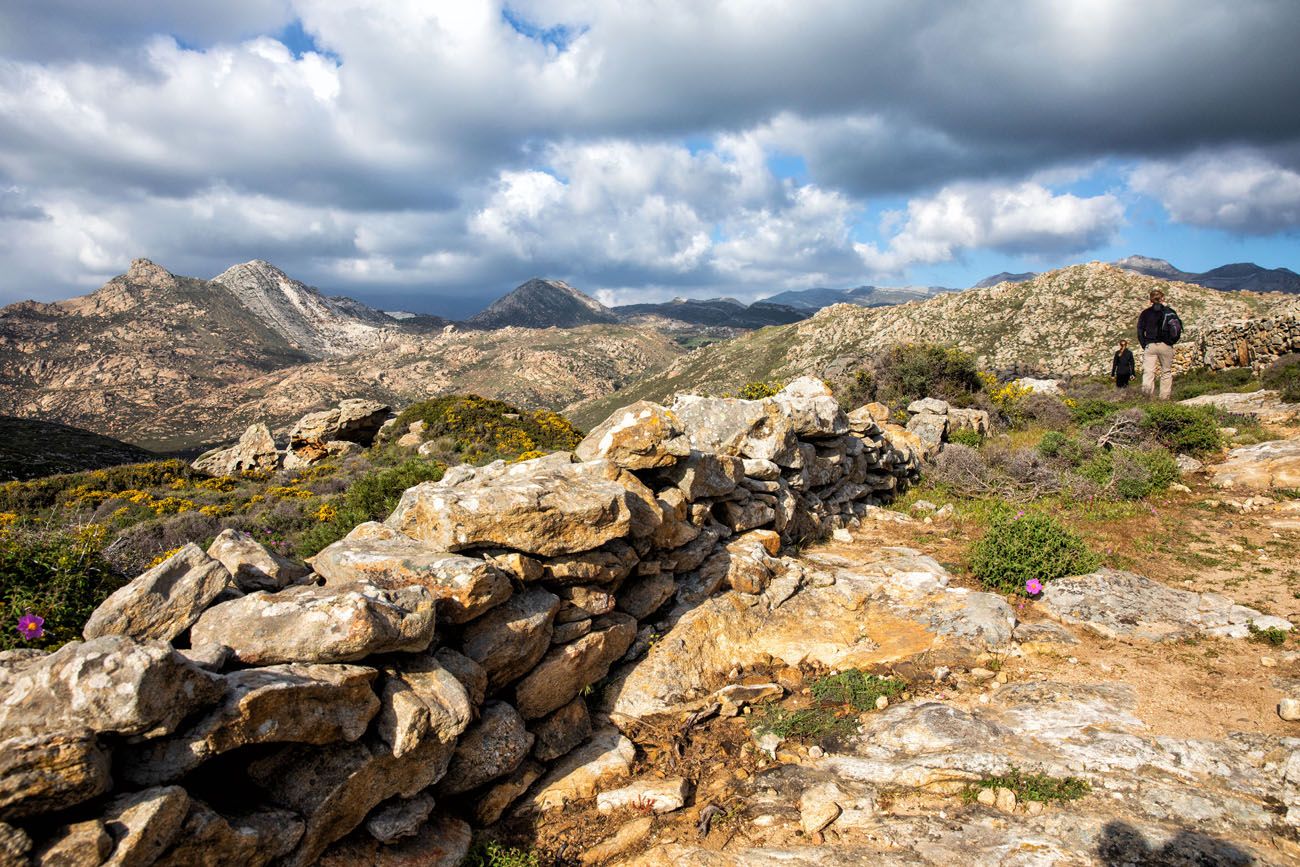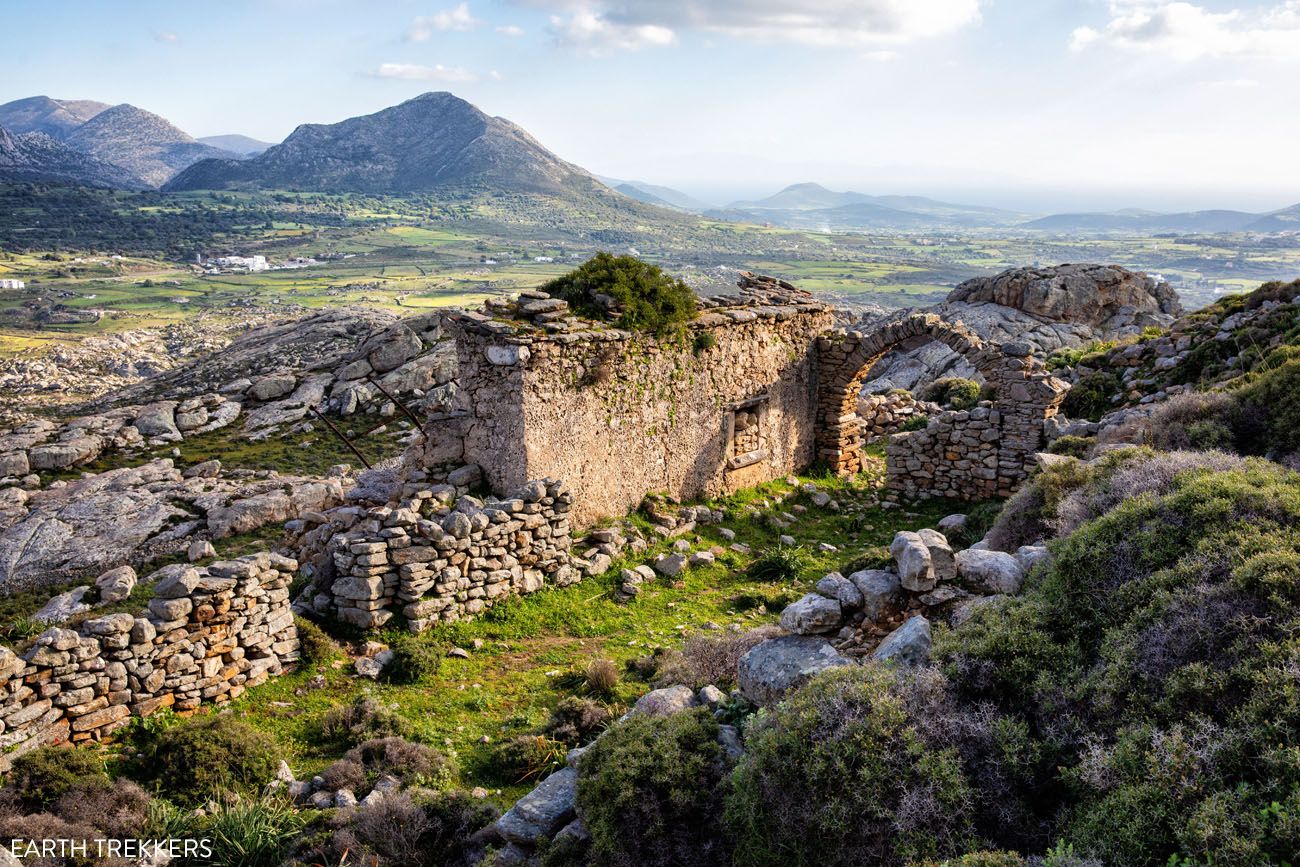 Pro Travel Tip: It is possible to do both of these walks in one day since they are located near each other. If you get into Naxos on an early ferry (arriving before noon) you should have enough time to do both of these walks. We had lunch in Melanes, did the village walk, and then hiked Apano Kastro. Our day ended with dinner in Naxos city.
End the day with dinner in Naxos City.
In Naxos, we ate at Nostimon Hellas, which serves traditional Greek food with a twist. To Elliniko was high on our list but it was not yet open in early April. Other notable spots to try in Naxos include La Vigne Wine Bar, Scirocco Café, and Barozzi Naxos Restaurant.
Day 6
Naxos
Hike Mount Zas
Start the day off with a hike up Mount Zas, aka Mount Zeus. Not only do you get 360° views from the summit but you also get bragging rights that you stood on the highest point in the Cyclades.
According to Greek mythology, this is the place where Zeus spent his childhood. Tucked away on the slopes of the mountain is a small cave where Zeus was born. You can visit the cave as you hike to the summit.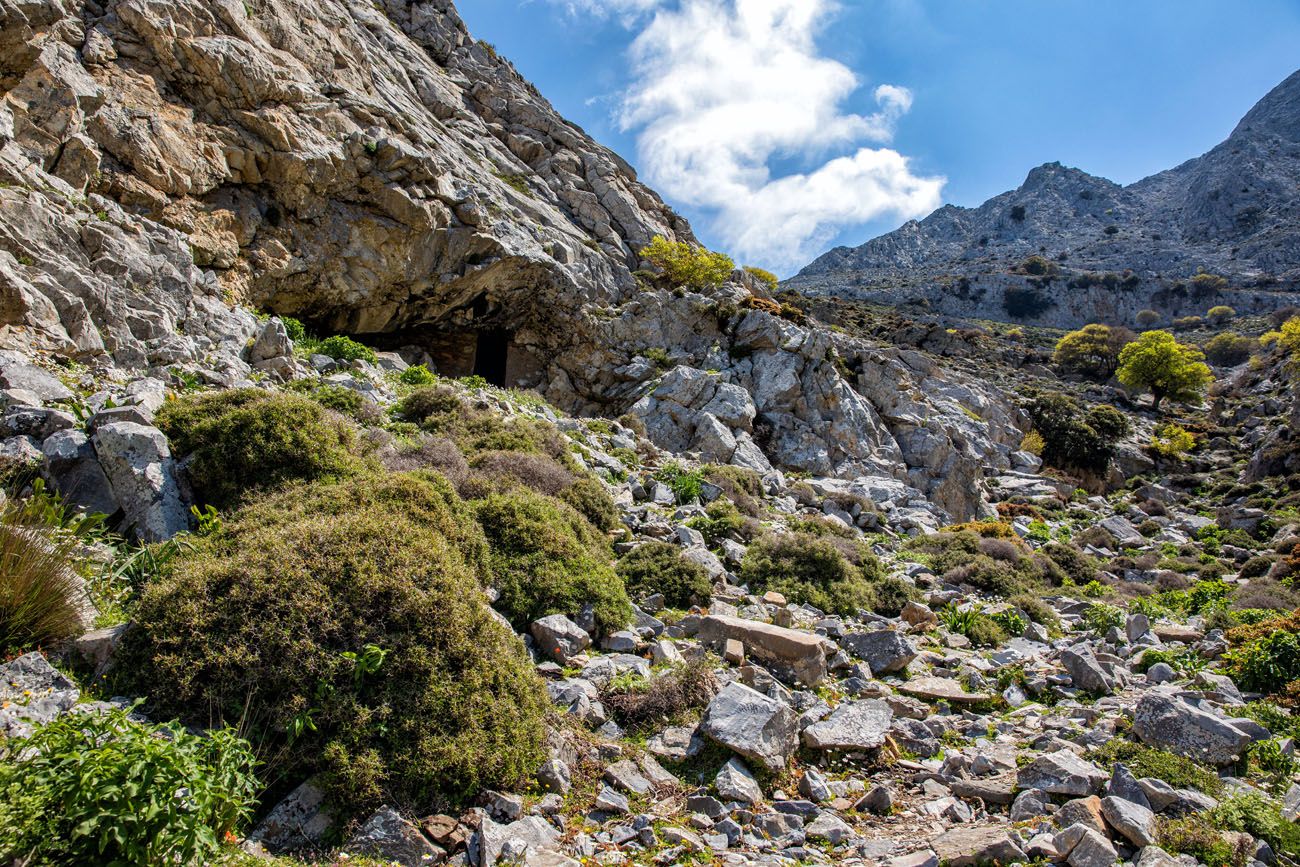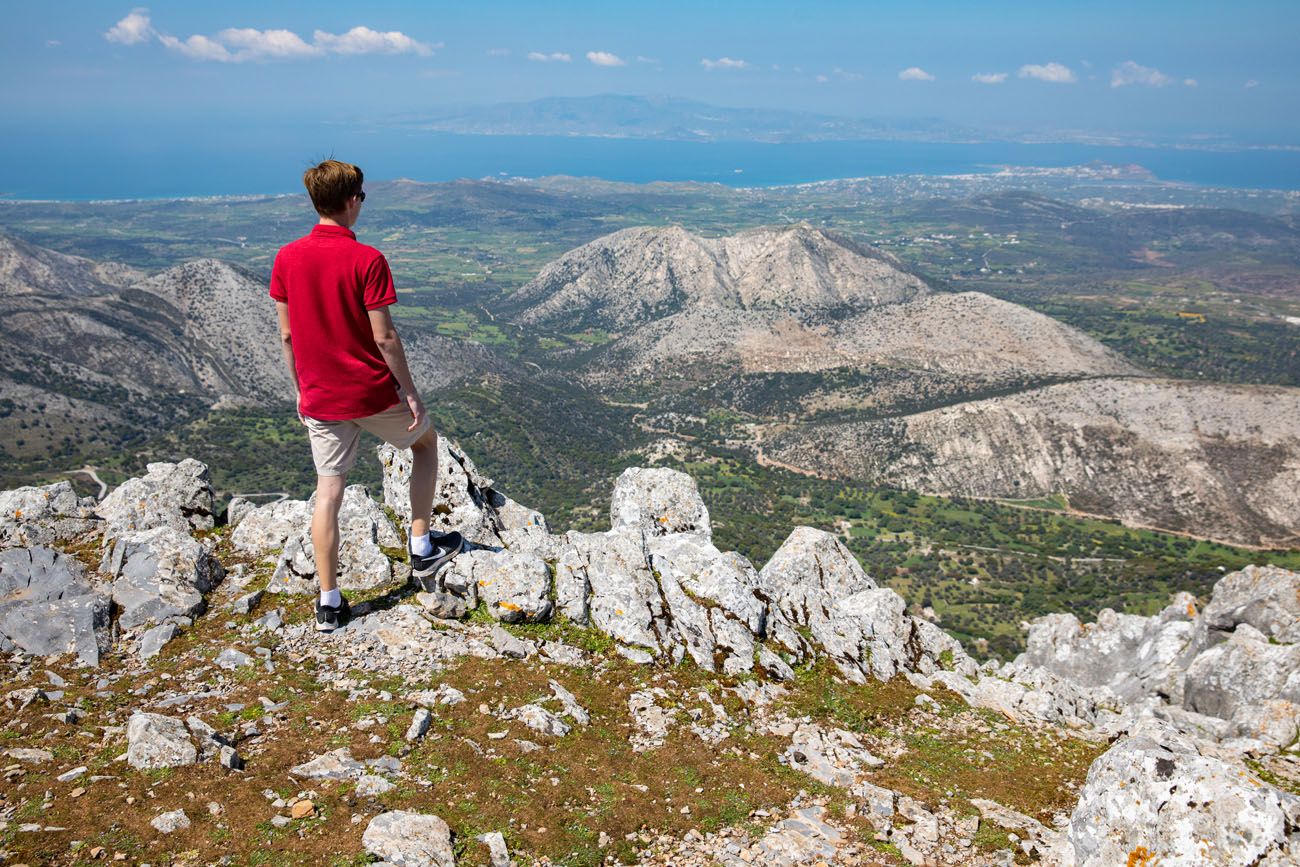 Lunch
After the hike, have lunch at Rotonda. This restaurant gets rave reviews for its food and its views across Naxos. We did not eat here, unfortunately, because it was still closed for the season during our visit in mid-April. But it makes a great lunch spot and it is just a short drive from the Mount Zas hike.
Sightseeing on Naxos
Spend the afternoon sightseeing on Naxos. There are several historical sites to visit, such as the Temple of Demeter and Panagia Drosiani Church. Visit the small villages of Apiranthos, Apollonas, or Moutsouna. Go to the beach or take windsurfing lessons at Mikri Vigla, Agios Prokopios, or Agios Georgios beaches. End the day in Naxos City, with dinner and stroll out to the Portara, Naxos' most famous landmark.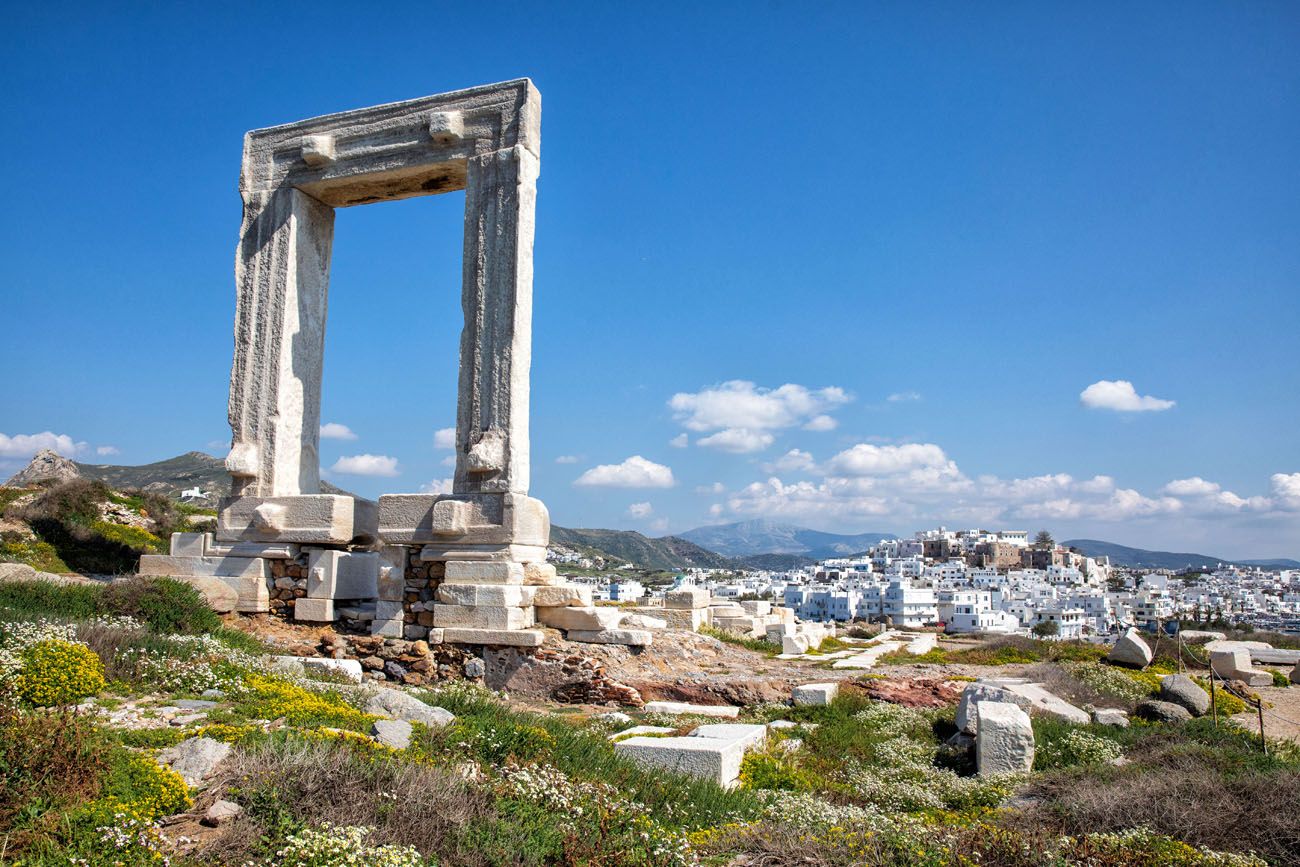 The Portara with Naxos city in the background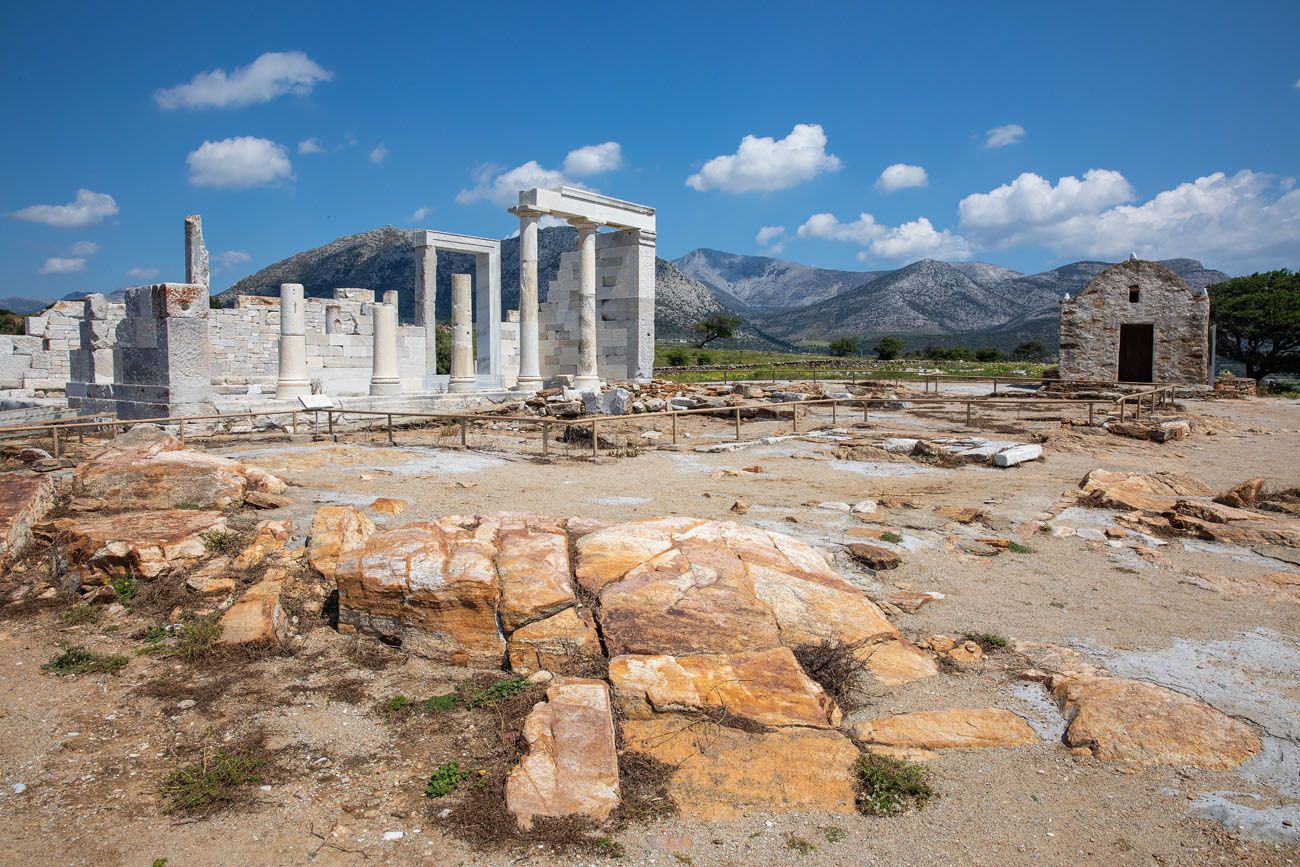 Temple of Demeter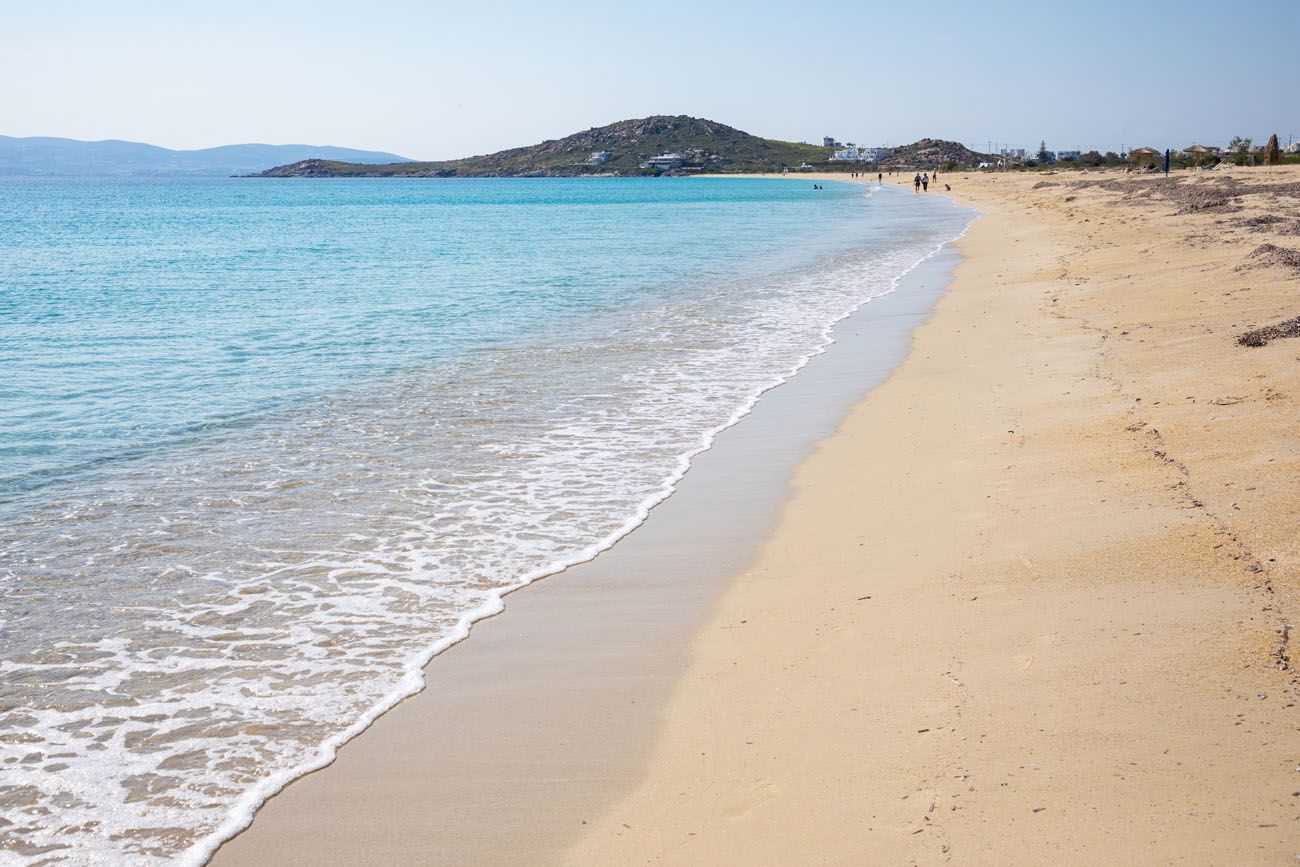 Agios Prokopios Beach
Day 7
Mykonos
Take an early ferry to Mykonos. Seajet has a ferry that covers the distance between Naxos and Mykonos in just 35 minutes, although some ferries can take up to an hour and a half. During the summer months, the earlier ferries arrive in Mykonos by 10:30, giving you plenty of time on the island.
The main things to do on Mykonos are to wander Mykonos town, go the beach, and take a day trip to Delos. Unless you are into the beach party scene, one day is enough time on Mykonos.
Once in Mykonos, get settled at your hotel. Have lunch in Mykonos town. If you like to visit ruins and historical sites, take the day trip to Delos. Delos is a UNESCO World Heritage Site and one of the most important archaeological sites in Greece. It takes just a few hours to day trip to Delos from Mykonos. Spend the rest of the day wandering photogenic Mykonos town. Have dinner and drinks in town.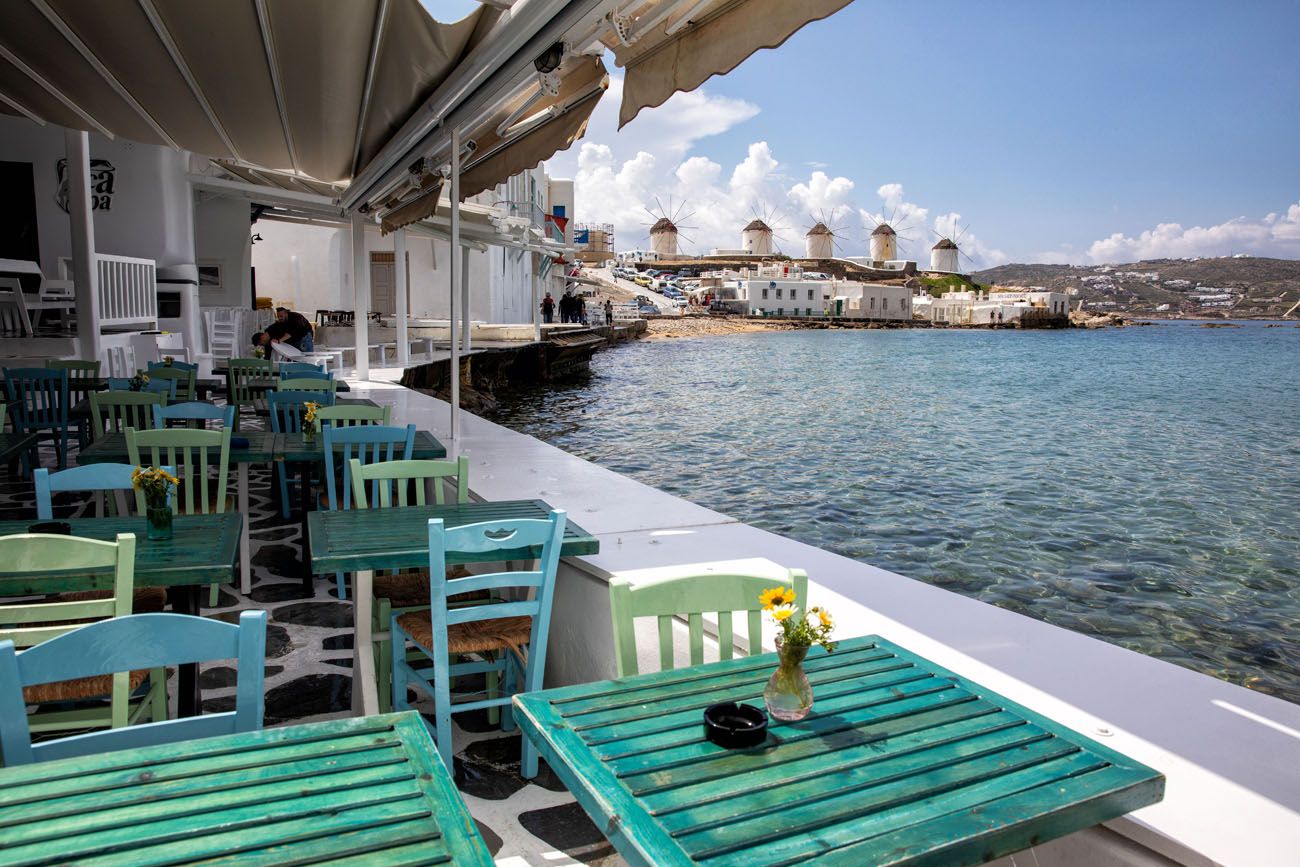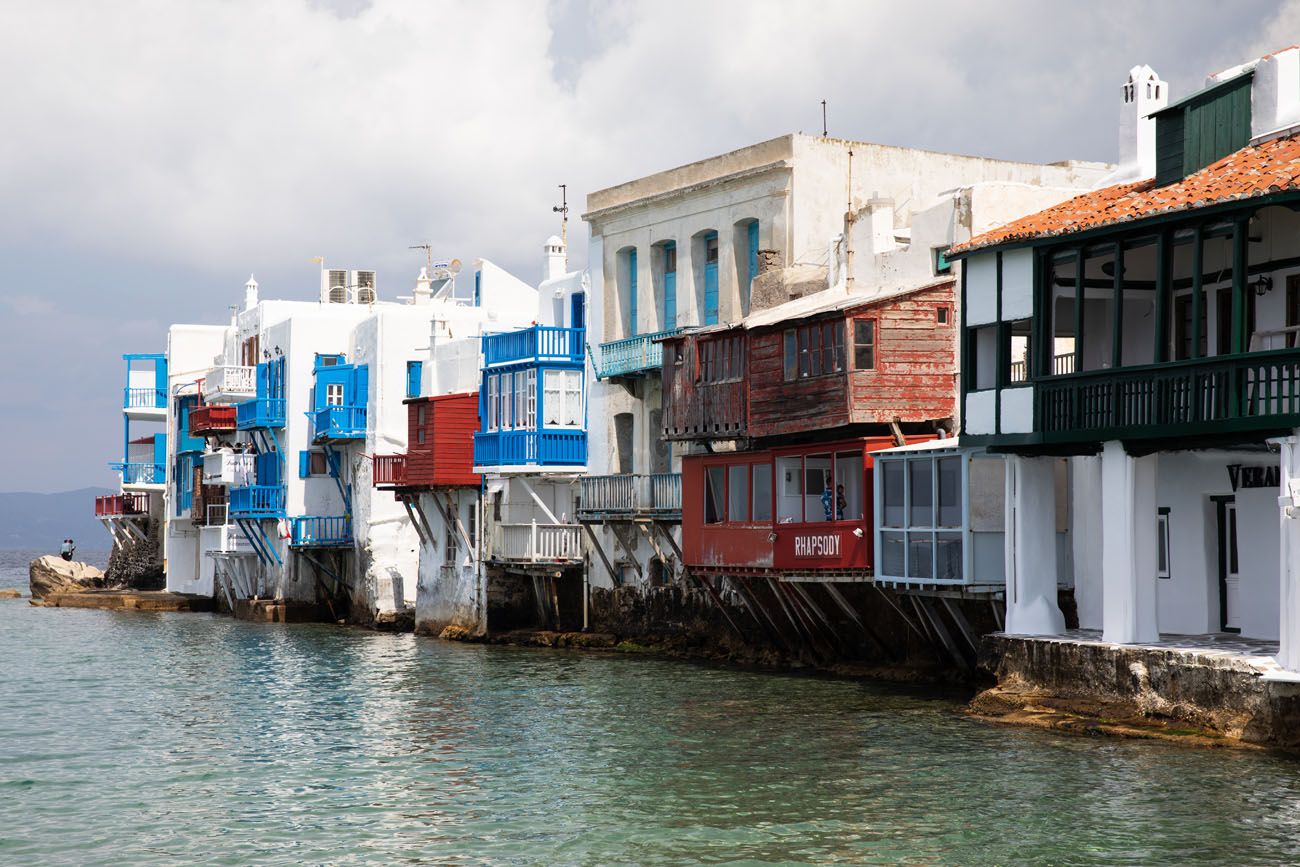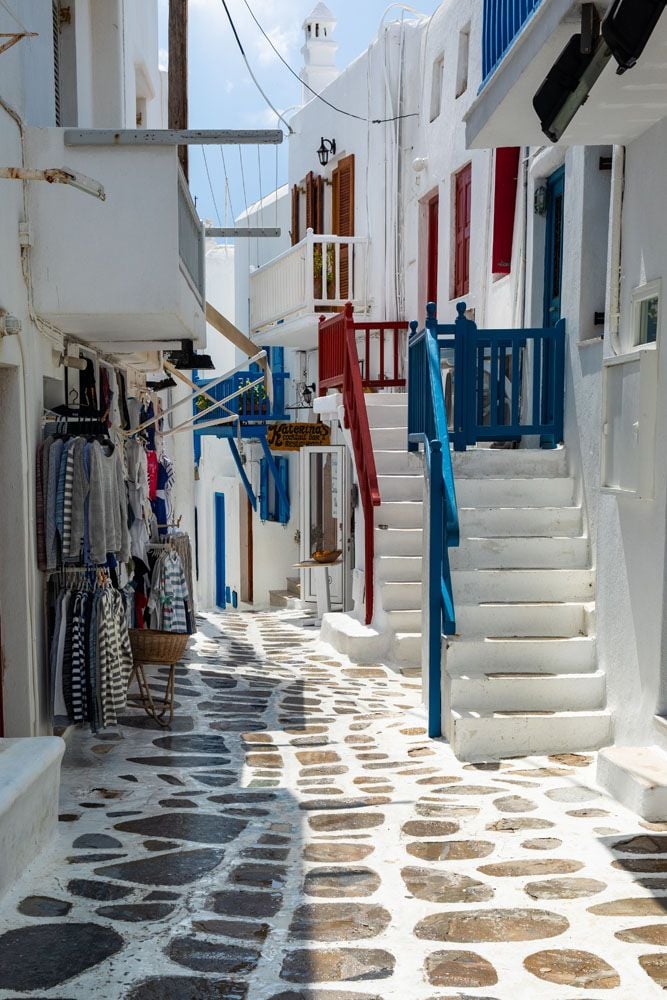 Day 8
Athens
Getting to Athens
By ferry, it takes 2.5 to 5 hours to cruise from Mykonos to Athens. There are two ports in Athens, Piraeus and Rafina. Piraeus is the bigger port but many ferries also sail to Rafina. When booking your ferry tickets, look at options for both of these ports to give you more options.
By ferry, even during the summer months, most ferries do not arrive in Athens until 1 pm or later. This eats up a lot of your valuable time in Athens, giving you only one full day on this itinerary.
Another option, which might save you some time, is to fly from Mykonos to Athens. Flights last 45 minutes and if you schedule your flights far enough in advance, it can be quite economical (I found numerous flights at $53 USD per person).
Once in Athens, get settled into your hotel.
Afternoon in Athens
Athens is one of the world's oldest cities with a history spanning 3,400 years. The Acropolis and the Parthenon make the top of the list for most travelers to Athens, but the city is littered with ancient Greek and Roman ruins.
I don't recommend making a mad dash right to the Acropolis midday. Not only will it be uncomfortably crowded, but it can also be very hot during the summer months. I recommend saving the Acropolis for this evening or tomorrow morning.
Instead, visit the ancient sites that are located around the Acropolis. These include the Ancient Agora, Hadrian's Library, the Roman Agora, the Temple of Olympian Zeus, and Kerameikos. All of these sites, and the Acropolis, are included on a combination ticket for a total of €30. Once you have the combination ticket, you can then bypass the ticket line at the remaining sites. Purchasing this combination ticket can save you a lot of time waiting in the ticket line at the Acropolis.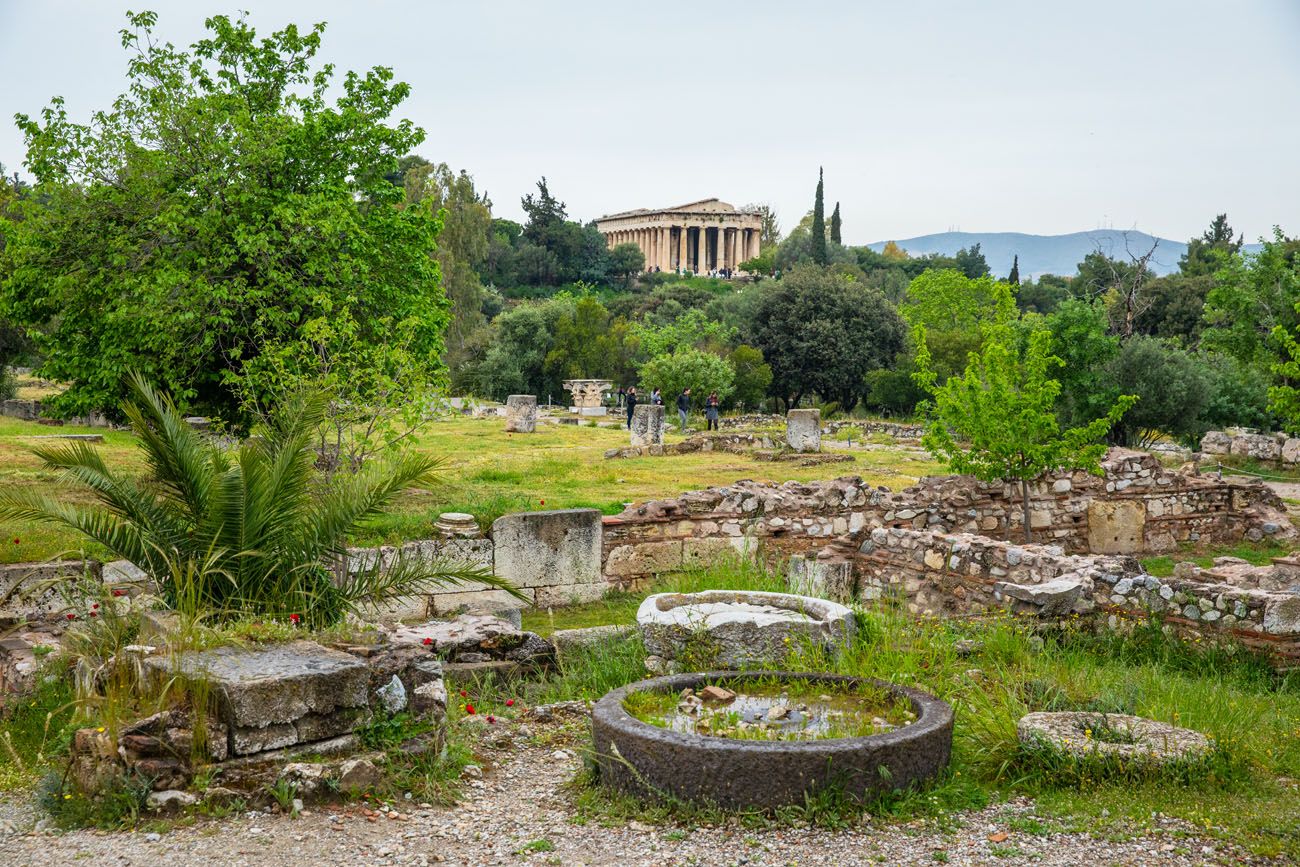 Ancient Agora and the Temple of Hephaestus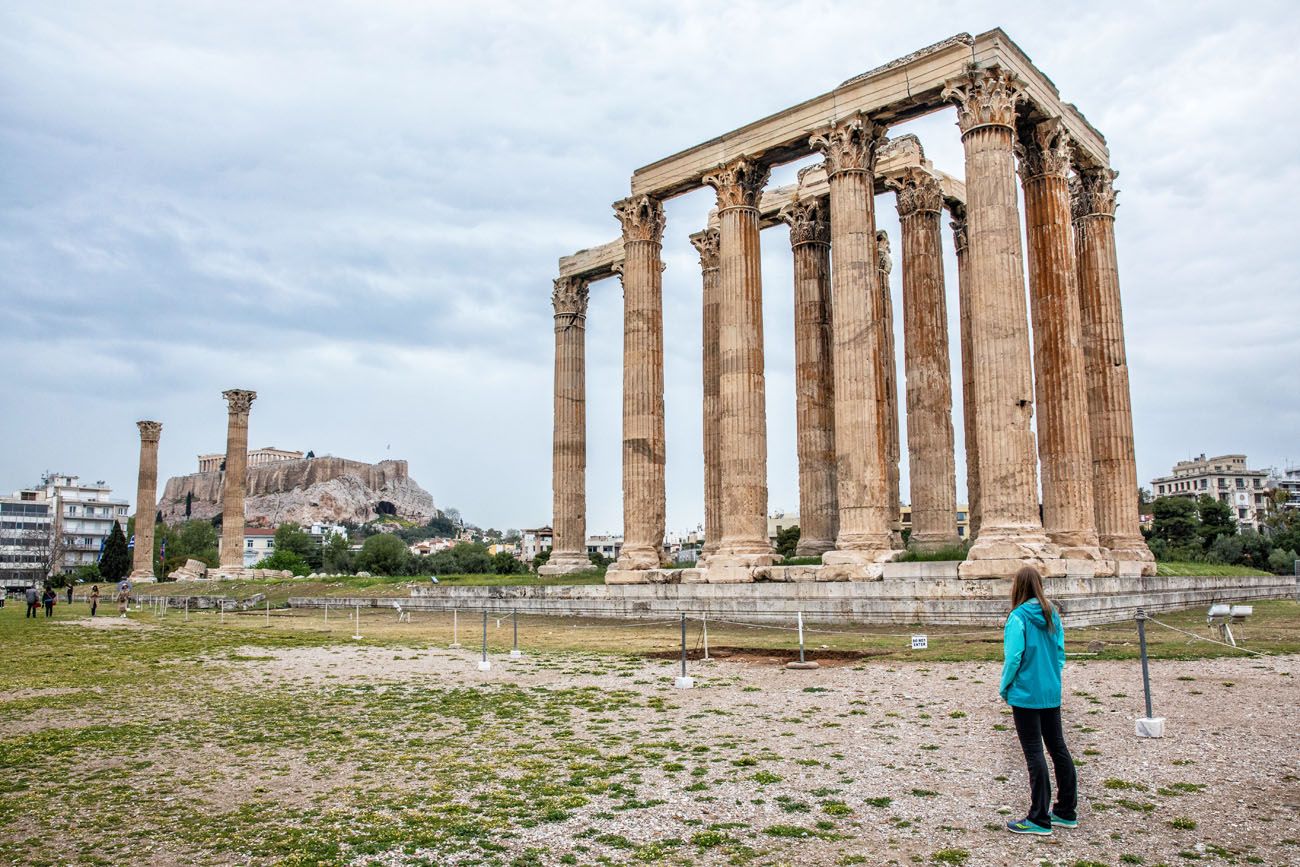 Temple of Olympian Zeus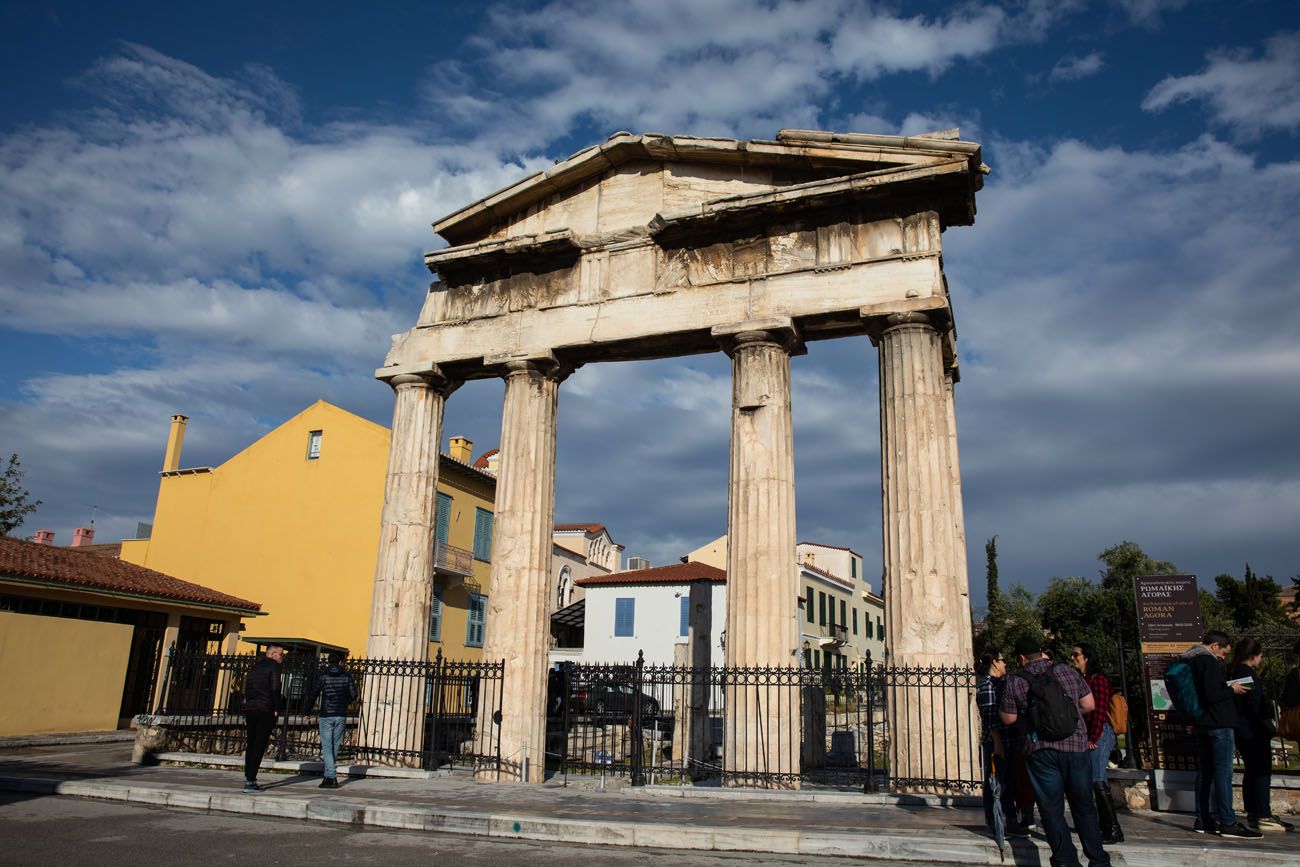 Roman Agora
I recommend visiting the Acropolis Museum in the afternoon. This museum houses the artifacts that were found on the Acropolis and the surrounding slopes. This is a great place to visit before you step foot onto the Acropolis because you learn the history behind the Parthenon and other temples on the Acropolis.
Pro Travel Tip: Purchase your tickets for the Acropolis Museum online in advance to avoid waiting in the ticket line.
End the day with dinner and sunset views of the Acropolis. A for Athens was our favorite rooftop restaurant but Athens Gate and the restaurant at Hotel Grande Bretagne are also nice options.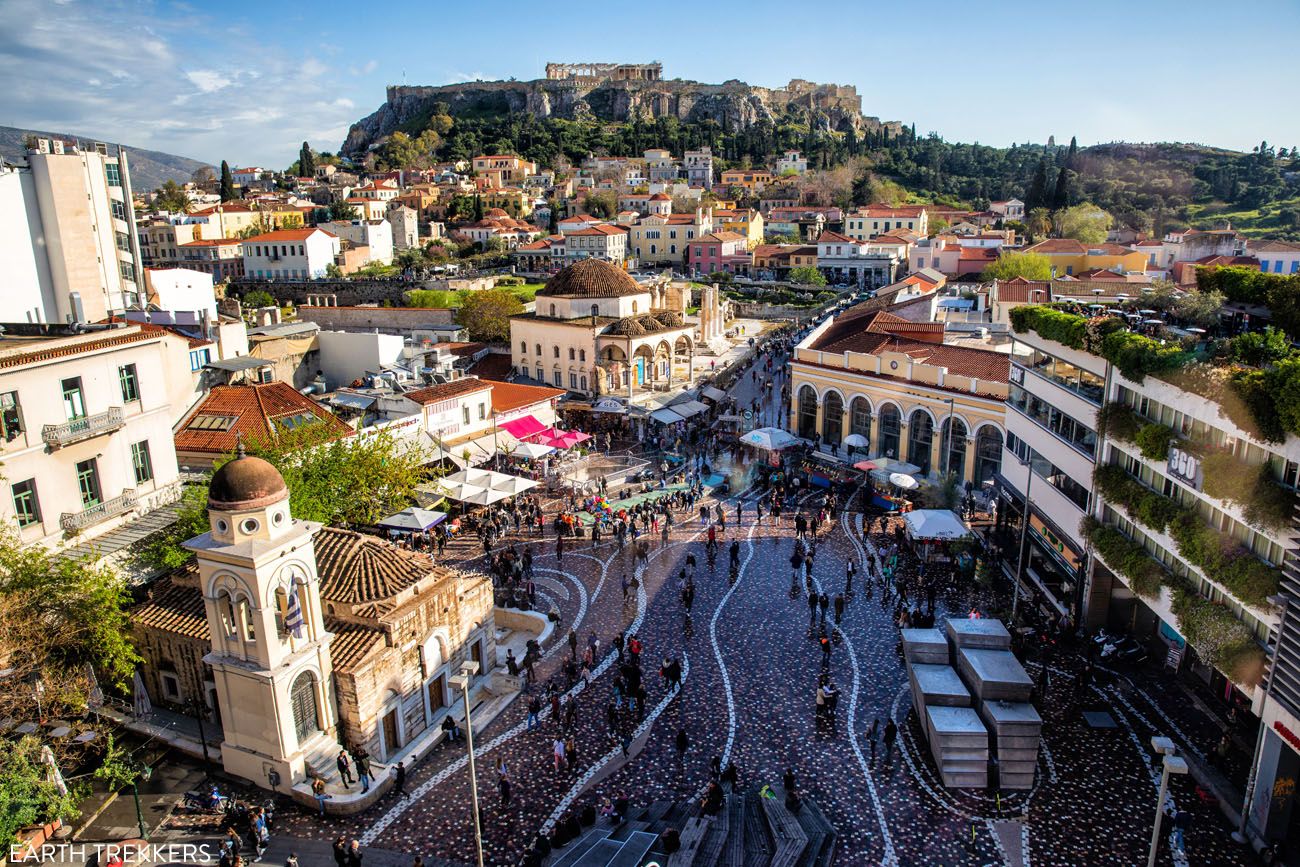 View from A for Athens rooftop restaurant
Optional: The Acropolis
Save the sunset dinner for tomorrow night and instead, watch the sunset from the Acropolis. The Acropolis is open until 8 pm from April 1 to October 31 (last admission at 7:30 pm). The last hour of the day is the least crowded time to visit the Acropolis.
Most people visit the Acropolis in 1 to 2 hours. Plan on arriving by 6 or 6:30 pm to give yourself enough time to visit the Acropolis, the Parthenon, and the slopes.
Day 9
Athens
The Acropolis
If you didn't visit the Acropolis last night, spend this morning at the Acropolis.
The Acropolis opens at 8 am and I recommend getting here right at 8 am, even though you already have your tickets. The Acropolis starts to get very busy at 8:30 am with big tour groups arriving between 9 am and 10 am. If you want to avoid the worst of the crowds, it's worth it to roll out of bed early.
Views of the Acropolis
Spend the rest of the morning getting "the best view" of the Acropolis.
Areopagus Hill, also known as Mars Hill, is located just outside of the main entrance to the Acropolis. Here is the view.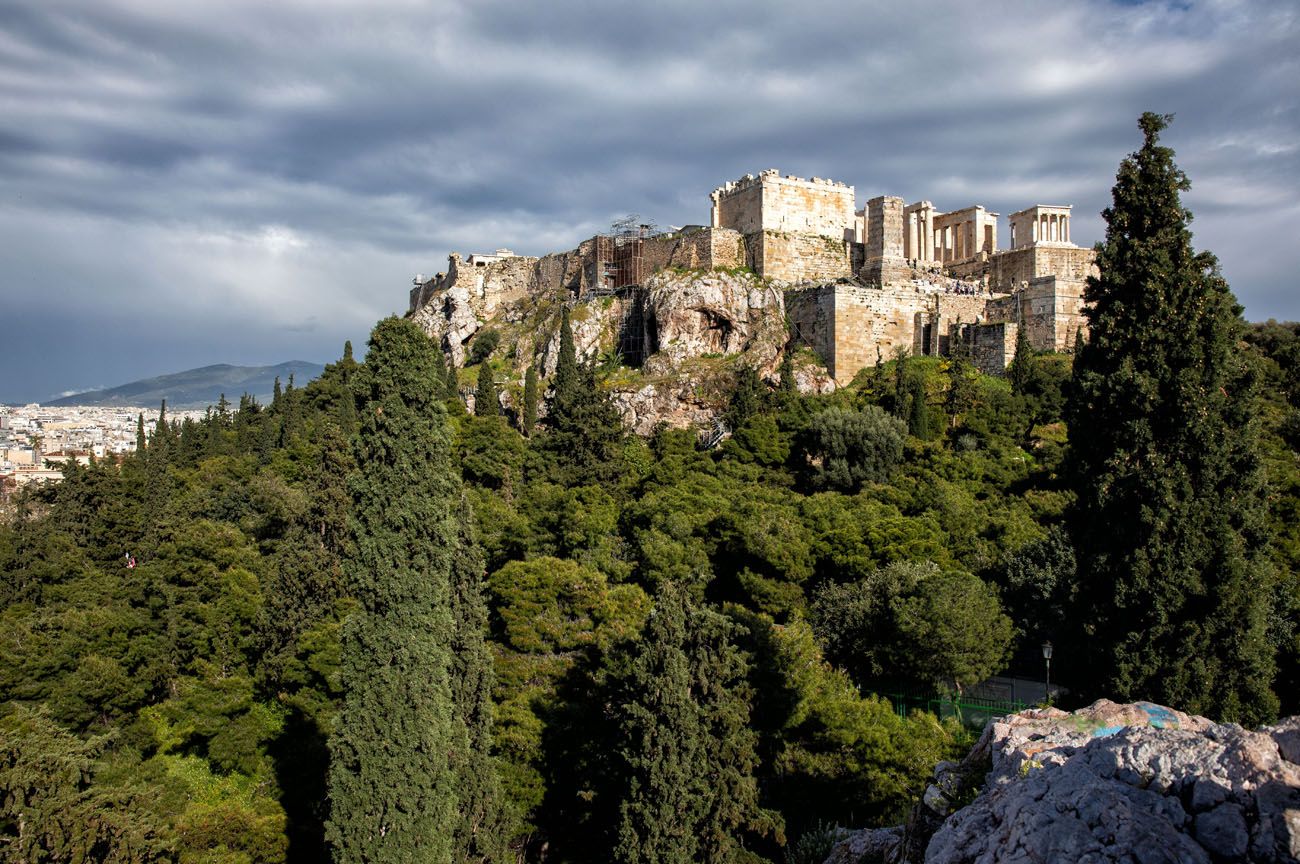 From Areopagus Hill, walk over to Philopappos Park where you can get stunning views of the Acropolis.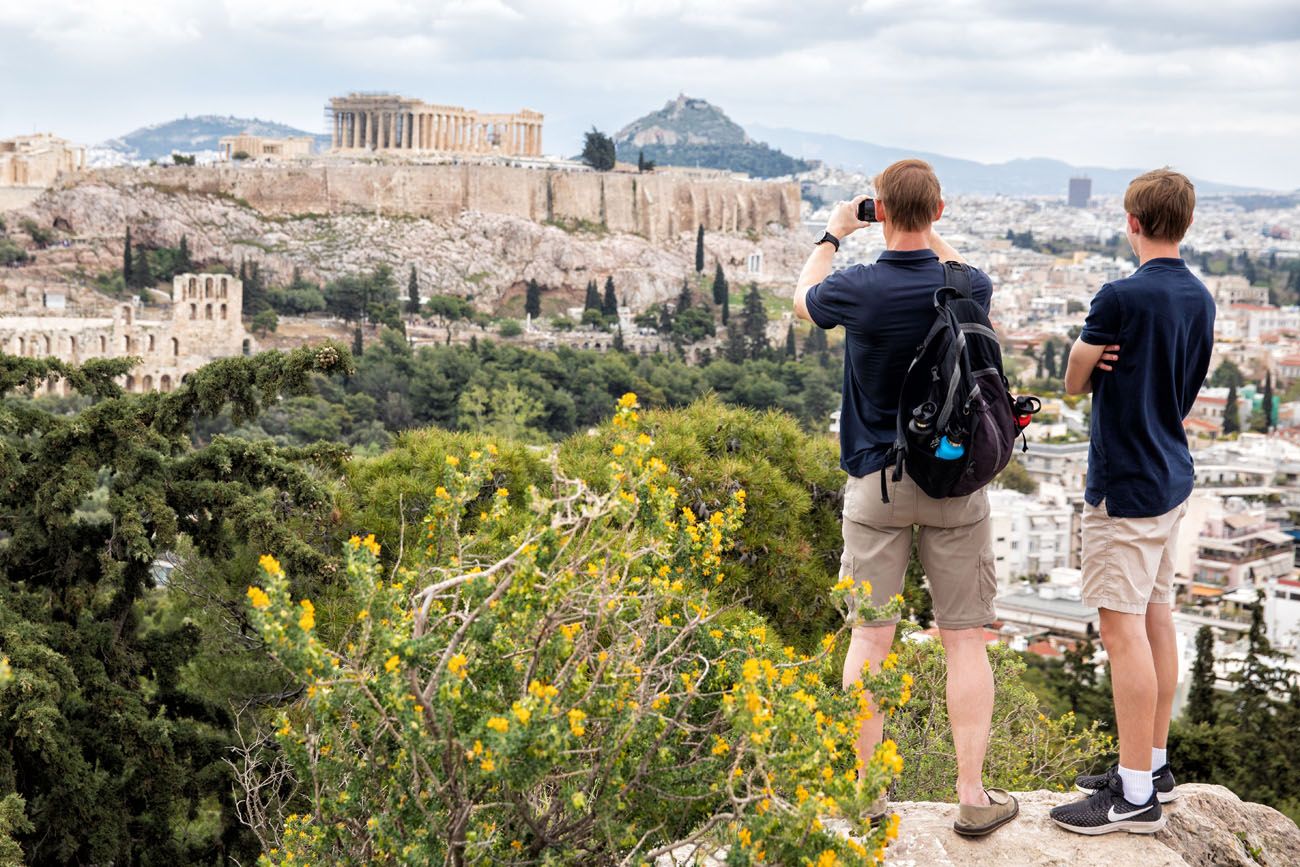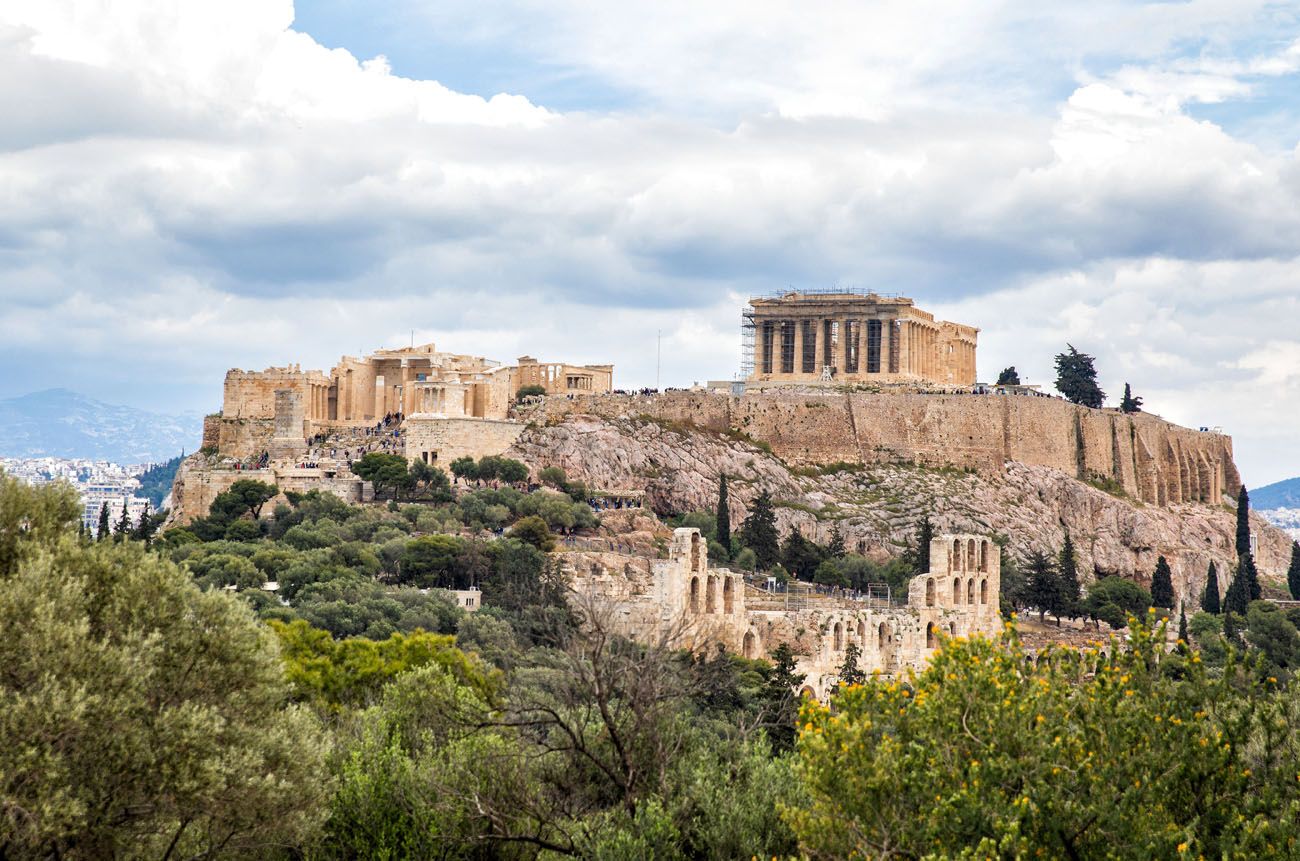 In the afternoon, visit the Benaki Museum (contains Greek works of art from prehistory to modern time) or the National Archaeological Museum (the largest archeological museum in Greece and houses one of the greatest collections of artifacts of Greek antiquity). Take in the view from Mount Lycabettus, go shopping in Plaka, or wander the streets of the funky, trendy Psyrri neighborhood.
End the day dinner and drinks.
Day 10
Fly home or continue your travels.
---
With More Time
If you have one extra day, consider adding it to Mykonos or Athens.
If you have two or more days, you can add them to destinations already listed in this itinerary or add on a fourth island. Paros, Folegandros, Ios, and Milos are islands to consider.
With Less Time
If you only have 9 days available, take a day from Santorini. With only 8 days, take a day from Santorini and skip Mykonos.
With only 7 days, skip Athens if you are more into beaches and islands. Or, simply visit Athens and Santorini (3 days in Santorini, 2 days in Athens, with a day of travel to get to and from Greece).
About Our Visit
We visited Greece in mid-April during the Easter holiday. In general, high temperatures were 14°C – 18°C (high 50's to mid 60's). On the islands, it was much windier than normal, with winds up to 35 mph while on Santorini and Naxos. During our one day in Mykonos, four thunderstorms rolled across the island, highly unusual weather for April, so we were told.
Even though it was not peak season, crowds were still relatively high since it was Easter. We saw the biggest crowds on Santorini.
In mid-April, restaurants and hotels are just opening their doors after the long winter season, and many restaurants on Mykonos and Naxos still were not open. Also, there are fewer ferries operating in the spring and fall months. There are many more available ferry and flight options in June, July, and August.
Even though the weather was cool and some places were still closed, we really enjoyed our visit in April. We prefer low crowds and cool temperatures over the hot, crowded conditions in the summer months. However, if you want to lounge at the beach and swim in the water, summer is the best time to visit Greece.
---
If you have any questions about this Greece itinerary, comment below!
More Information for Your Trip to Greece:
You Might Also Like:
Note: This post contains affiliate links. When you make a purchase using one of these affiliate links, we get paid a small commission at no extra cost to you.