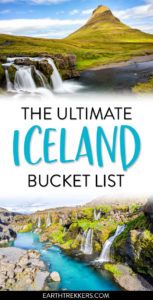 Iceland…the land of fire and ice. This small country is one of Europe's best outdoor destinations. Go on an epic road trip, see the northern lights, walk on a glacier, visit more waterfalls than you can count, journey into the unique landscape of the Highlands, stand on volcano, relax in a hot spring, or hike some of the most scenic trails in the world.
Iceland may look small on a map, but this island country is packed with amazing things to do.
If you are planning a trip to Iceland and need some ideas on where to go, this is a great place to start. Here are 40 of the best things to do in Iceland (plus one highly overrated attraction).
Best Things to do in Iceland
Here is our list of the best things to do in Iceland. At the end of this article, you can see them all on a map.
In order to see and do everything that we have listed, you will have to visit Iceland more than once. Not only is this a long list, but some of these things are seasonal. Hiking trails and roads into the interior of the country are only open during the summer months. Ice caves can only be visited in the winter and your best chance to see the northern lights are also the winter months.
Iceland truly is an amazing place and if you are like us, you won't mind a return visit.
So, in no particular order, here are the best things to do in Iceland.
Take a Road Trip on the Ring Road
One of the best things to do in Iceland is to road trip along the Ring Road.
The Ring Road the main road that makes a loop around the entire island. It is 1,332 km (828 miles) long and can be driven in just a few days. However, you will need more time for detours. Most road trips along the Ring Road last at least 7 to 10 days.
Along the Ring Road, you will find many of the sites that we list in this article…waterfalls, glaciers, hiking trails, charming towns, and so much more.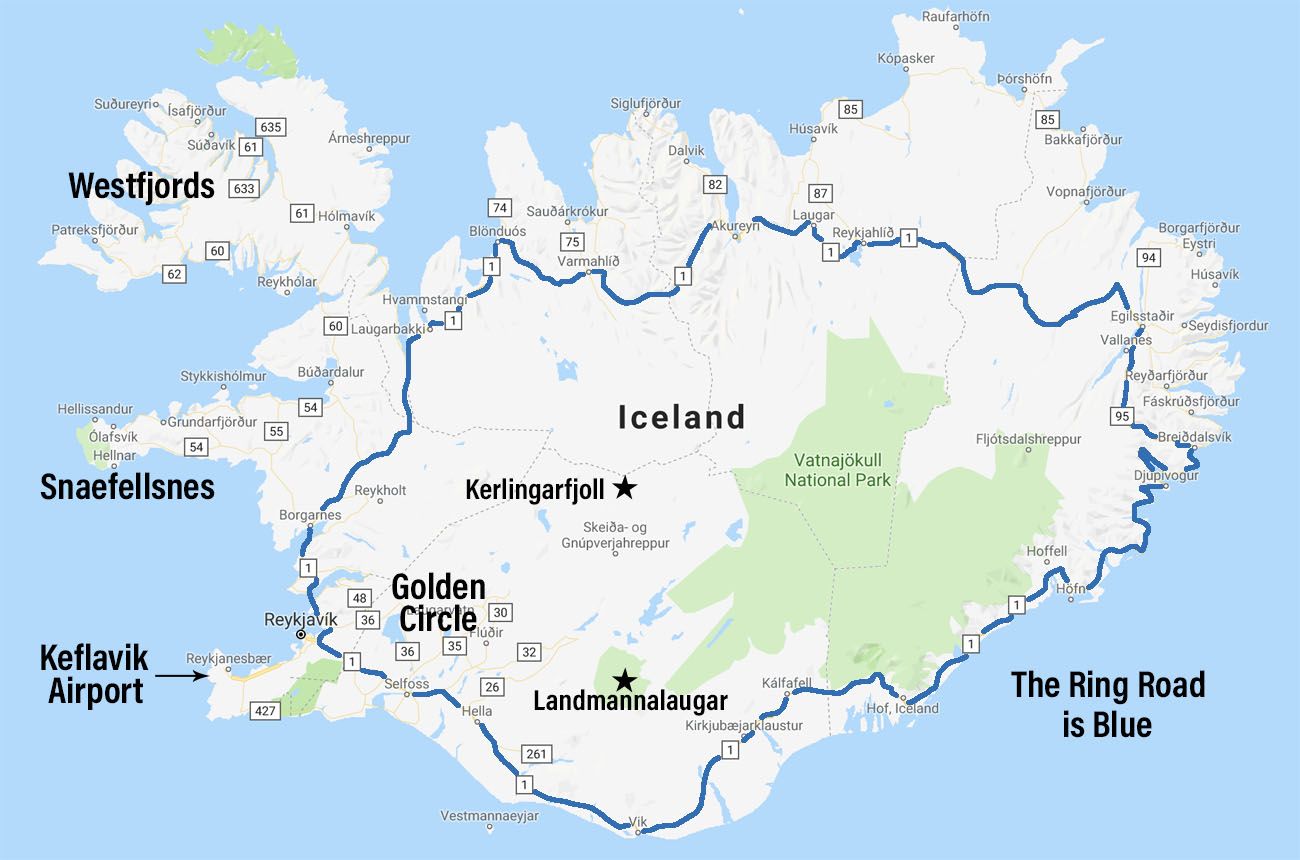 You can drive the loop in either direction. The best time to drive the Ring Road is May through September, when the days are long and the weather is stable. It's possible to drive the Ring Road year-round, but during the winter months, snow and whiteout conditions are likely. You should rent a 4×4 and you should have experience driving in snow and ice.
The Golden Circle
The Golden Circle is one of the most popular day trips from Reykjavik. It is a 300 km (186 mile) loop that connects three of Iceland's most popular spots: Gullfoss, the Geysir Geothermal Area, and Thingvellir National Park. You can self-drive the loop or take a tour from Reykjavik.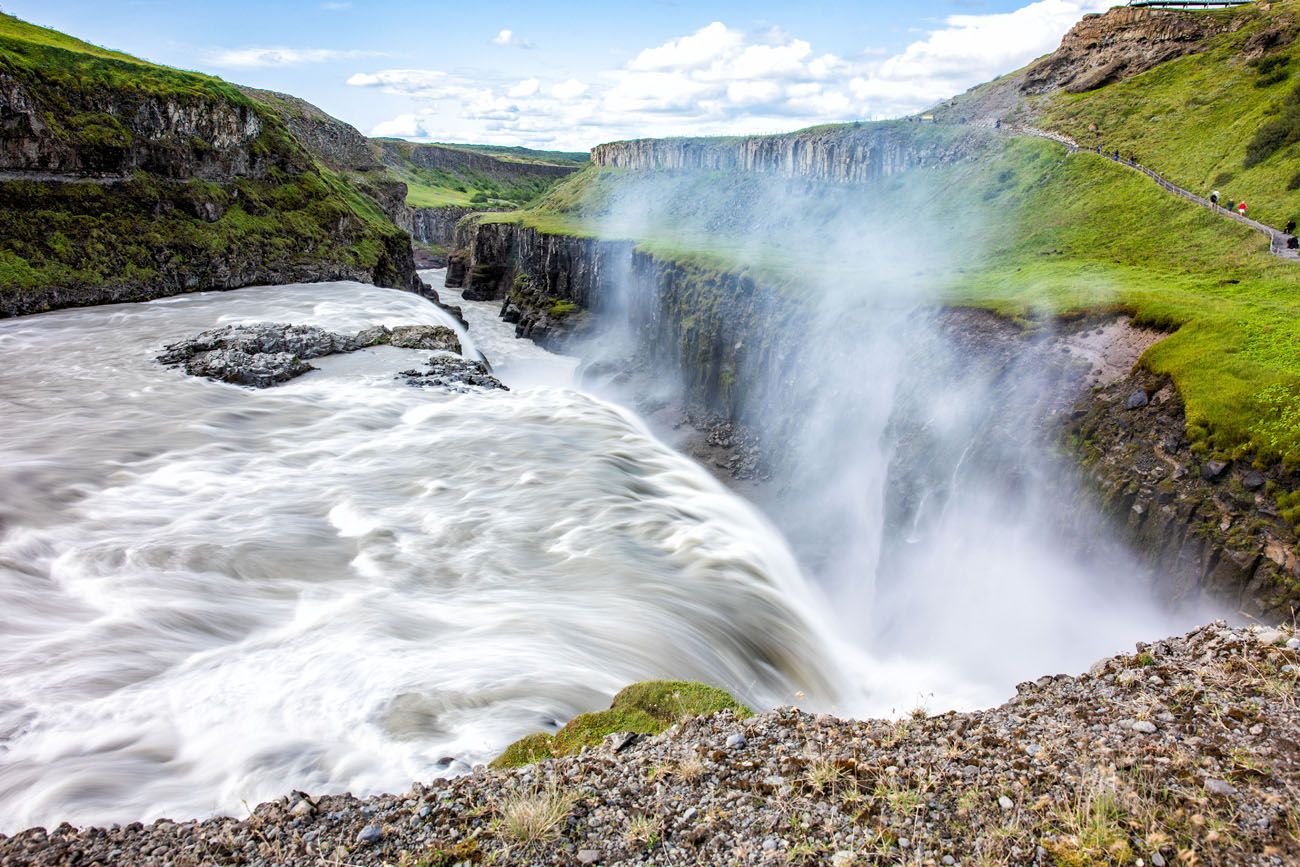 Gullfoss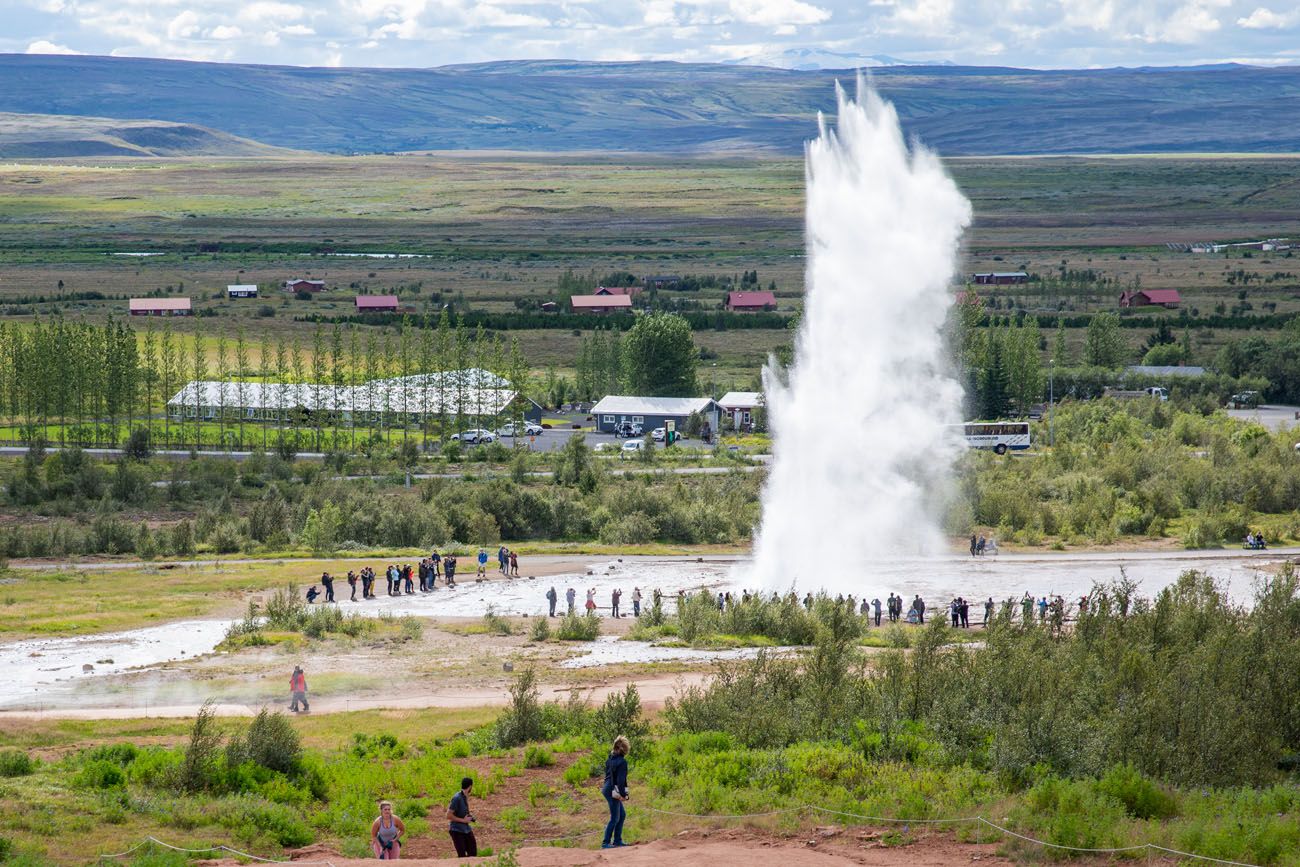 Strokkur Geyser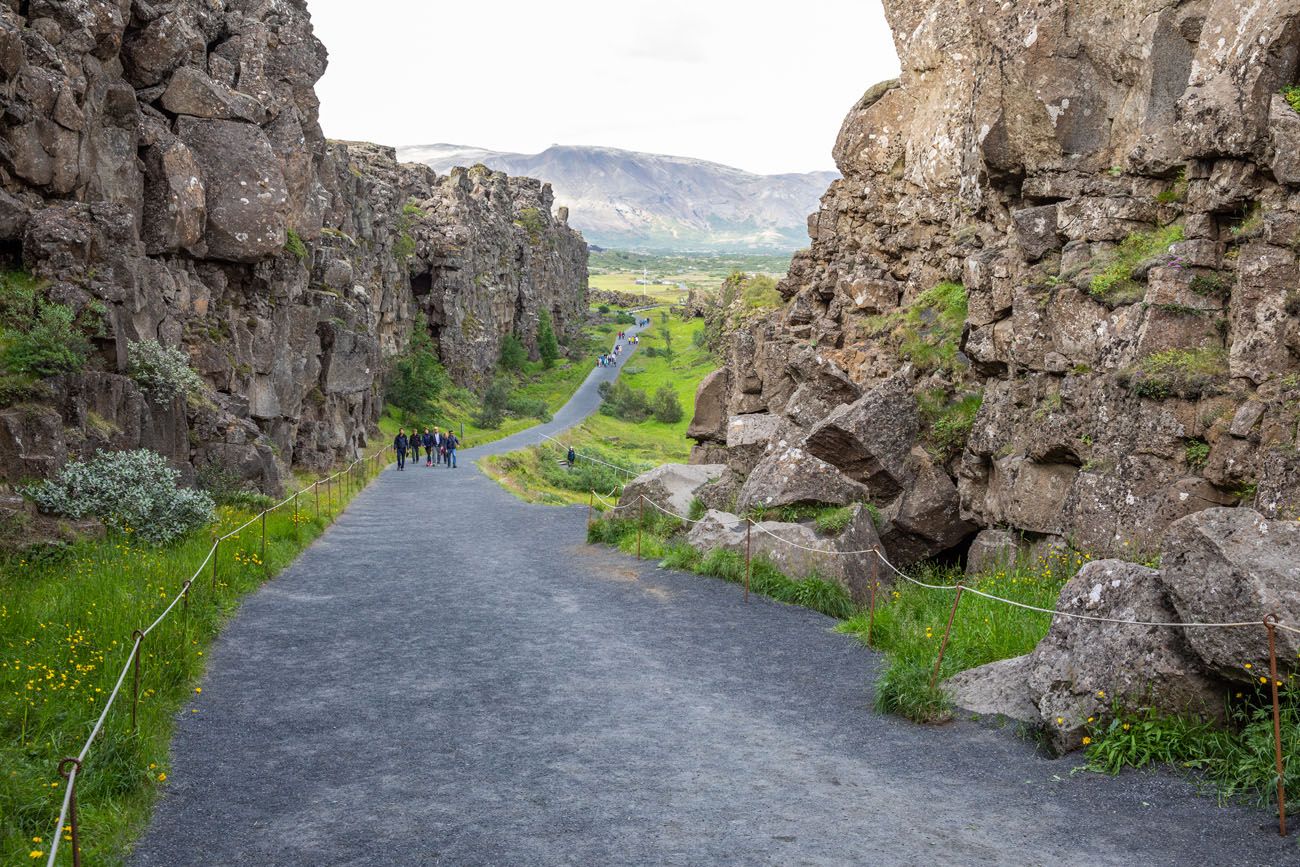 Thingvellir National Park
Landmannalaugar
Landmannalaugar is an area in Iceland that is famous for its colorful rhyolite mountains and epic day hikes. Geothermal hot springs, lava fields, and unique hiking trails attract adventurous travelers all summer long.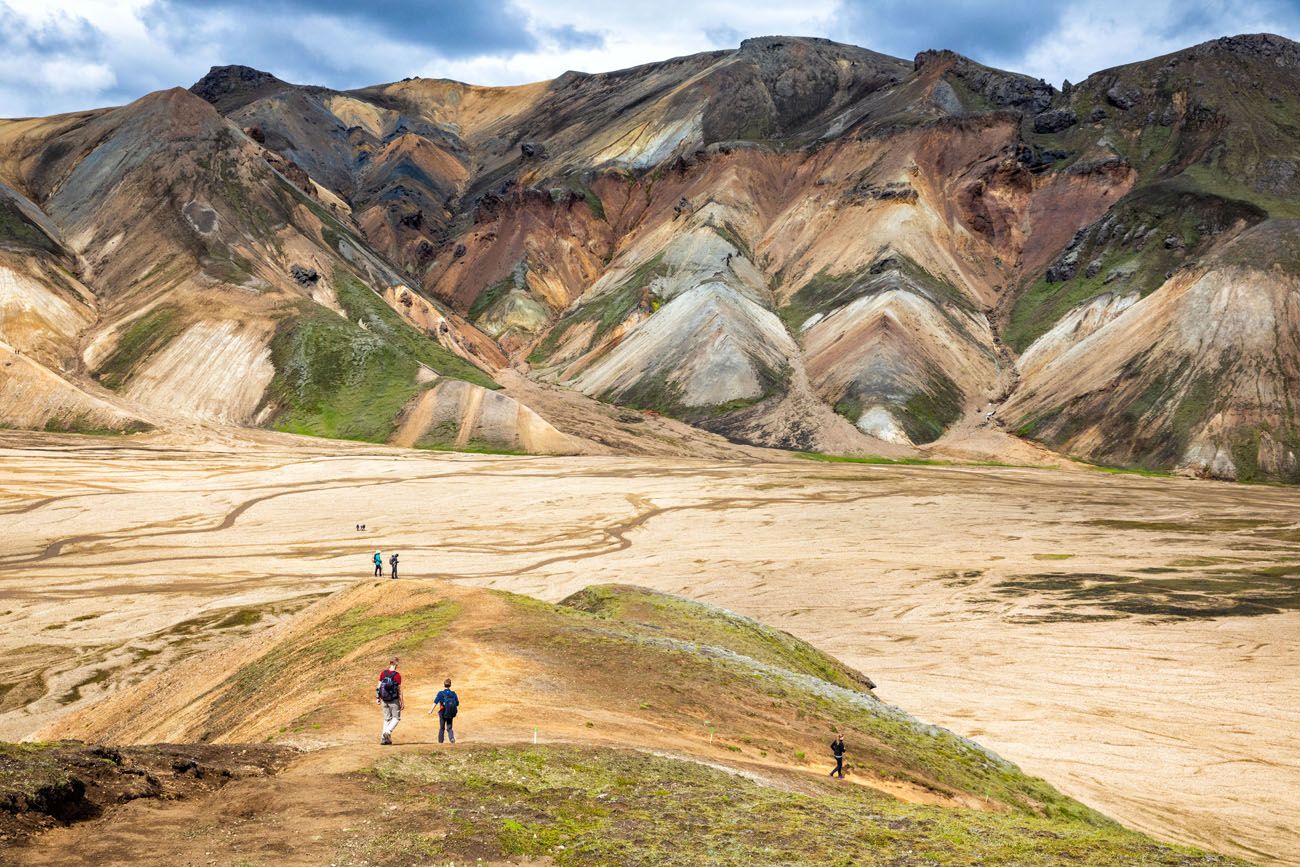 If you enjoy hiking, like the idea of going off-the-beaten-path, or just want to see a very unique landscape, put Landmannalaugar high on your list.
How to Visit Landmannalaugar: You can visit Landmannalaugar from June through September, when the roads are open. To get here, you will either need a 4×4, take the bus, or join a tour.
Chase the Northern Lights
From September through April, the northern lights dance across the sky in Iceland.
It is possible to see the northern lights from Reykjavík, but light pollution takes away from some of the vibrance and color. For the best experience, leave the city behind and see the northern lights from the Golden Circle, the Snaefellsnes Peninsula, or along the Ring Road.
Numerous tours from Reykjavík take visitors to scenic locations to watch these colors light up the sky.
Gaze Up at the Mighty Skogafoss
Skogafoss is one of Iceland's most famous waterfalls. This waterfall is massive and to truly appreciate its size, you can stand right in front of it and witness its power.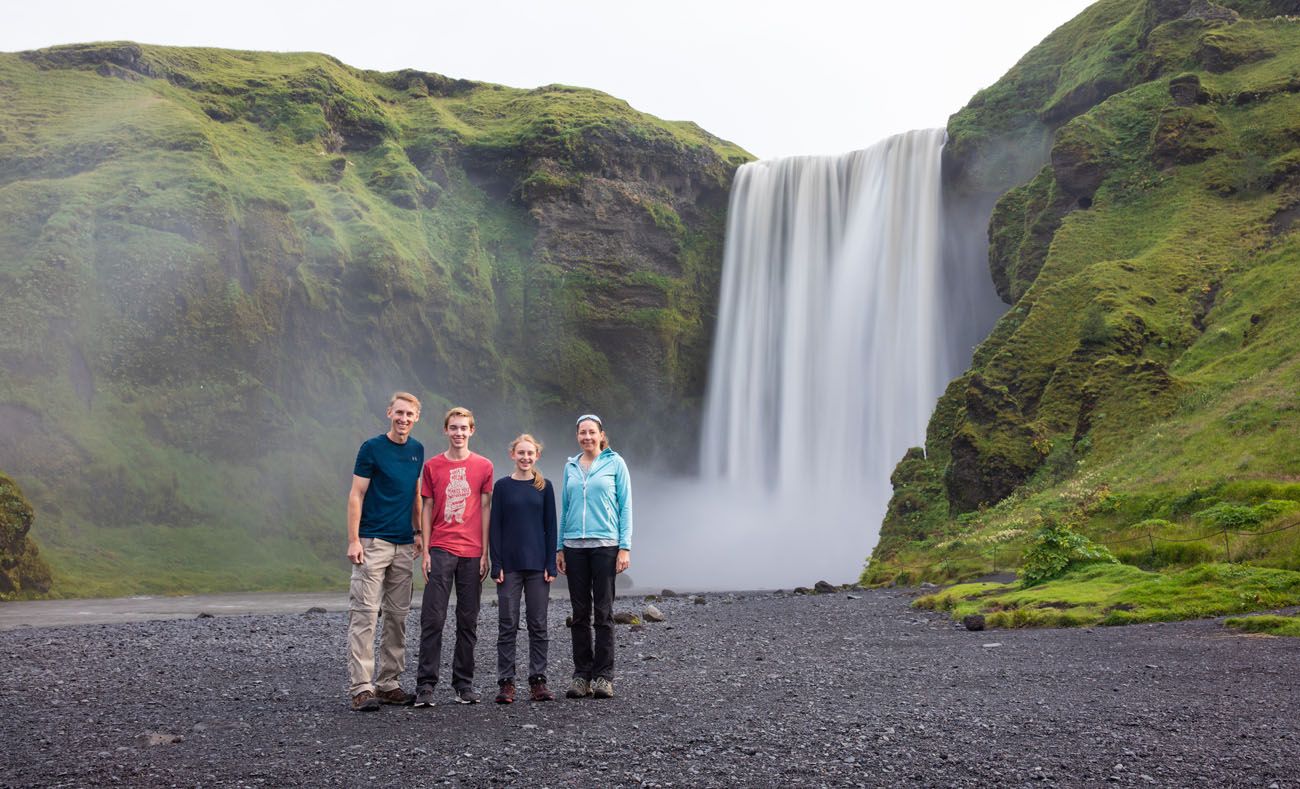 How to Visit Skogafoss: Skogafoss is located on South Iceland on the Ring Road. Park in the large parking lot and it's just a short walk to the base of the waterfall. Climb the long staircase if you want a view from the top of Skogafoss.
Count the Waterfalls along Waterfall Way
Skogafoss is an amazing waterfall to see. But what many people don't know is that you can hike past Skogafoss and see 25 more waterfalls. It is one of Iceland's most underrated experiences.
The Skógá River originates near the glaciers Eyjafjallajökull and Mýrdalsjökull. As it flows to the south coast, it drops in elevation, creating these 26 waterfalls. Skogafoss is the final waterfall before the river ends at the ocean.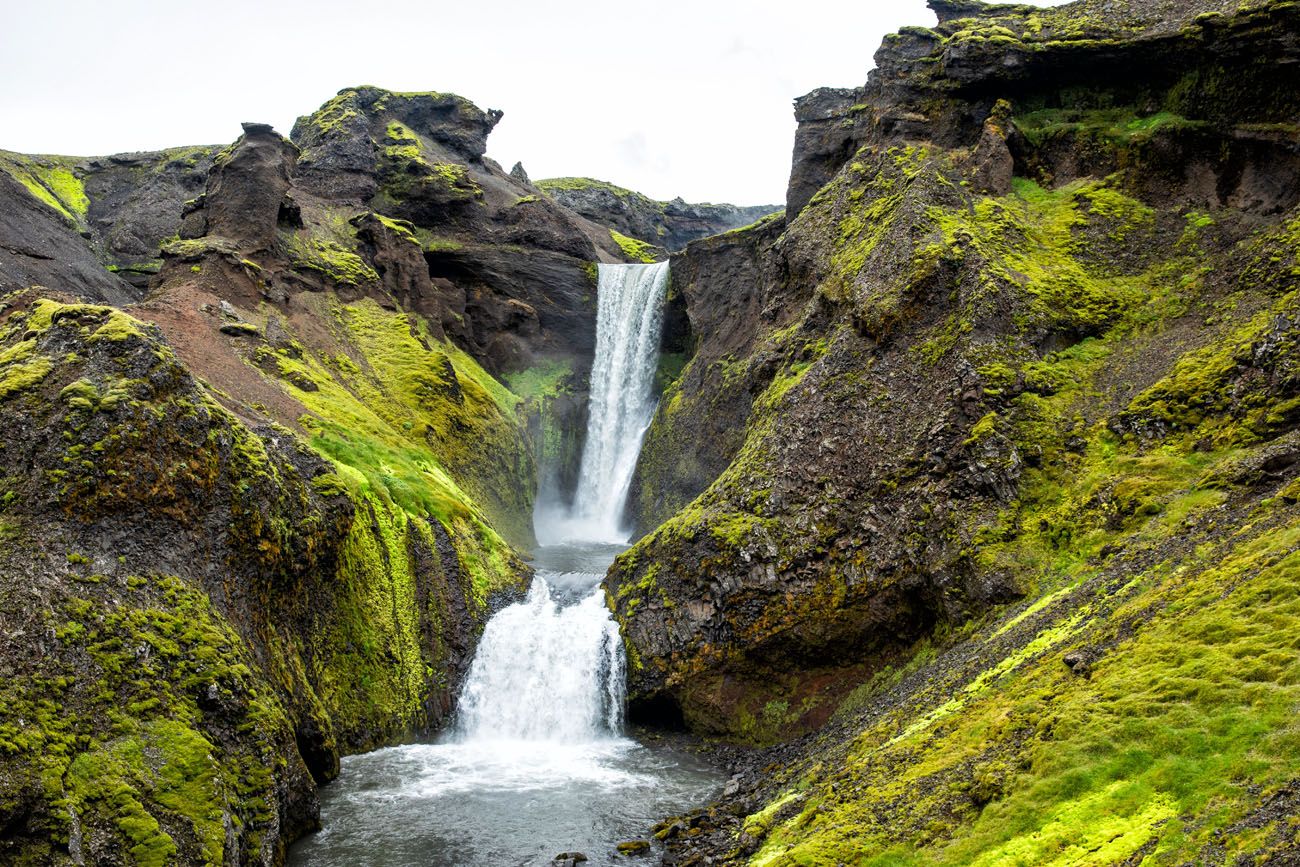 To see all 26 waterfalls, it is a 16 km (10 mile) round trip hike from Skogafoss. This trail is also the first part of the famous Fimmvörðuháls hike. You don't have to walk the entire distance, of course, just turn around when you are ready.
Fimmvörðuháls Hike
The Fimmvörðuháls hike is Iceland's best day hike. 26 waterfalls, 1 volcano, 2 glaciers, and 3 unique landscapes all combine for one of the most extraordinary hiking experiences on the planet.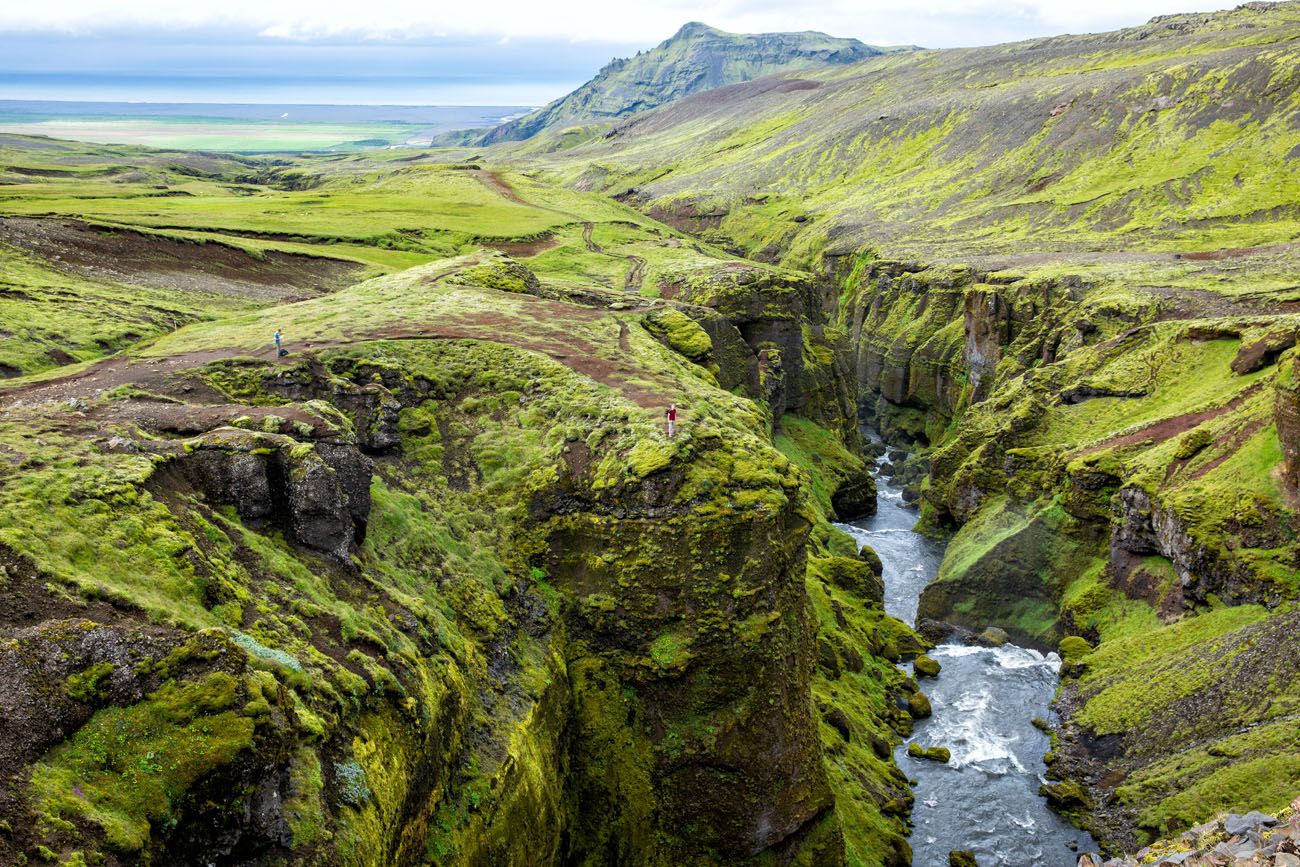 The first part of the hike, Waterfall Way, near Skogafoss.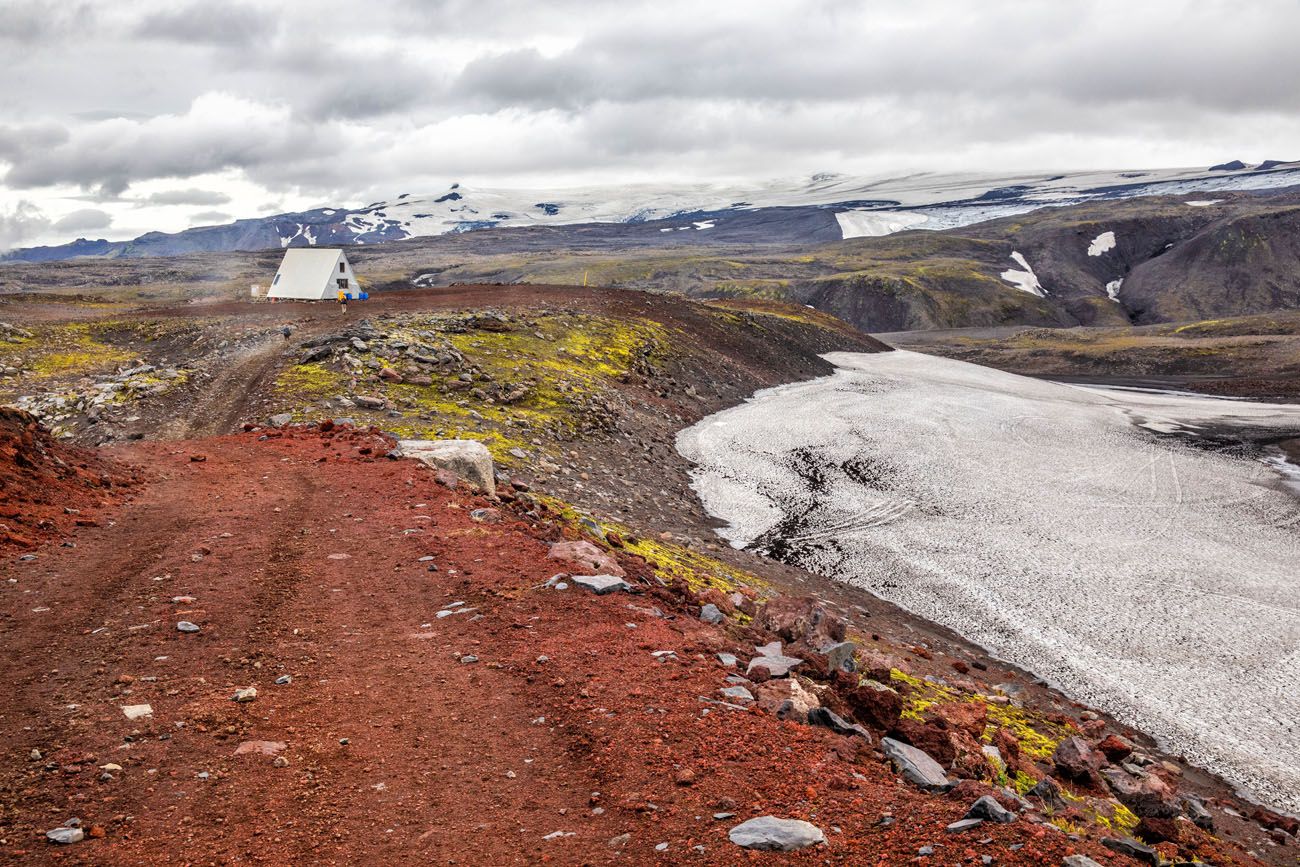 Approaching the the glaciers Eyjafjallajökull and Mýrdalsjökull at the midpoint of the hike. See our photo below of Thórsmörk for another view along the hike.
This is a massive hike. It's 25 km (15.5 miles) in length and done as a point-to-point hike from Skogafoss to Thórsmörk. The logistics can be challenging, but we have a great guide to help you plan your hike.
If you have plans to visit Iceland during the summer months and are love hiking, this should be #1 on your Iceland bucket list.
Photograph Kirkjufell
Kirkjufell is Iceland's most photographed mountain. It's unique arrowhead shape, coastal location, and isolation from other mountains makes it a very unique photography location. Throw in a series of waterfalls and you have a stunning photography and filming location.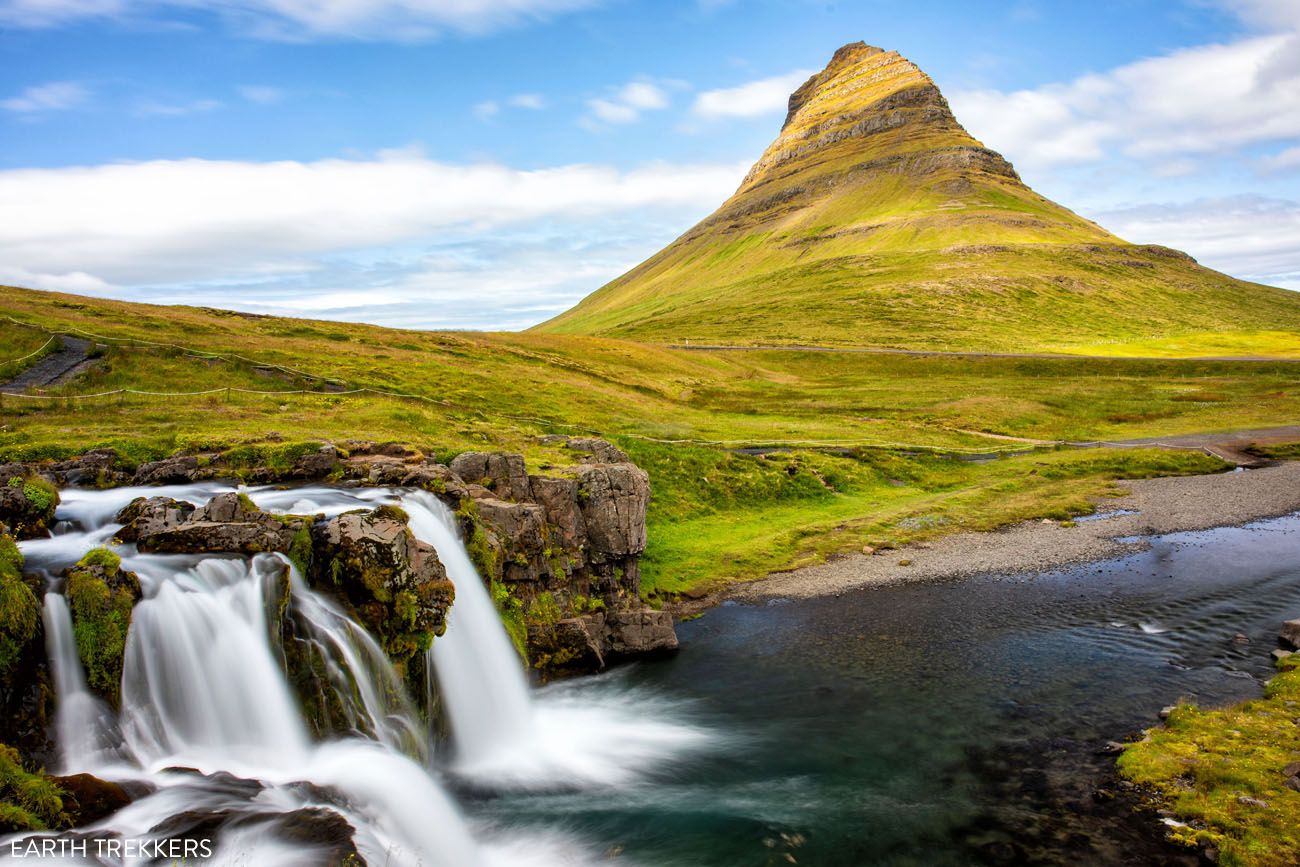 How to Visit Kirkjufell: Kirkjufell is located on the Snaefellsnes Peninsula. Park in the small parking lot near Kirkjufell and it is a short, uphill walk to the viewpoint. You can do this on a self-drive tour of the Snaefellsnes Peninsula or join a tour from Reykjavík.
The Blue Lagoon
People either love or hate this experience.
We visited the Blue Lagoon simply because it seemed like one of those things that we "should do" on a visit to Iceland. We expected that we would fall in the "hate it" group, but we were very pleasantly surprised. From start to finish, we truly loved the Blue Lagoon.
The key to having a good experience, at least for us, was arriving first thing in the morning. We had 7 am tickets so we were one of the first people in the Blue Lagoon. For nearly two hours, we relaxed in the warm water, smeared mud all over our faces, and drank Prosecco (is 8 am too early for Prosecco?). It was so much fun!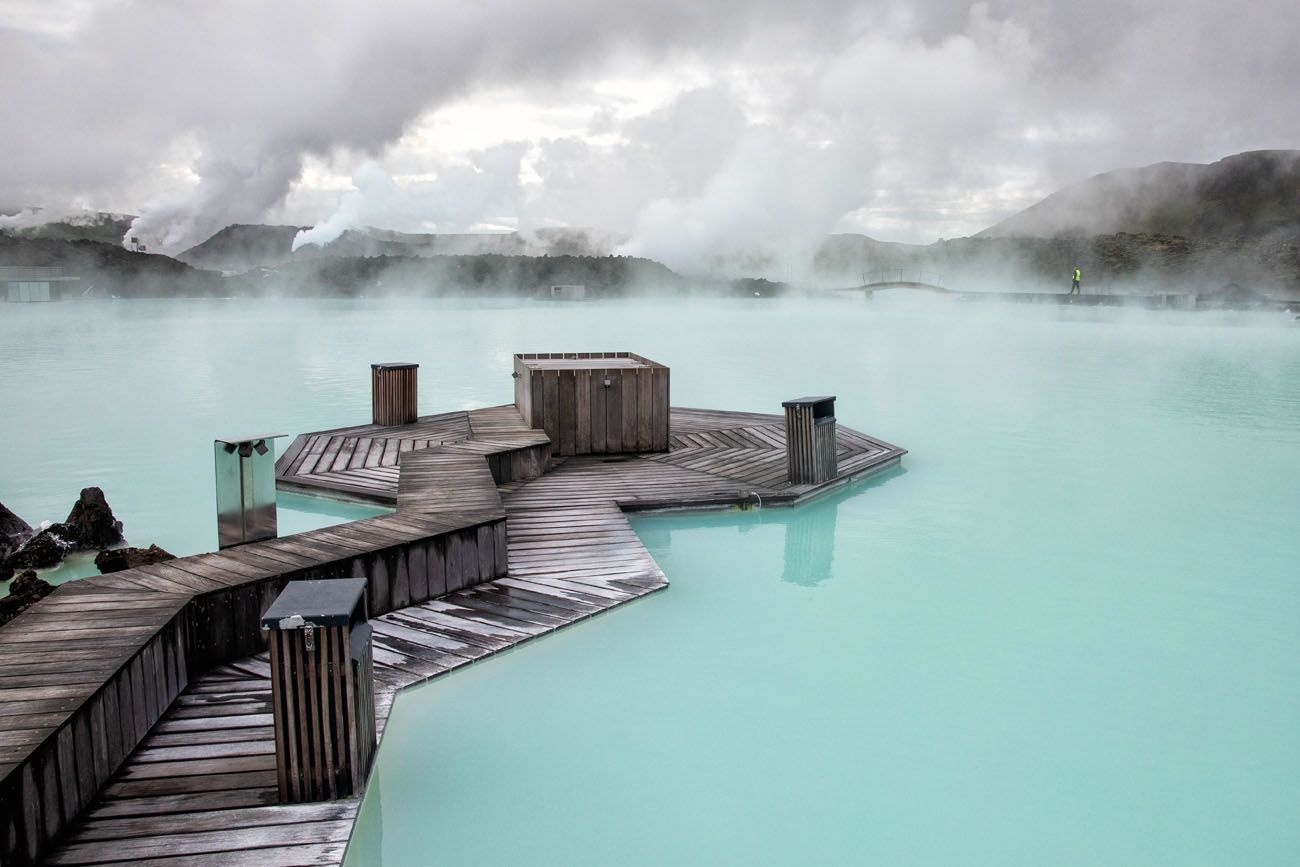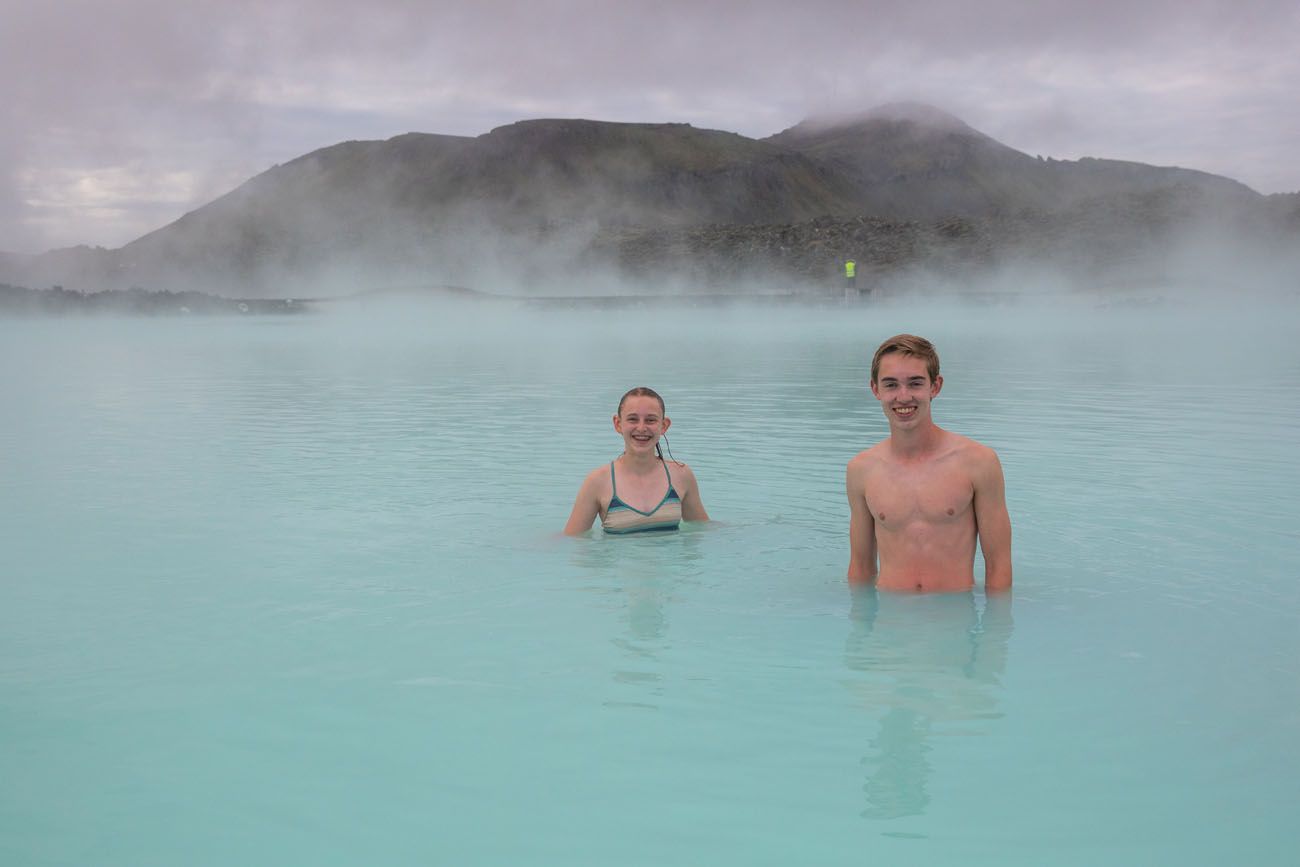 Timing is everything. This is one of the most popular things to do in Iceland and the crowds can be insane midday. For the best experience, get here early. Many people start pouring in at 9 am and by 10 it starts to feel crowded.
Visit Mývatn
Located in northern Iceland, Mývatn is a small town with a lot to do. Visit Grjotagja Cave (a small lagoon that was a filming location for Game of Thrones), visit the geothermal area of Hverir, walk through a lava field, hike to the top of a crater, or relax in the Mývatn Nature Baths.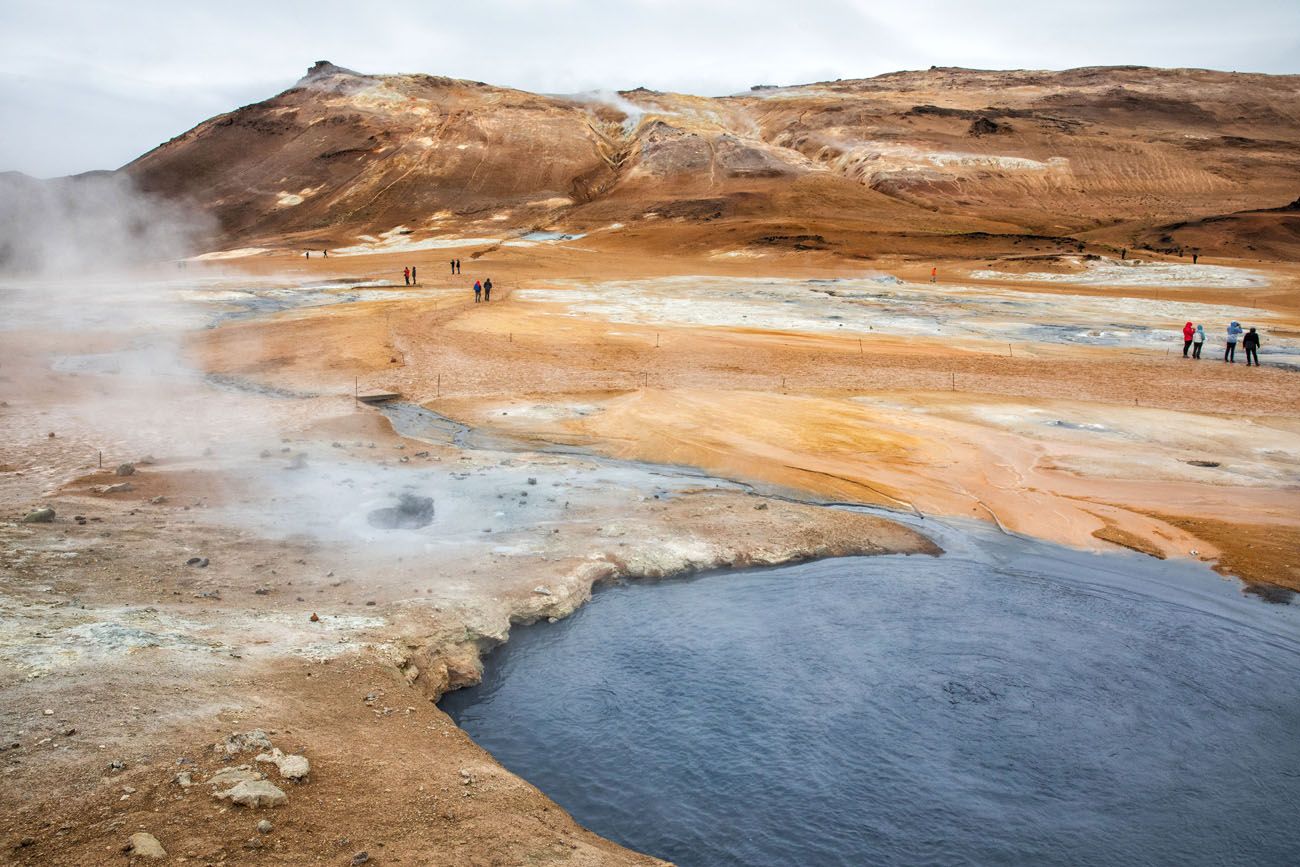 Many visitors enjoy the Mývatn Nature Baths more than the Blue Lagoon experience. From what we read online, the Nature Baths are less crowded and less touristy. Well, either times have changed or we had very poor timing. We visited the Nature Baths at 5 pm and the locker rooms and the hot springs were packed. There was nothing fun, or relaxing, about this experience for us.
Dettifoss and Selfoss
Not far from Mývatn is Dettifoss, one of Europe's most powerful waterfalls. Just a short walk upstream is elegant Selfoss.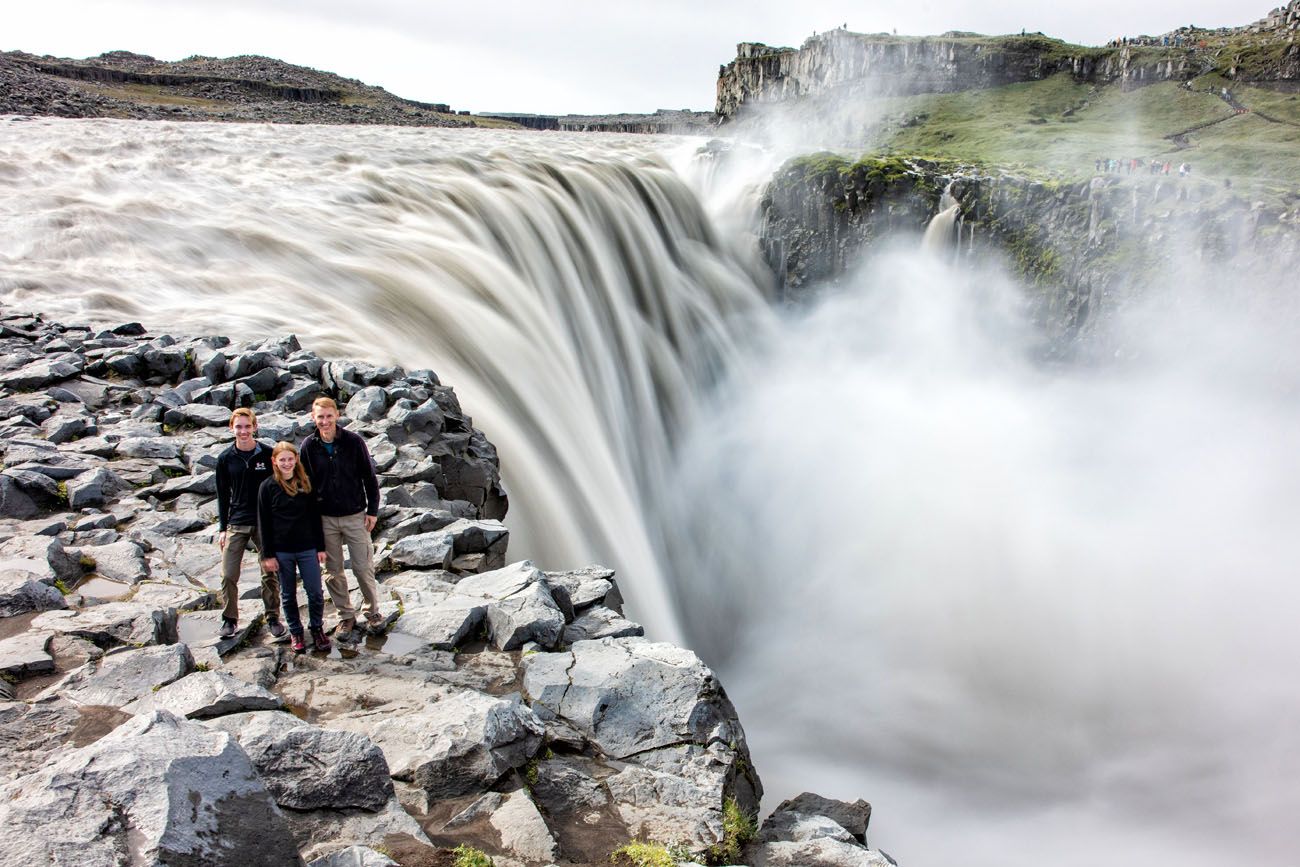 Dettifoss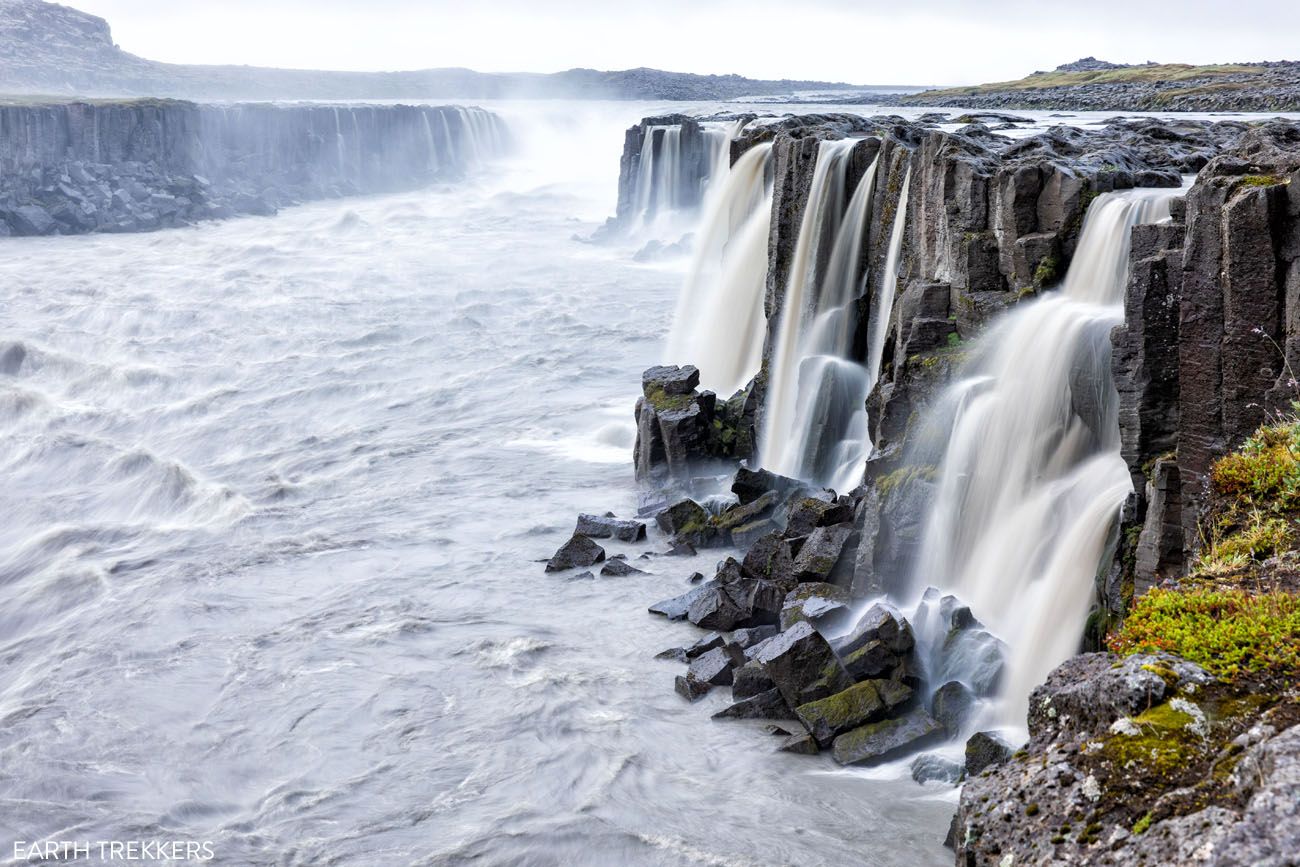 Selfoss
How to Visit Dettifoss and Selfoss: You can visit Dettifoss and Selfoss from the east side and/or the west side. To do so, it takes a half day of your time. If you only have time for one, how do you choose? Learn more in our article about Dettifoss and Selfoss.
Go Whale Watching
Iceland is one of the best spots in the world to go whale watching. Over 20 species of whale live offshore from Iceland.
Whale watching tours leave from Húsavík, Akuyeri, and Reykjavík. You can also see whales from the Snaefellsnes Peninsula and the Westfjords.
Walk on a Glacier
Strap on some crampons, grab an ice pick, and set off on a very cool Icelandic adventure.
Sólheimajökull is a glacier on the south coast that is popular with day trippers from Reykjavík.
For an epic experience, why not walk on Vatnajökull, Europe's largest glacier? You can walk on this glacier from Skaftafell, also located on the south coast.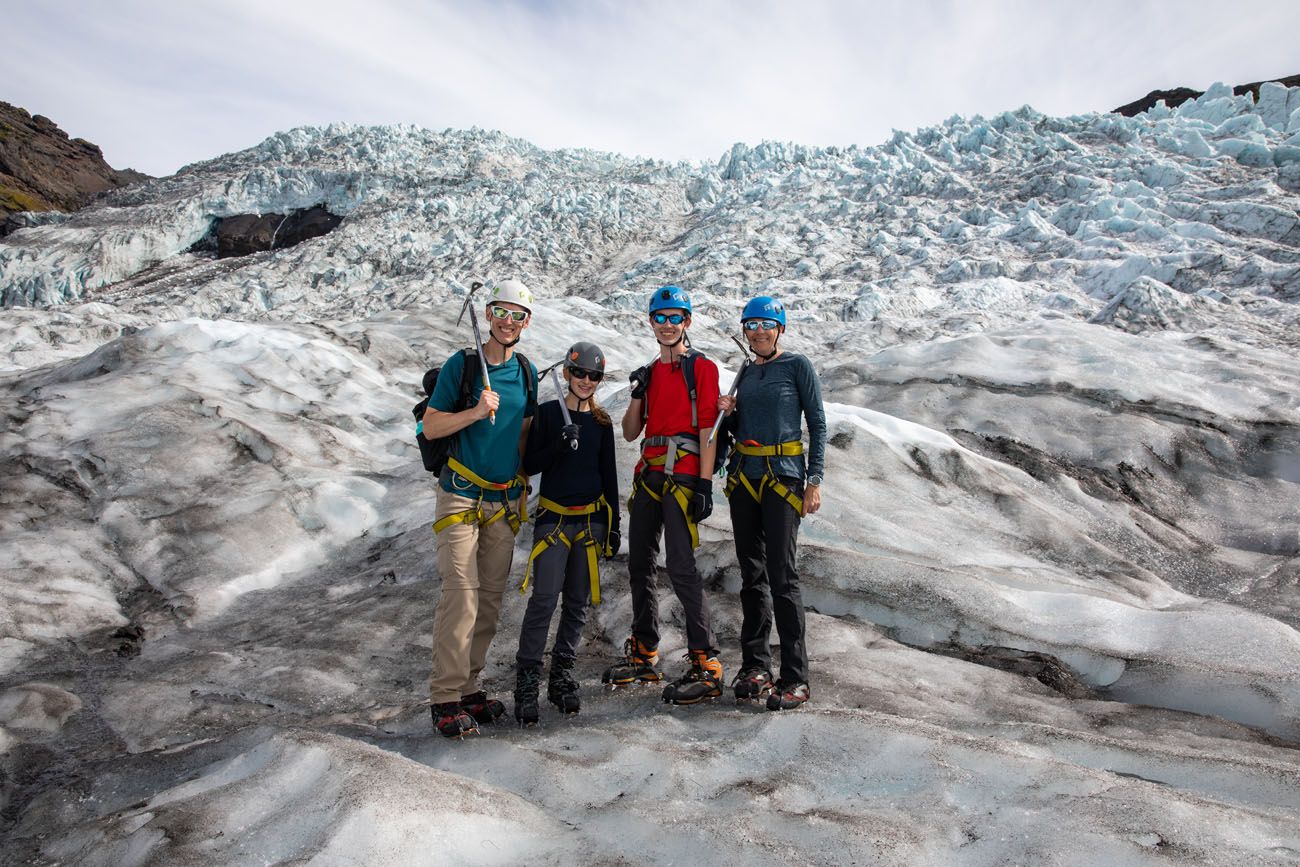 We did a five-hour tour with Arctic Adventures where we got to spend three hours on Vatnajökull glacier. We walked through crevasses and climbed up and over huge chunks of ice. This was one of our favorite experiences in Iceland.
Explore an Ice Cave
Journey inside of a glacier to see a cave formed of brilliantly blue ice. For safety reasons, glacial ice caves can only be visited during the winter months. These caves are located in the Vatnajökull glacier on the south coast of Iceland. To visit these caves, you can only do so with an experience guide.
To learn all about glacial ice caves and what to expect on this experience, click here.
Get a Bird's Eye View of Reykjavik
For a beautiful, bird's eye view over Rekjavík, climb to the top of Hallgrimskirkja. This iconic cathedral is the largest church in Iceland and one of the tallest buildings in the country. On a clear day, you not only have amazing views of the city but you can see as far as the Snaefellsnes Peninsula.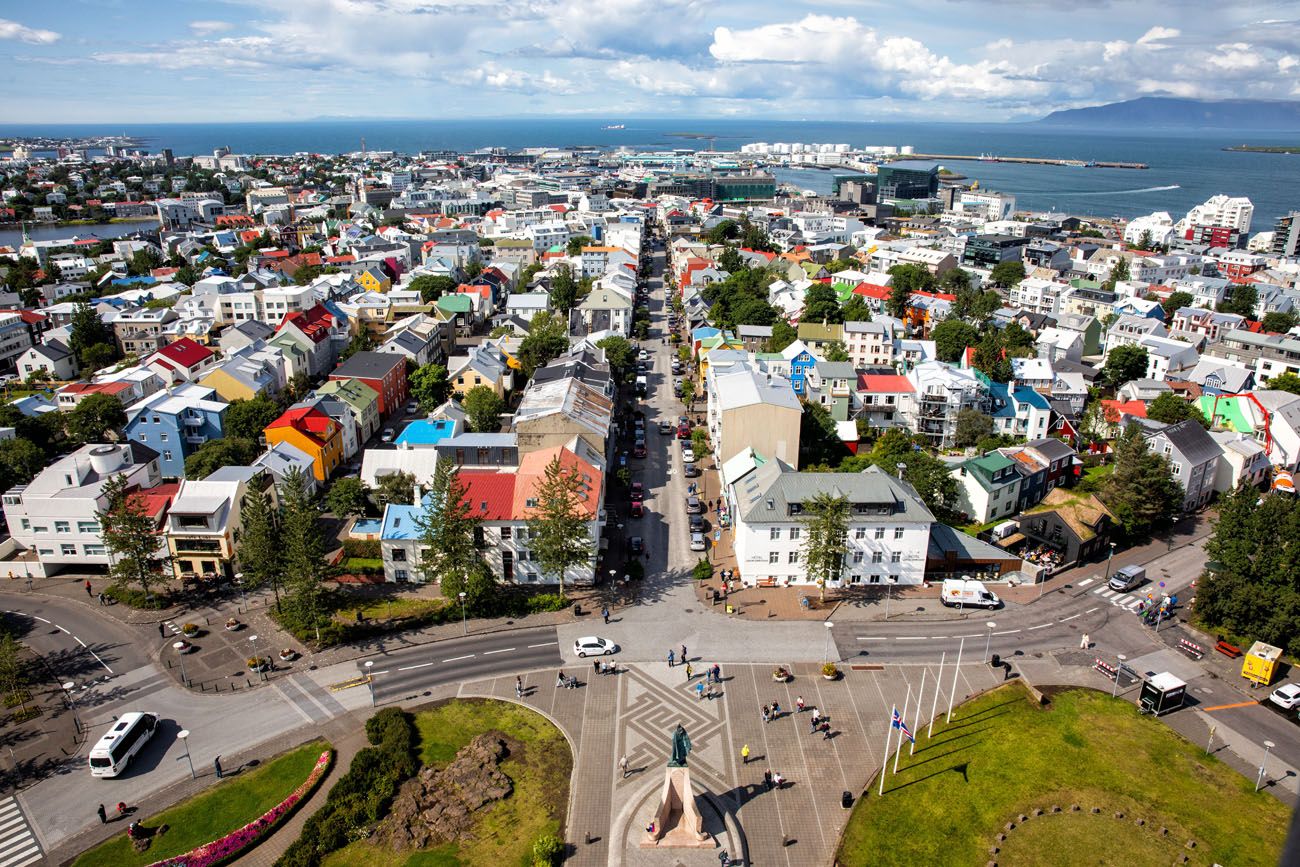 Explore the Snaefellsnes Peninsula
Photograph Kirkjufell, walk through a lava tube, see nesting birds along dramatic coastal cliffs, visit black sand beaches, drive out to remote lighthouses, visit quaint coastal towns, and see the famous Budir black church.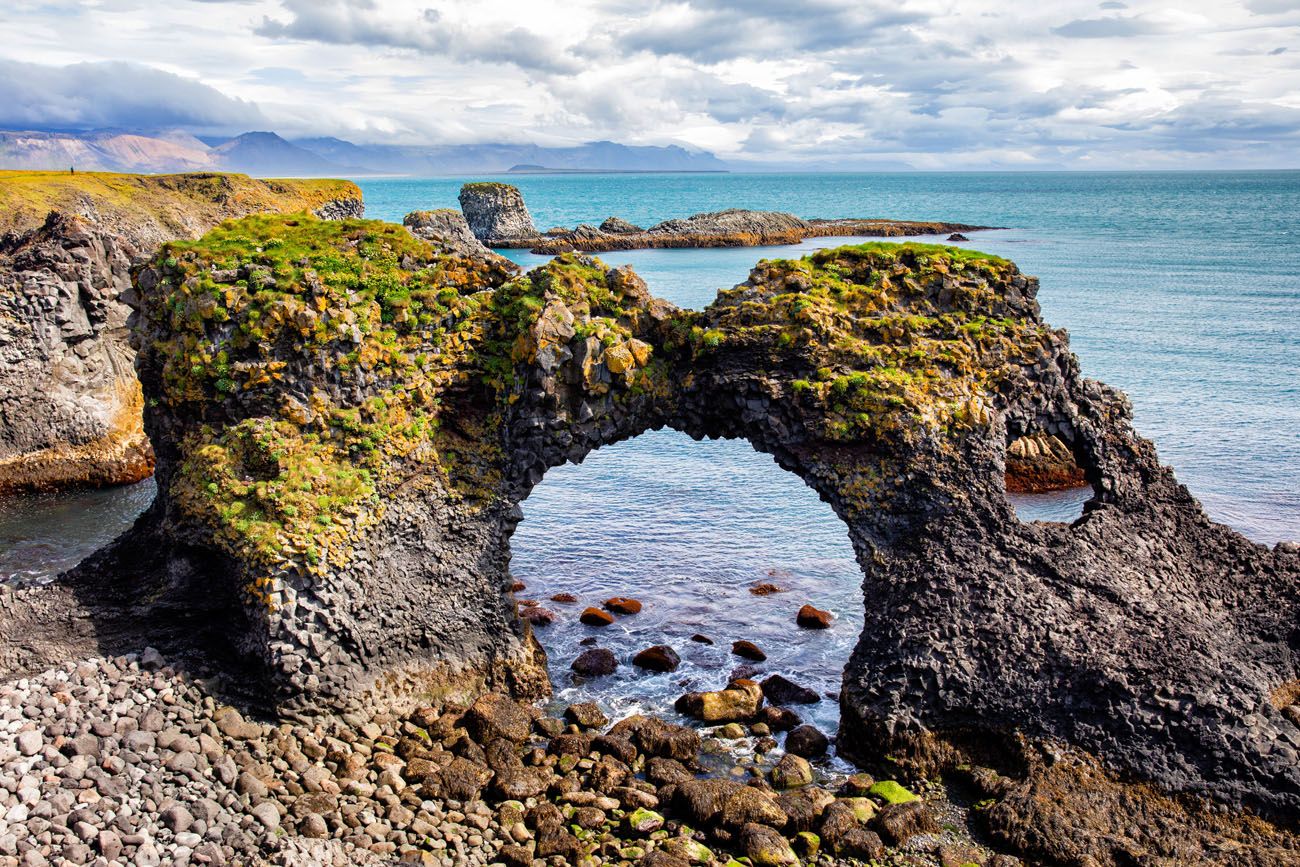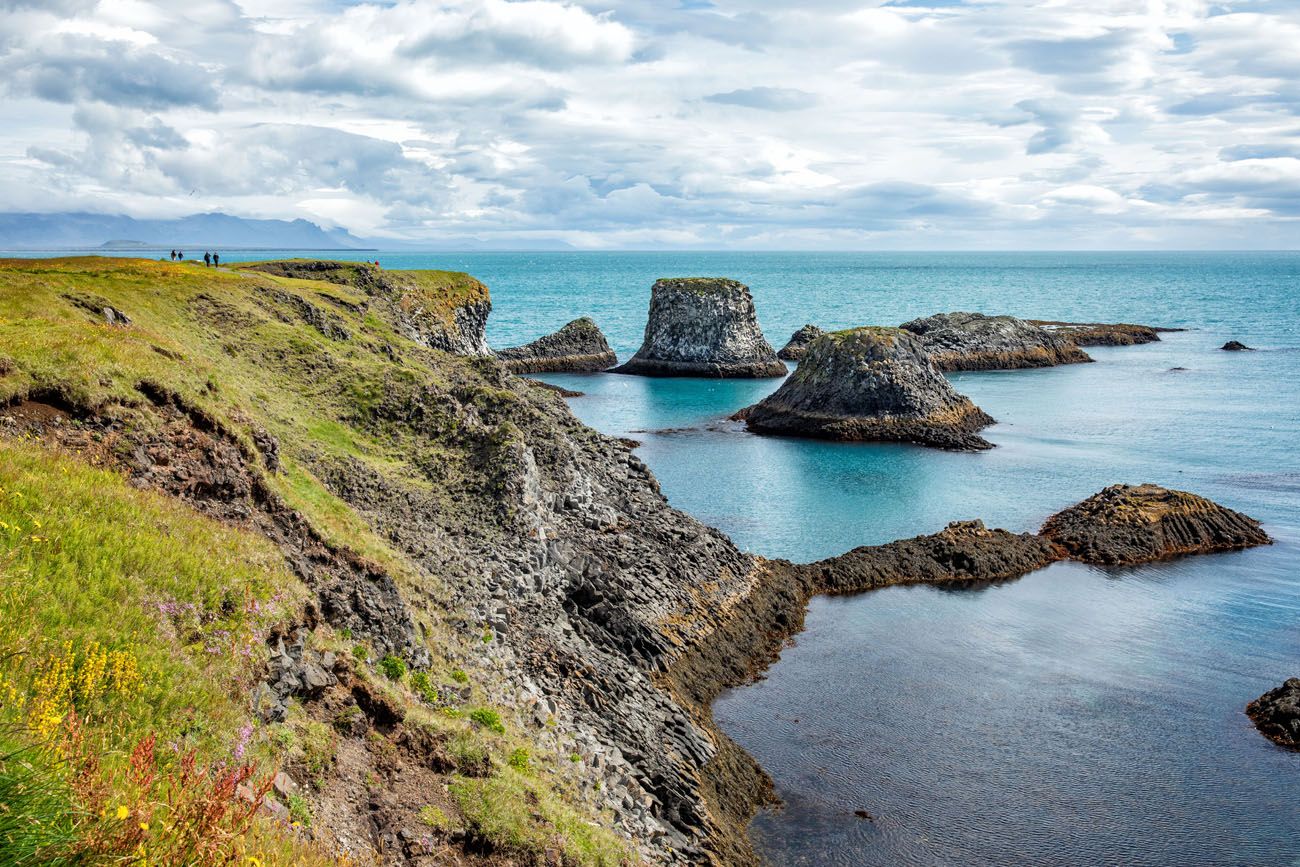 With one day, you can day trip to several of the most popular spots from Reykjavík. With more time, consider spending one or two nights here, to give yourself enough time to drive the entire peninsula. This makes a great addition to a road trip on the Ring Road.
Laugavegur Trek
The Laugavegur Trek is a multi-day hike through some of the most extraordinary landscapes in Iceland.
The Laugavegur trail is a 55 km (34 mile) trail from Landmannalaugar to Thórsmörk. This trek is typically done in 4 days and 3 nights, camping or sleeping in mountain huts along the way.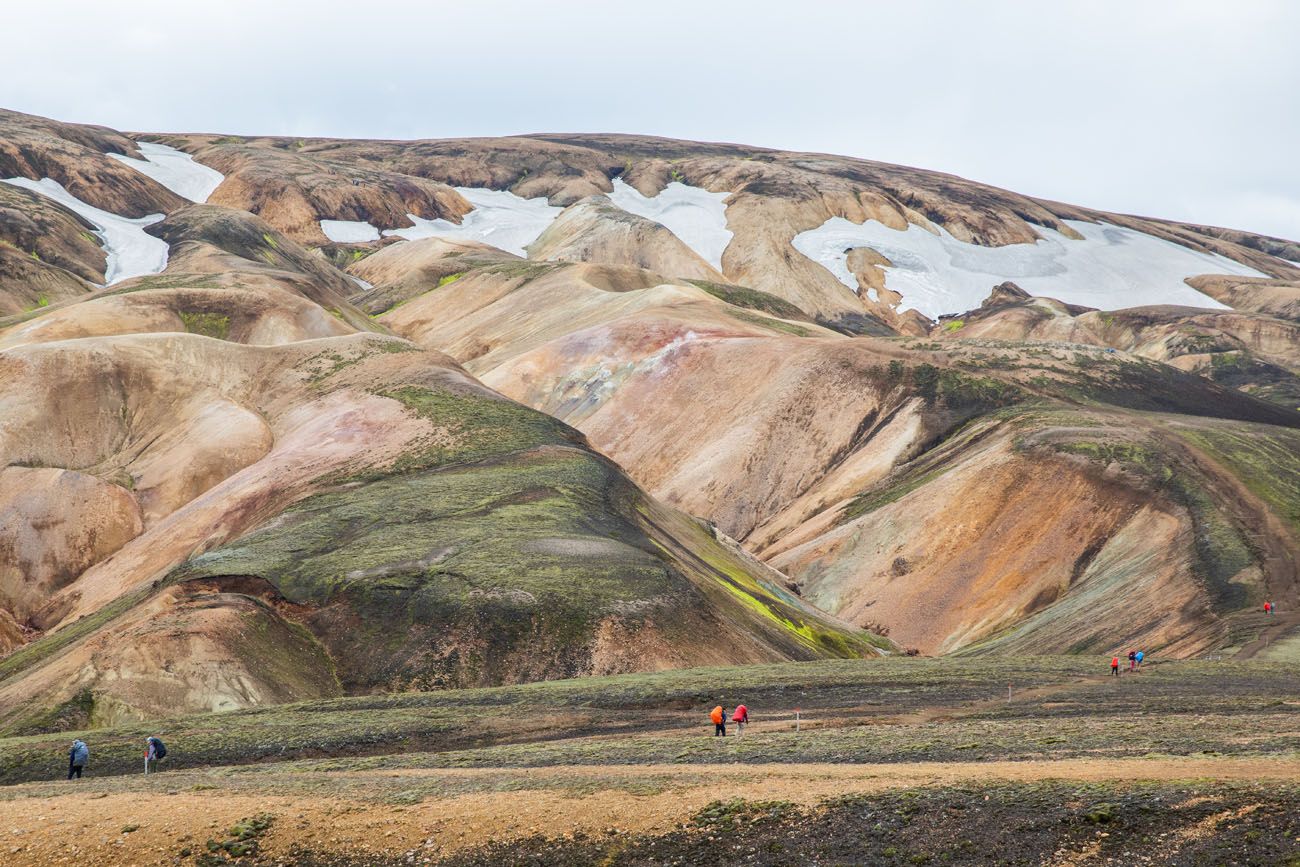 You can do the Laugavegur trek from mid-July through mid-September, when the days are long and the trails are free of snow.
Visit Thórsmörk
Thórsmörk, also called the Valley of Thor, is a gorgeous little spot in the Icelandic Highlands. Lush, green mountains near the valley give way to darker, more volcanic soil near the glaciers Eyjafjallajökull and Mýrdalsjökull. This area is favorite of hikers and photographers.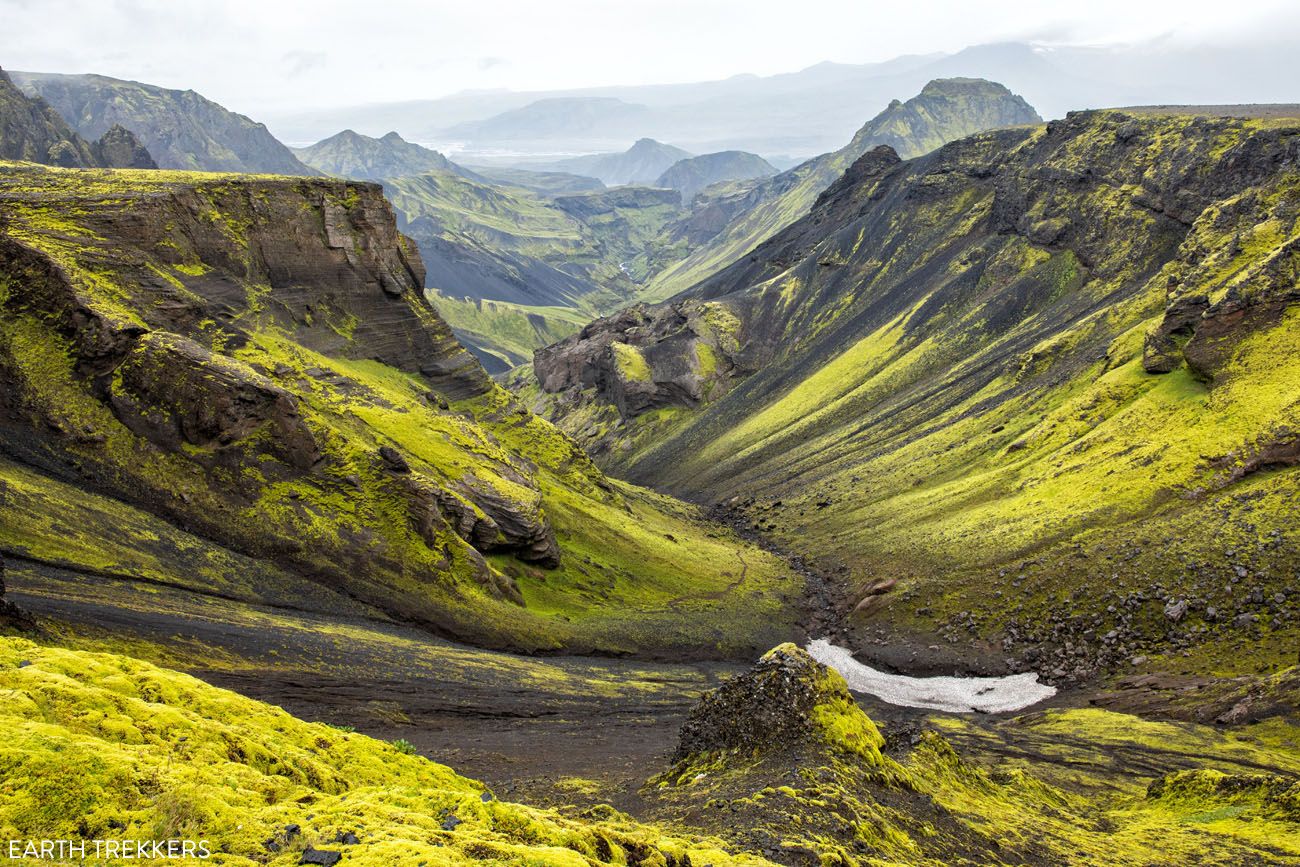 To get here, you can hike the Fimmvörðuháls trail from Skogafoss, hike the Laugavegur trail from Landmannalaugar, or drive in from the south coast. To drive here, you must have a true 4×4 that can handle major river crossings. Most people get here on a tour or take one of the buses that are equipped for these river crossings.
Once here, you can go day hiking and explore Stakkholtsgja canyon, a beautiful canyon that was also a filming location for Game of Thrones. Spend the night in the mountain hut or camp at the campground.
Go Kayaking in the Jökulsárlón Glacier Lagoon
The Jökulsárlón Glacier Lagoon, located on the south coast, is a very popular spot to visit. You can simply drive up, park your car, and take in the view. But if you are looking for more adventure, consider taking a kayak tour of the lagoon.
Unfortunately, the day we did this, it rained almost the entire time, so our photos look rather dreary, but it was still an enjoyable experience.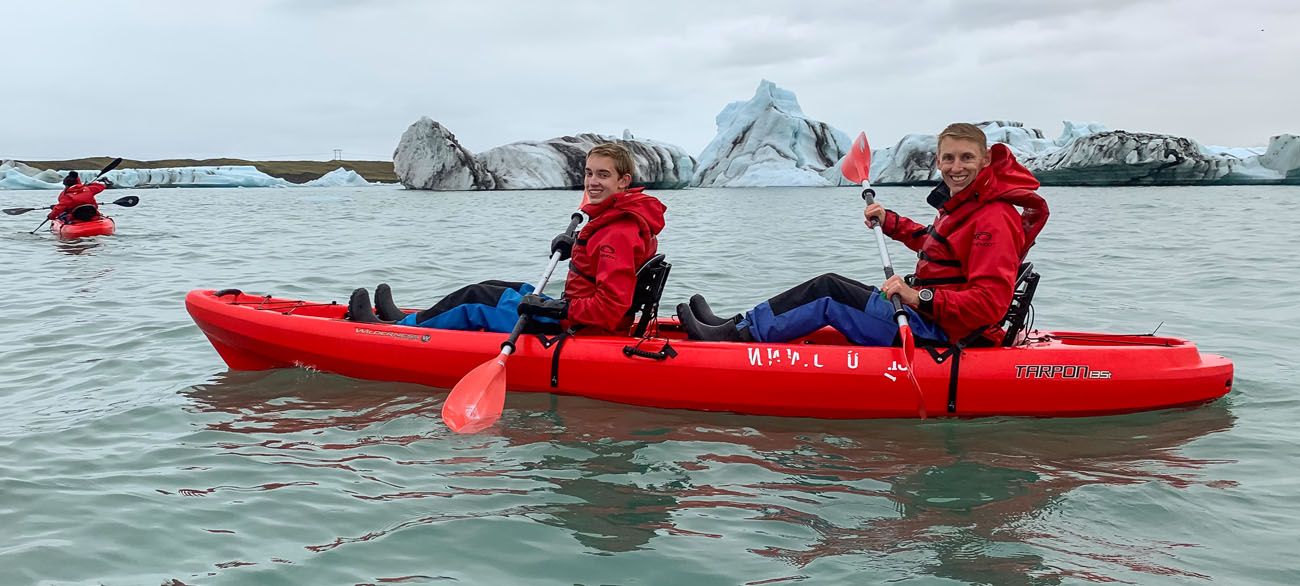 If getting into dry suits and kayaking in chilly water isn't your cup of tea, you can also take a zodiac tour of the lagoon to get up close to the ice.
Visit Fjallsarlon Glacier Lagoon
Just a short drive from Jökulsárlón is Fjallsárlón, a lesser known but arguably more beautiful glacier lagoon. It's quick and free to visit and there are restrooms and a restaurant here, making this a great place to take a break if you are road tripping down the south coast.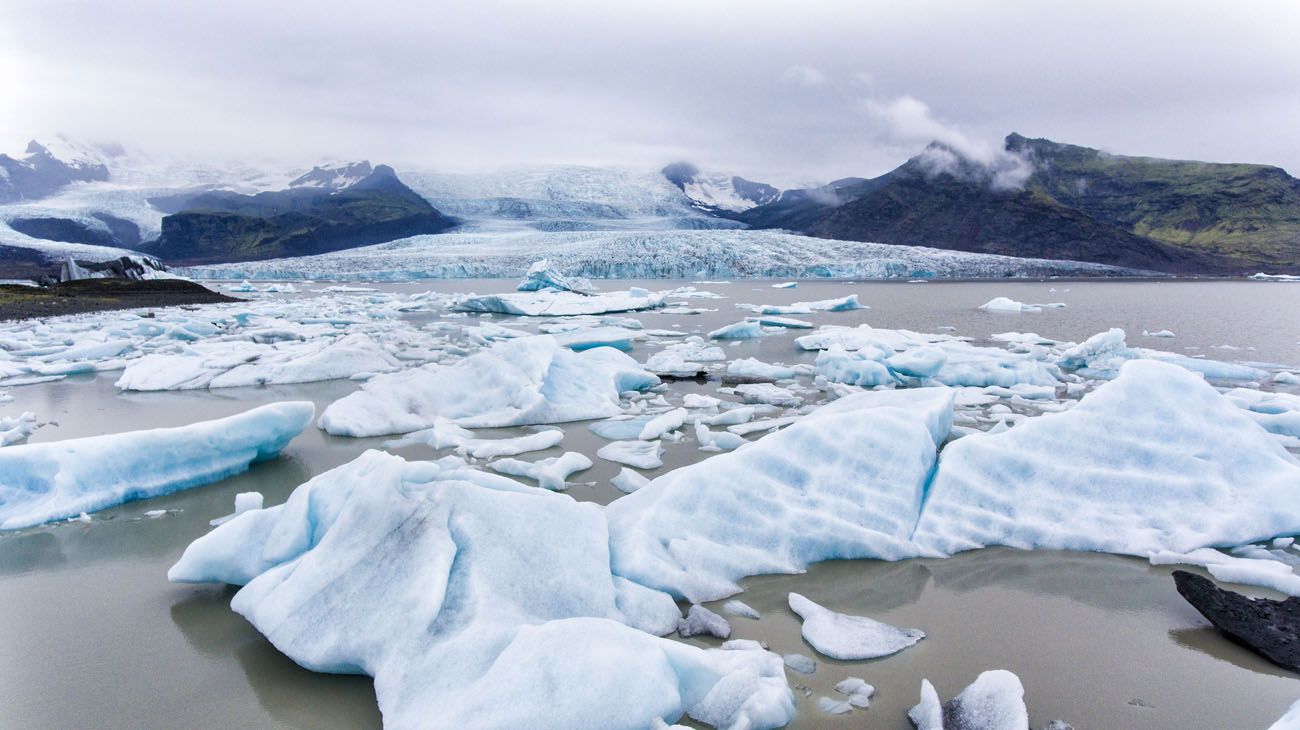 Diamond Beach
At the mouth of the Jökulsárlón glacier lagoon sits a strip of black sand. Chunks of ice wash up onto this black sand beach, creating one of Iceland's most unique beach experiences.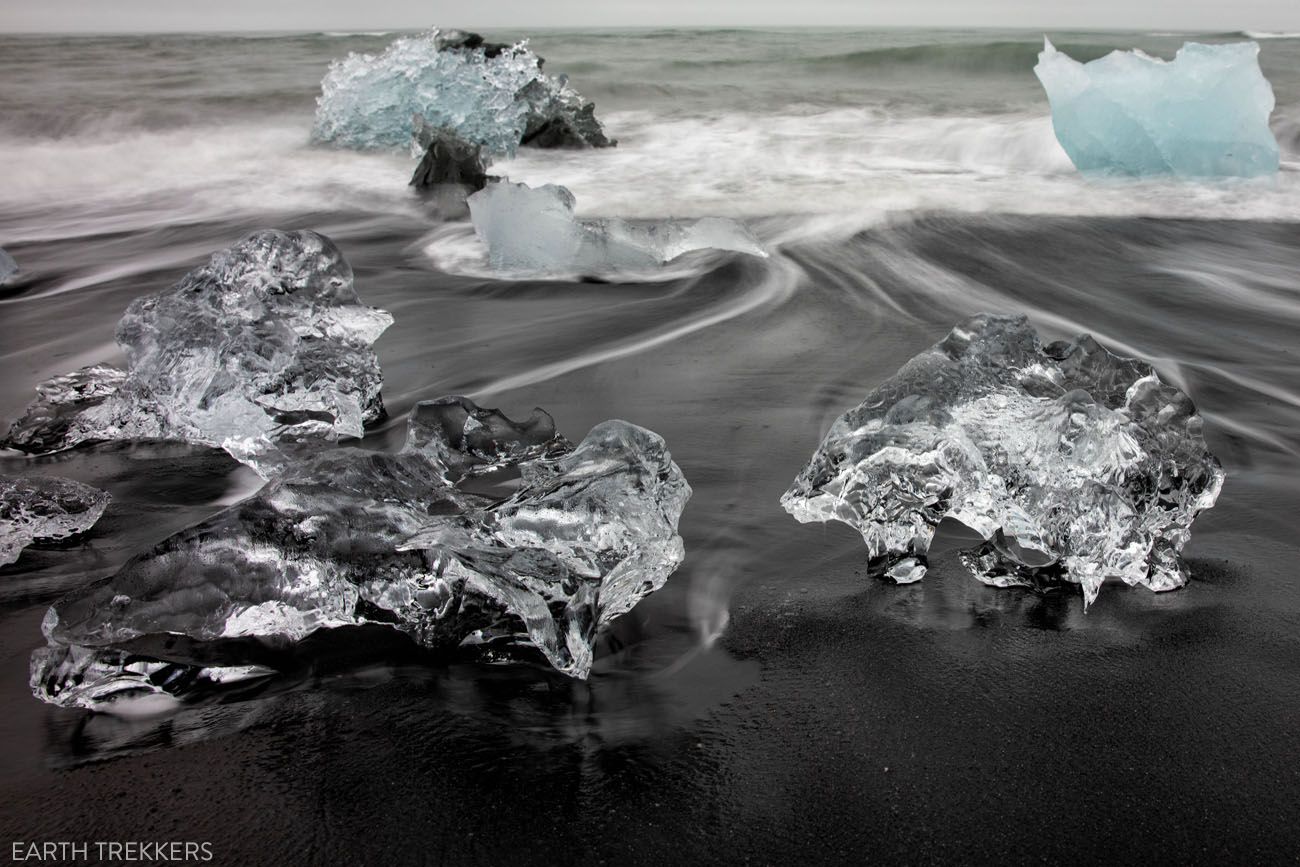 Explore the Westfjords
The Westfjords are a remote, underrated area of Iceland. Dramatic scenery, quiet roads, and amazing hiking trails can be found here. Visit Dynjandi waterfall, explore the Hornstrandir Nature Reserve, see puffins at the Latrabjarg cliffs, and relax in a hot spring. This makes a great detour on your road trip along the Ring Road.
Hike to Glymur Waterfall
Glymur Waterfall is Iceland's second tallest waterfall. You can only get to it by hiking, but what a beautiful hike it is. This hike features a short walk through a cave, two river crossings, and many amazing views of the waterfall. It's relatively short, it's fun, and it's located near Reykjavík, so this hike can be added to even quick trips to Iceland.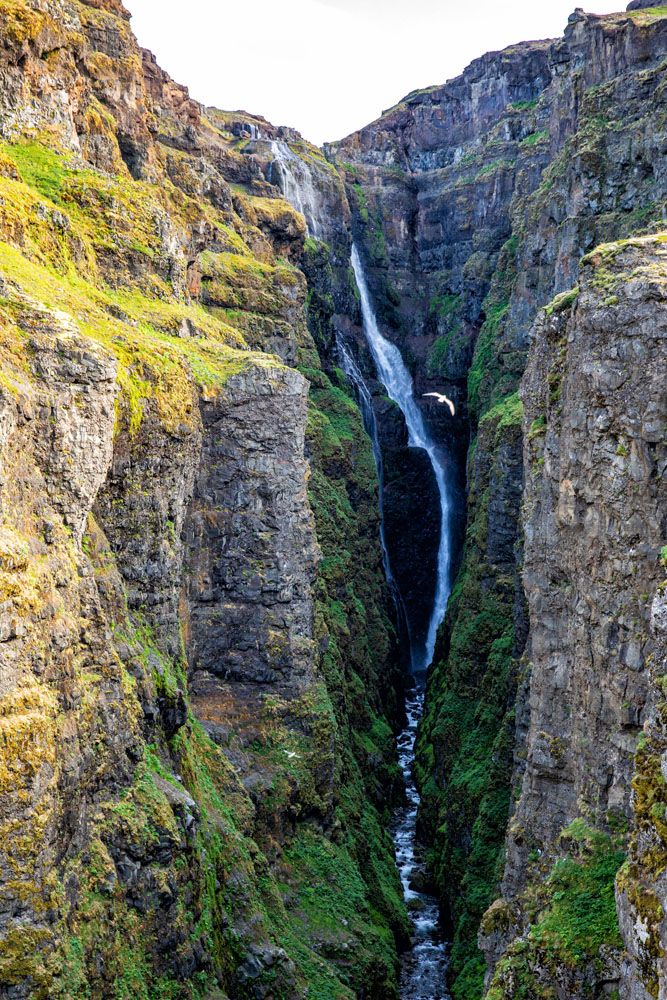 Stuðlagil Canyon
Before and during our visit to Iceland, we kept seeing this photo of this amazing canyon. However, while in Iceland, we could never figure the name or the location of this canyon.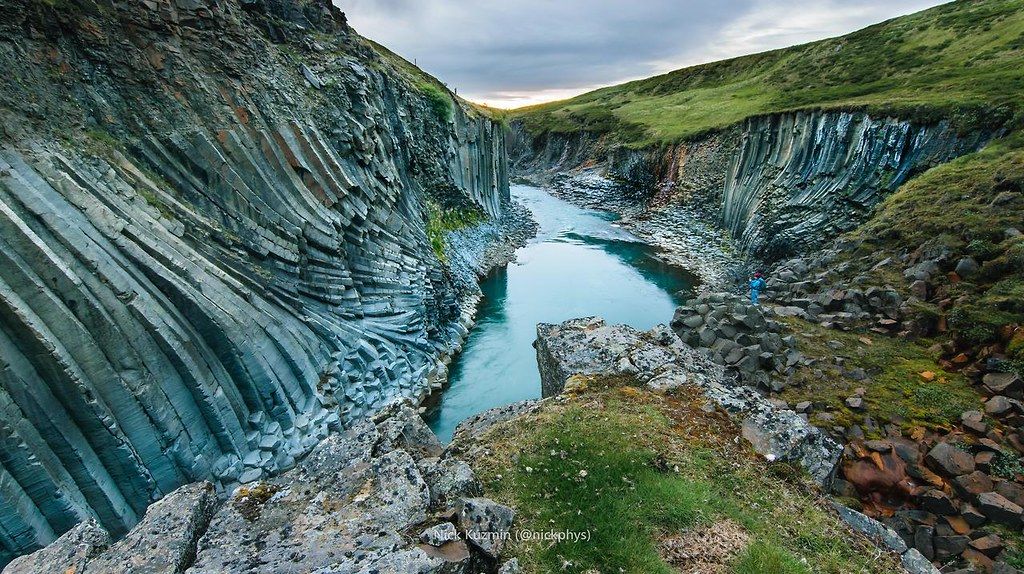 "#Earth Two years ago, a hydroelectric project exposed Stuðlagil Canyon, a hidden wonder of Iceland [OC][6000×3362]"by junaidrao is licensed under CC BY-NC-ND 2.0
Since arriving home, Tim did some research and pinpointed the location of Stuðlagil Canyon. And wouldn't you know it, we were just a short drive away. This canyon is only a short drive away from the Ring Road, near Egilsstaðir on the east coast.
So, if you are road tripping through east Iceland, make the quick detour and let us know how it goes!
See Puffins in Iceland
Puffins nest in Iceland from May through mid-August. These cuties can be found along the coast throughout Iceland, however there are a few places where you can see enormous colonies of these birds.
The largest puffin colony lives on the Westman Islands, just off the south coast. Other hot spots include Borgarfjörður Eystri, the Hornstrandir Nature Reserve and the Latrabjarg Cliffs on the Westfjords, and at Dyrholaey Arch in south Iceland.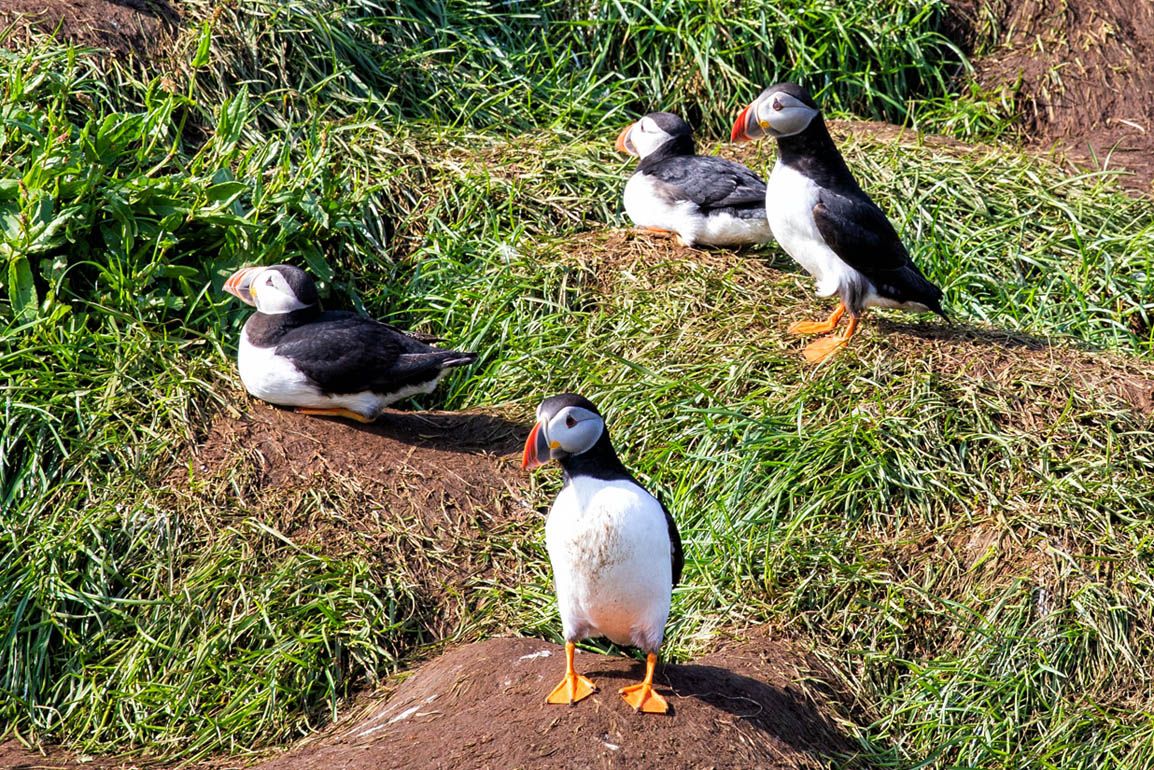 We saw puffins at Borgarfjörður Eystri, which is one of the safest places to view puffins. Boardwalks and viewing platforms have been constructed so that you can get up close to the puffins without damaging their burrows.
Visit Sigöldugljufur
Sigöldugljufur canyon is one of Iceland's best off-the-beaten path locations. This beautiful canyon, with its wall of waterfalls, is often overlooked or unknown to many visitors to Iceland.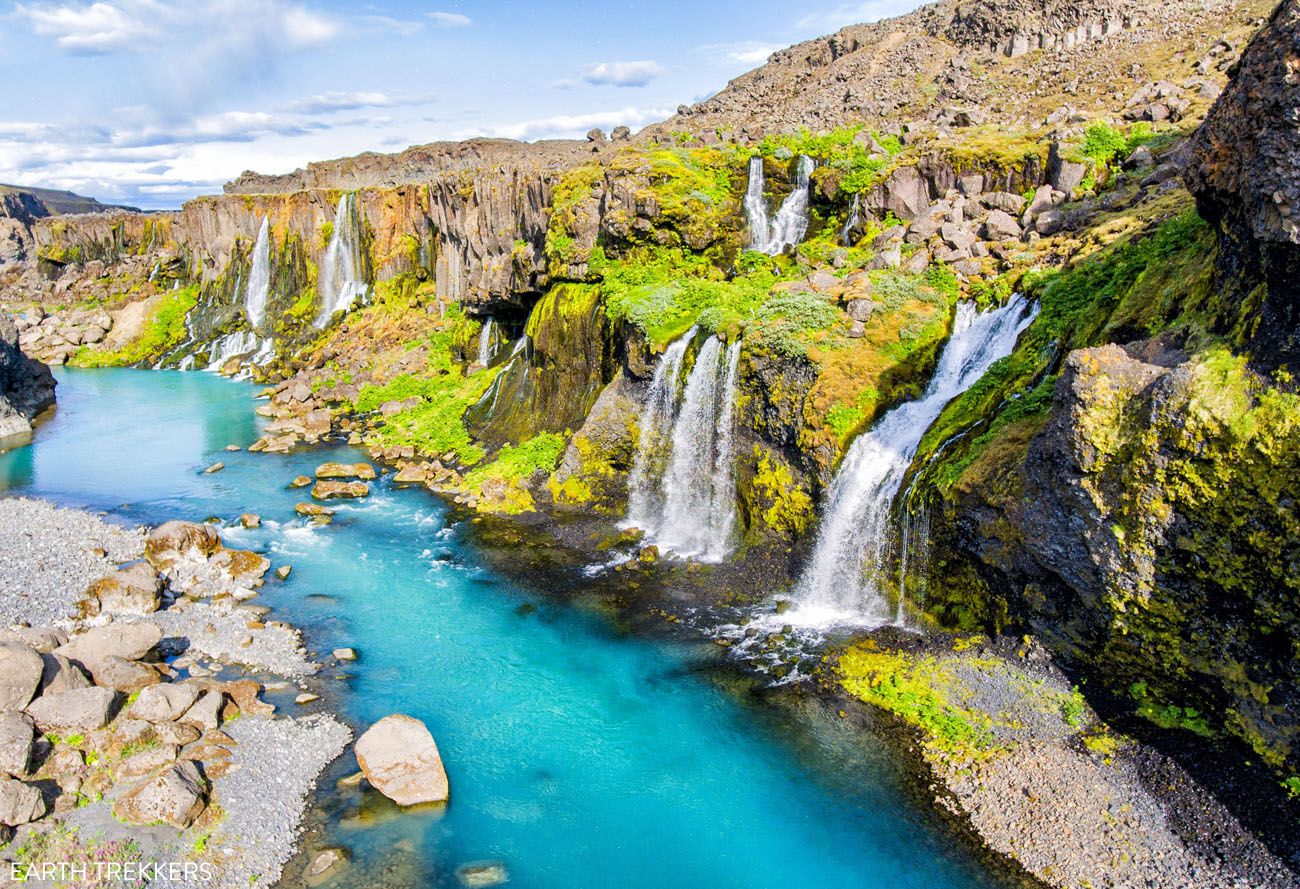 Sigöldugljufur is located on F208, one of the gravel roads into Landmannalaugar (so you will need to drive a 4×4). This canyon is quick and easy to visit, especially if you already have plans to drive to Landmannalaugar.
Fjaðrárgljúfur
This massive, photogenic canyon, also called the Feather River Canyon, is located on the south coast of Iceland. A 2 km hiking trail scales one edge of the canyon, offering great views down to the river. At one time, you could hike out onto narrow cliffs for amazing views of the canyon, but these have been roped off for safety issues.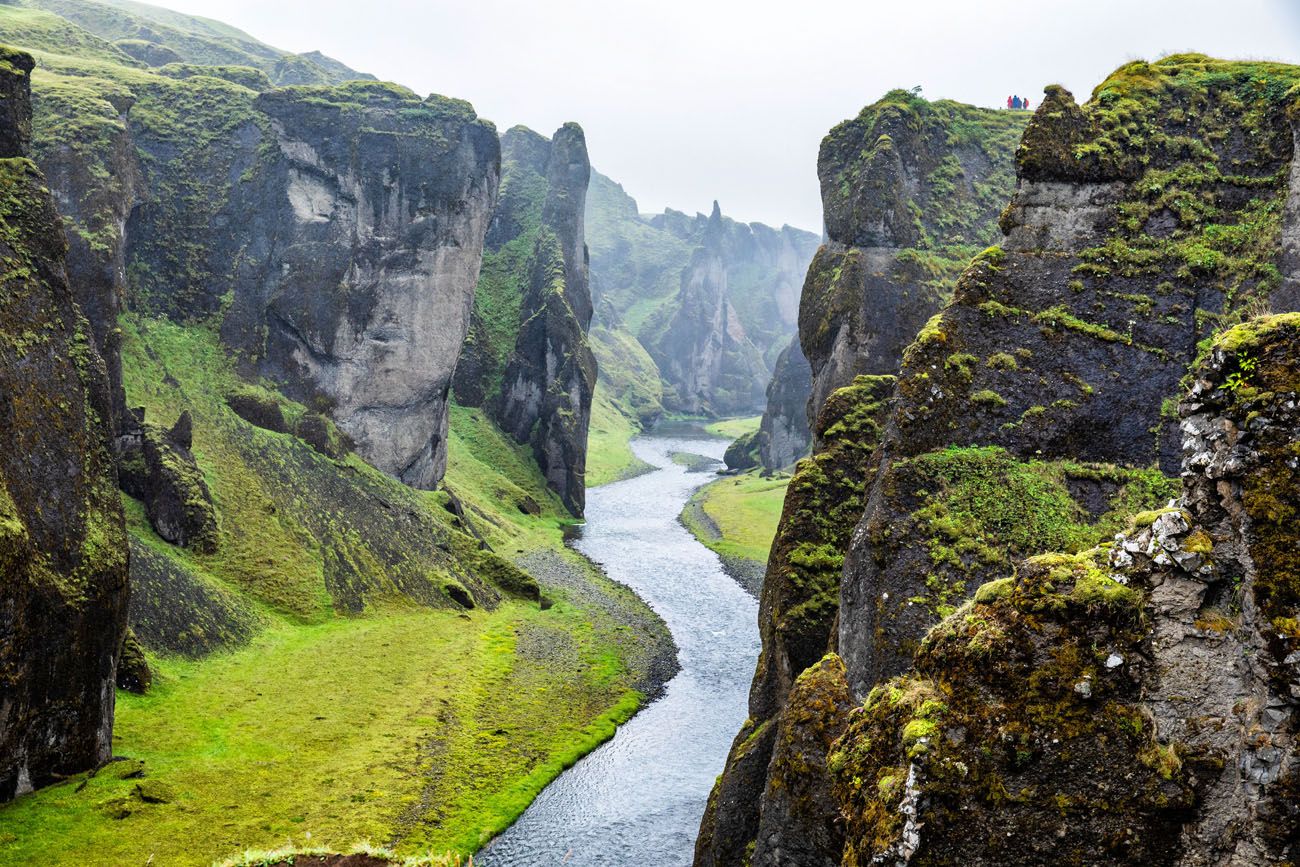 Svartifoss Waterfall
This unique waterfall inspired the design for the Hallgrimskirkja church in Reykjavík. Its thin stream of water washes over black, volcanic basalt columns, making this a very photogenic waterfall.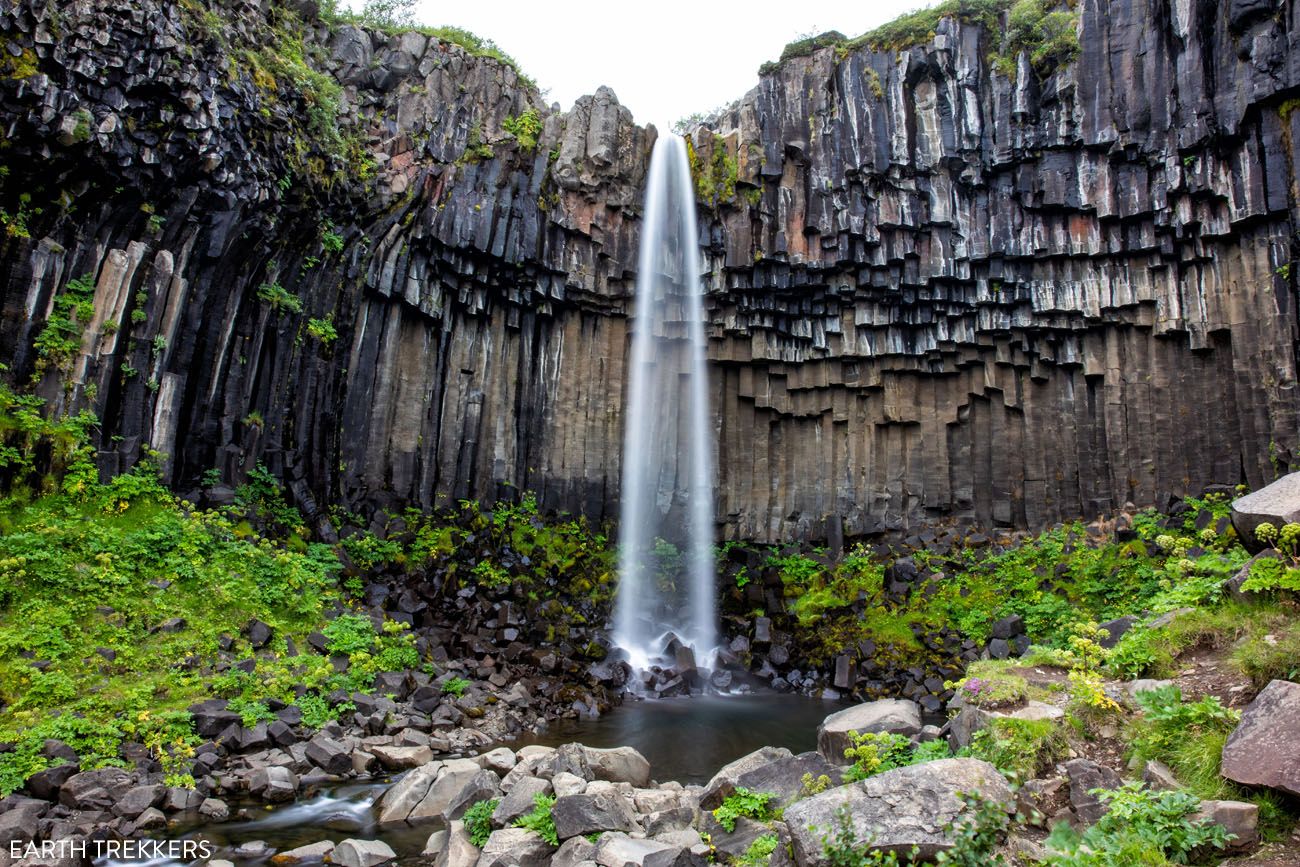 How to Visit Svartifoss: Svartifoss is located in Skaftafell and you will have to hike to get here. It is 3 km round trip and takes about an hour and a half. From the Skaftafell visitor center, it's a mostly uphill walk to the waterfall.
Snorkel or Scuba Dive at Silfra
Iceland is the only place in the world where you can dive between two tectonic plates.
Silfra is a crevasse that has opened between the North American and Eurasian tectonic plates. This fissure is filled with crystal clear (and very cold!) glacial water. With a visibility of over 100 meters, Silfra attracts snorkelers and scuba divers from around the world.
If you are a certified scuba diver, you can dive in Silfra. To stay warm, many divers wear a dry suit, so you will either need a Dry Suit Diver Certification or take a course once in Iceland. If you do not have a scuba certification, you can snorkel in the fissure while wearing a dry suit.
Godafoss Waterfall
Godafoss, aka "waterfall of the gods," is another massive waterfall in Iceland. It is located right along the Ring Road in north Iceland so it is quick and easy to visit. There are viewpoints on both sides of the waterfalls and a visit here lasts about one hour.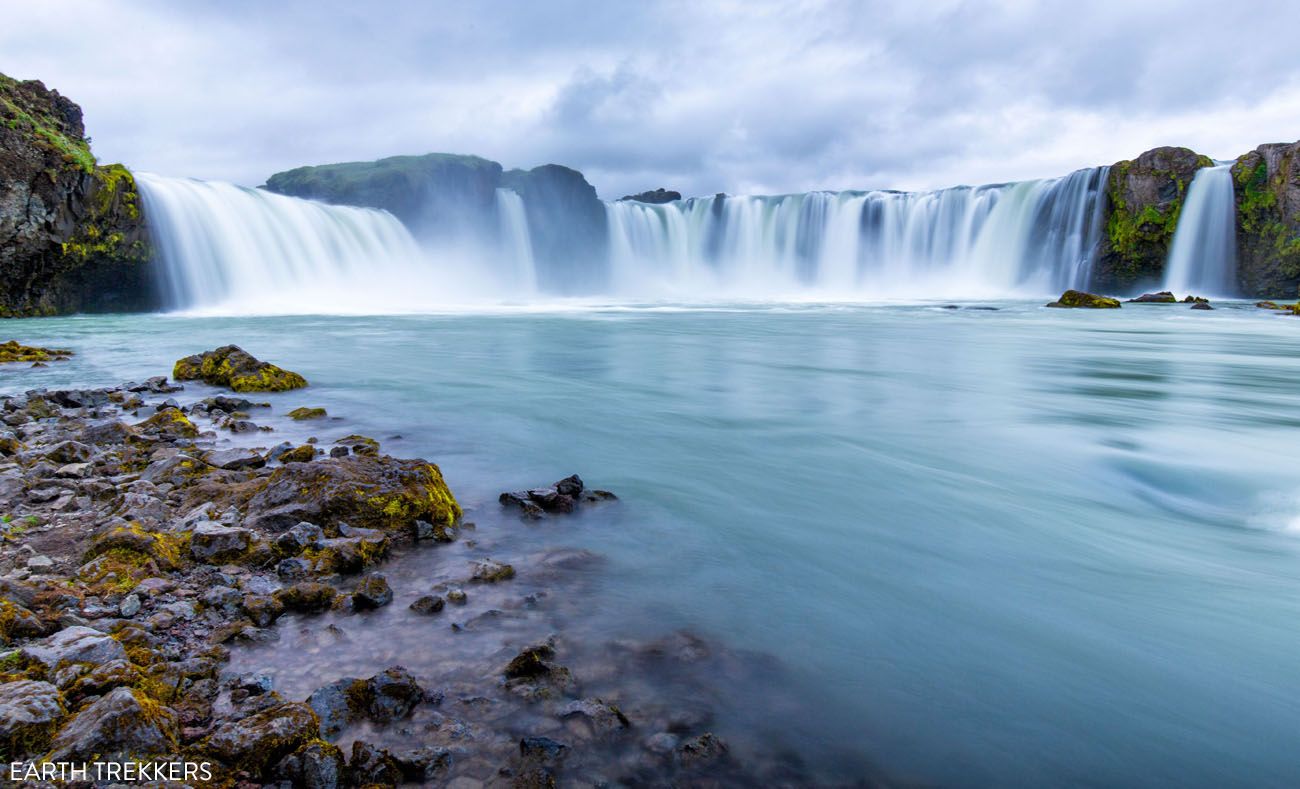 Seljalandsfoss and Gljufrabui
Seljalandsfoss, located on south Iceland, is unique in that you can walk behind the waterfall.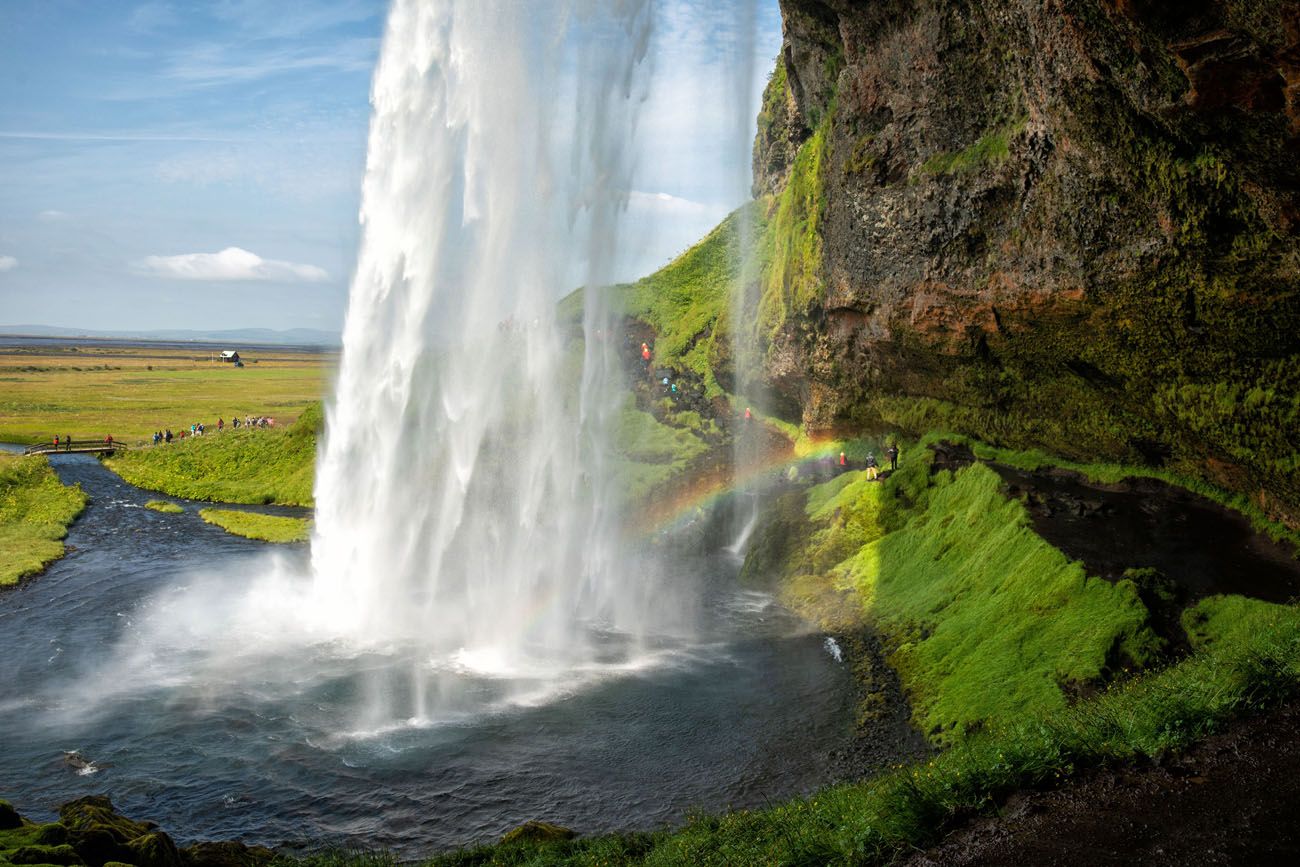 While you are here, it's a very short walk to Gljufrabui, a waterfall that is tucked away in a canyon. To see the waterfall, you will have to walk along stepping stones in the stream, but it's a fun experience, as long as you don't mind taking the risk to get your feet wet.
Both Seljalandsfoss and Gljufrabui share the same parking lot (parking fee: 700 ISK).
Kerlingarfjöll and the Hveradalir Geothermal Area
Kerlingarfjöll is a mountain range located in Iceland's central highlands. Tucked away within this mountain range is Hveradalir, a geothermal wonderland of steaming vents, boiling mud pools, and rainbow-colored hot springs.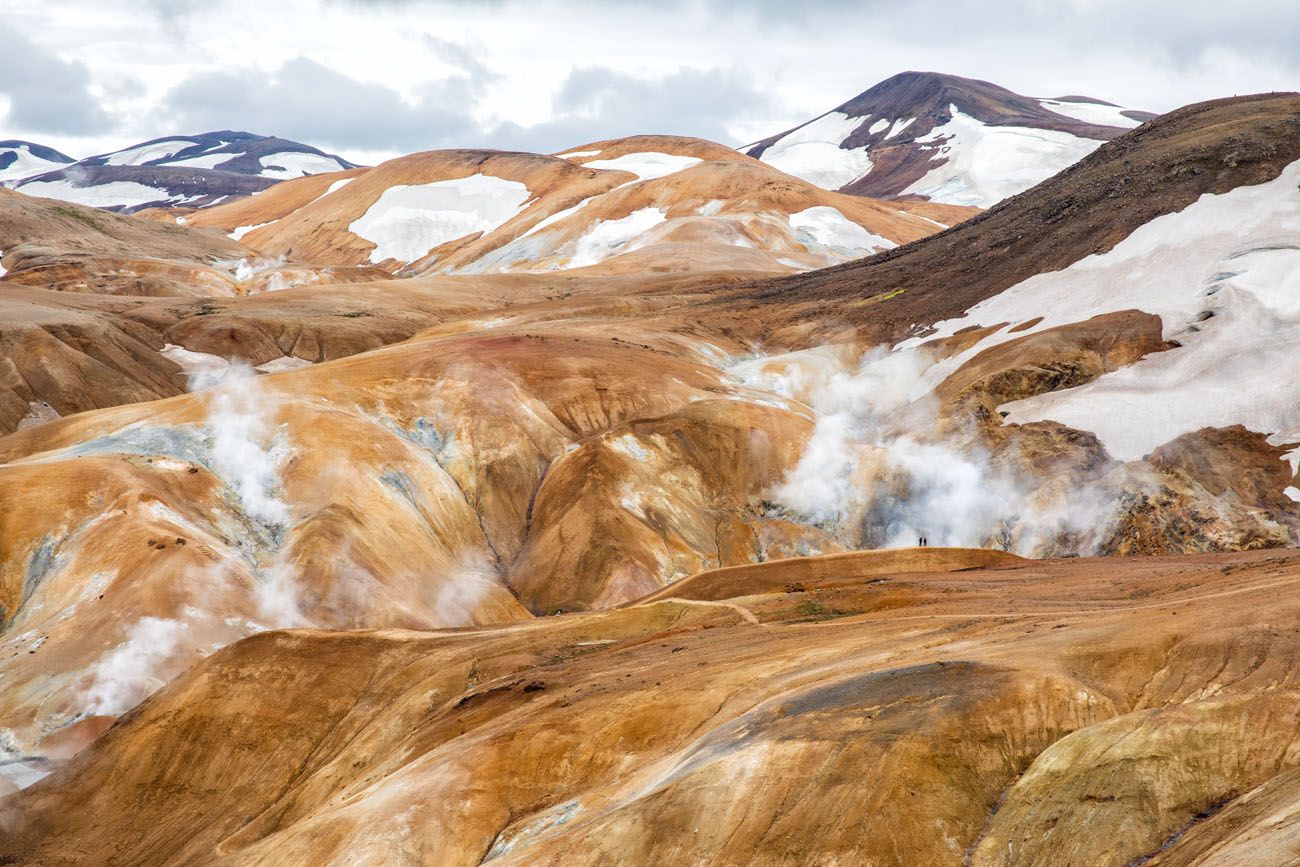 The combination of hiking trails, rust-colored mountains, and clouds of steam creates one of Iceland's most unique hiking and photography destinations.
How to Visit Kerlingarfjöll: Kerlingarfjöll is located in central Iceland and is only accessible by driving on rough, gravelly F-roads. To get here, you will either need to rent a 4×4, take a bus, or join a tour.
Mount Hekla
Hekla is one of Iceland's most active volcanoes. Over 20 eruptions have occurred since 874 and the most recent eruption was in 2000.
If you have plans to visit Landmannalaugar, you can take a route where you drive right past the volcano. It is also possible to hike to the summit, but with geologists predicting another eruption in the near future, you might want to skip the hike.
Snaefellsjökull National Park
There are three national parks in Iceland: Thingvellir, on the Golden Circle, Vatnajökull, on the south coast and home to Europe's largest glacier, and Snaefellsjökull, located on the Snaefellsnes Peninsula.
The main feature of the park is the Snaefellsjökull, the glacier-topped volcano that is the centerpiece of the park. The Snaefellsjökull volcano received its claim to fame in A Journey to the Center of the Earth by Jules Verne. Otto Lidenbrock travels here because he believes that this volcano leads to the center of the Earth. You can climb to the summit of Snaefellsjökull and on a clear day the views are stunning.
There's more to Snaefellsjökull than volcano climbs and lava tubes. Visit Djúpalónssandur Beach, a gorgeous black sand beach, see the bird nesting colonies at the Londranger cliffs, or drive out to the remote Svortuloft and Ondverdarnes lighthouses.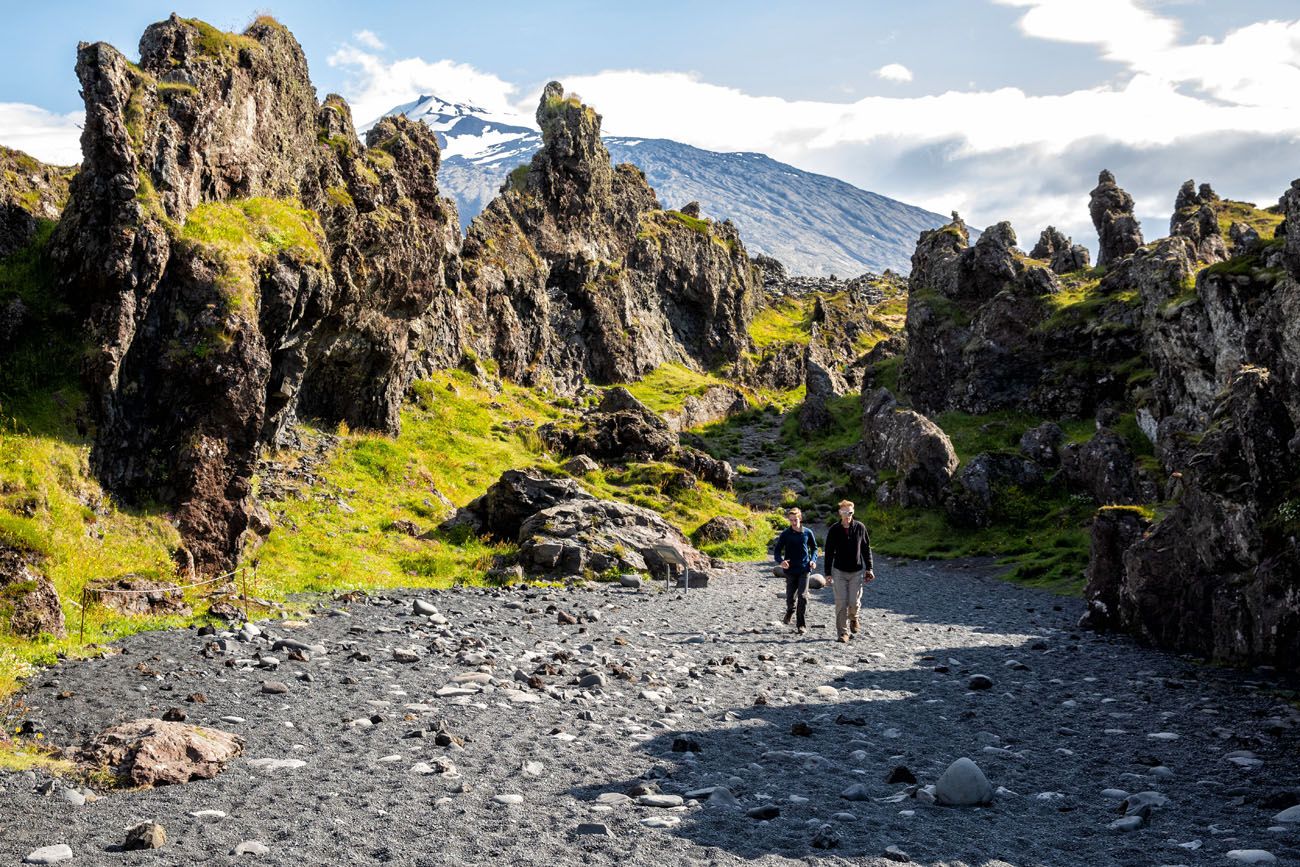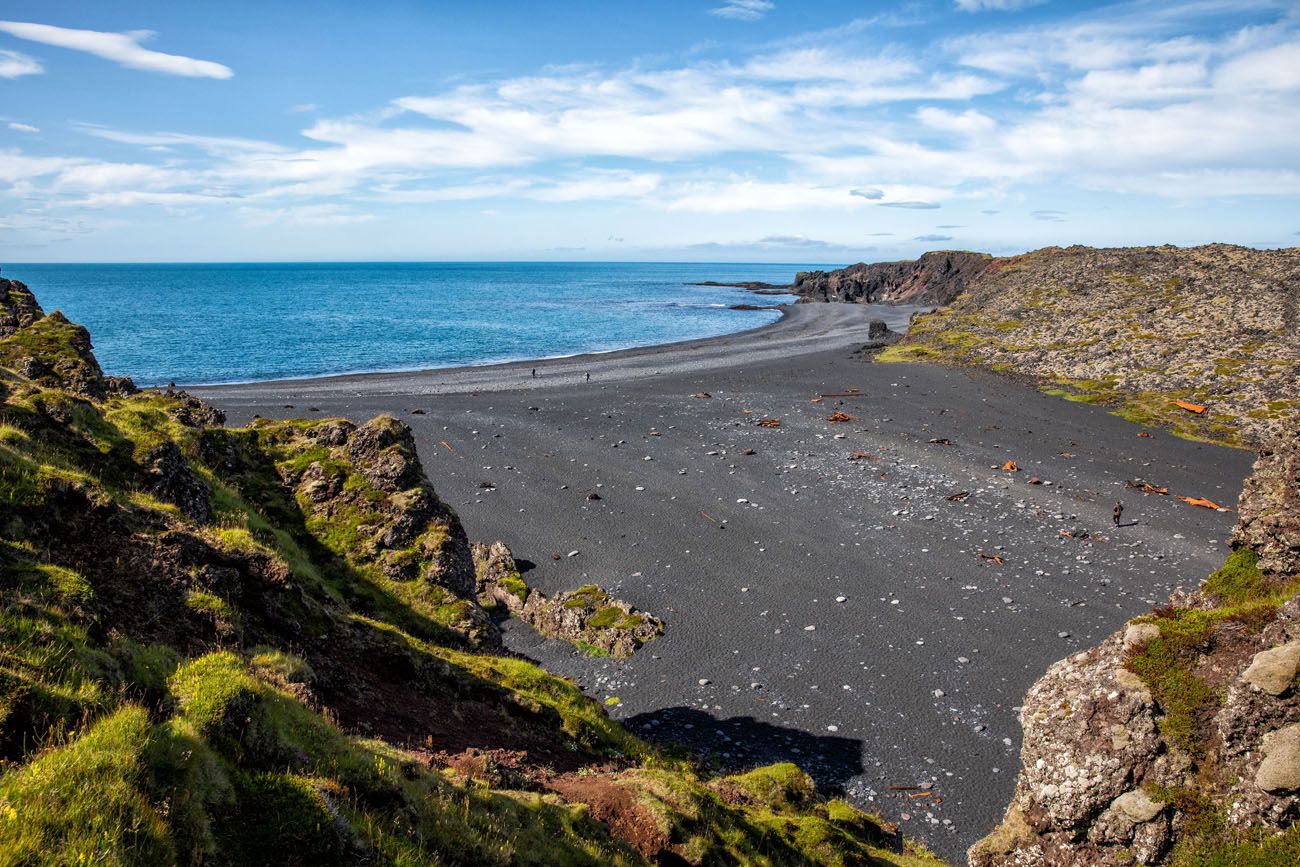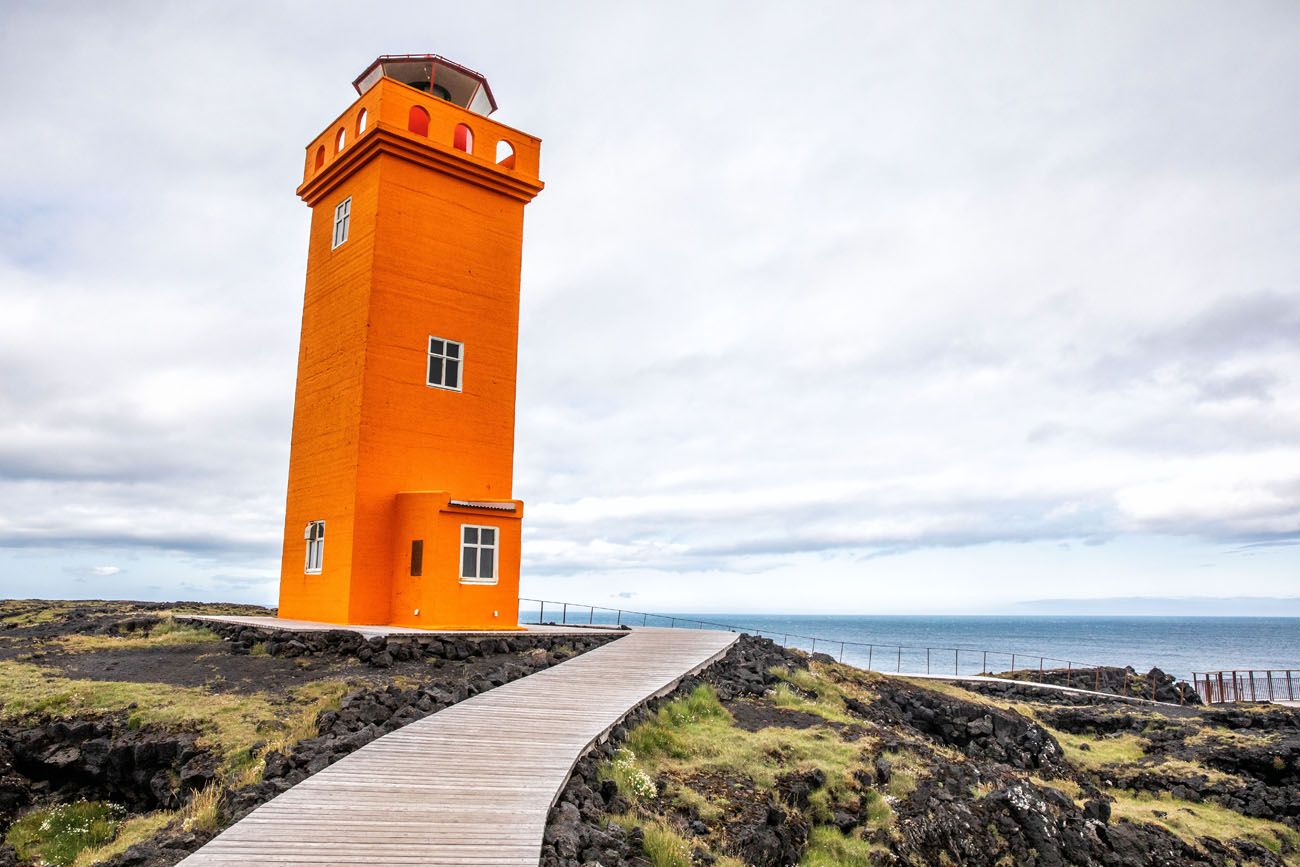 How to Visit Snaefellsjokull National Park: This national park is located on the Snaefellsnes Peninsula. You can visit the park on day trip from Rekyjavík, but for the best experience, consider spending one or more nights on the peninsula. Learn more in our article about the Snaefellsnes Peninsula.
Day Trip to Heimaey Island
Heimaey Island is the largest of the Westman islands and it is the only island that is inhabited. This makes a great day trip destination from the south coast.
The main reason why people visit Heimaey Island is to see the puffins. More Atlantic puffins nest here than anywhere else in the world.
In 1973, a volcano erupted on the island and the entire island had to be evacuated. While on Heimaey, you can tour the Eldheimar Museum to learn more about this eruption.
How to get to Heimaey Island: Take the ferry from Landeyjahofn, on the south coast, to Heimaey Island. It takes 35 minutes to get to the island. Book your tickets in advance because they do sell out.
Visit Reynisfjara Beach
Reynisfjara is a black sand beach on the south coast of Iceland. It is a photogenic spot, with black, basalt columns, a giant cave, and jagged, black stacks of rock that sit just off shore.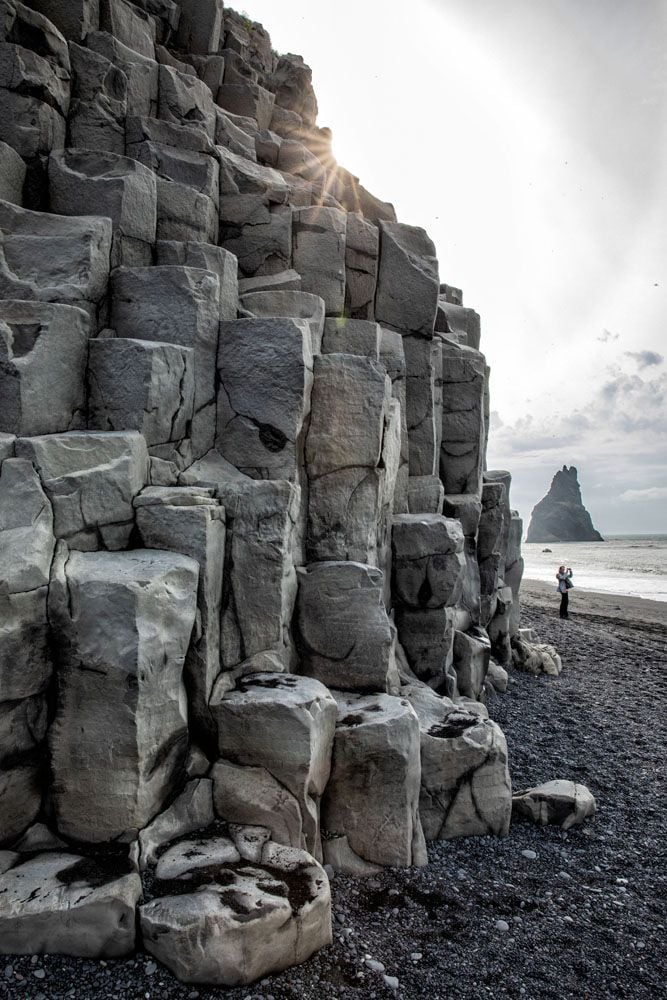 While you are here, beware of "sneaker waves." Sneaker waves are rogue waves that wash up on shore and pull unsuspecting visitors out to sea. It might sound like a joke, but just a few years ago a tourist drowned when they got too close to the waves and was pulled out into the ocean.
Vestrahorn Mountain and Stokksnes Beach
The Stokksnes Peninsula is a wild, photogenic spot on south Iceland.
Rising up from the sandy beaches is Vestrahorn, a wing-shaped mountain that is also referred to as "Batman Mountain."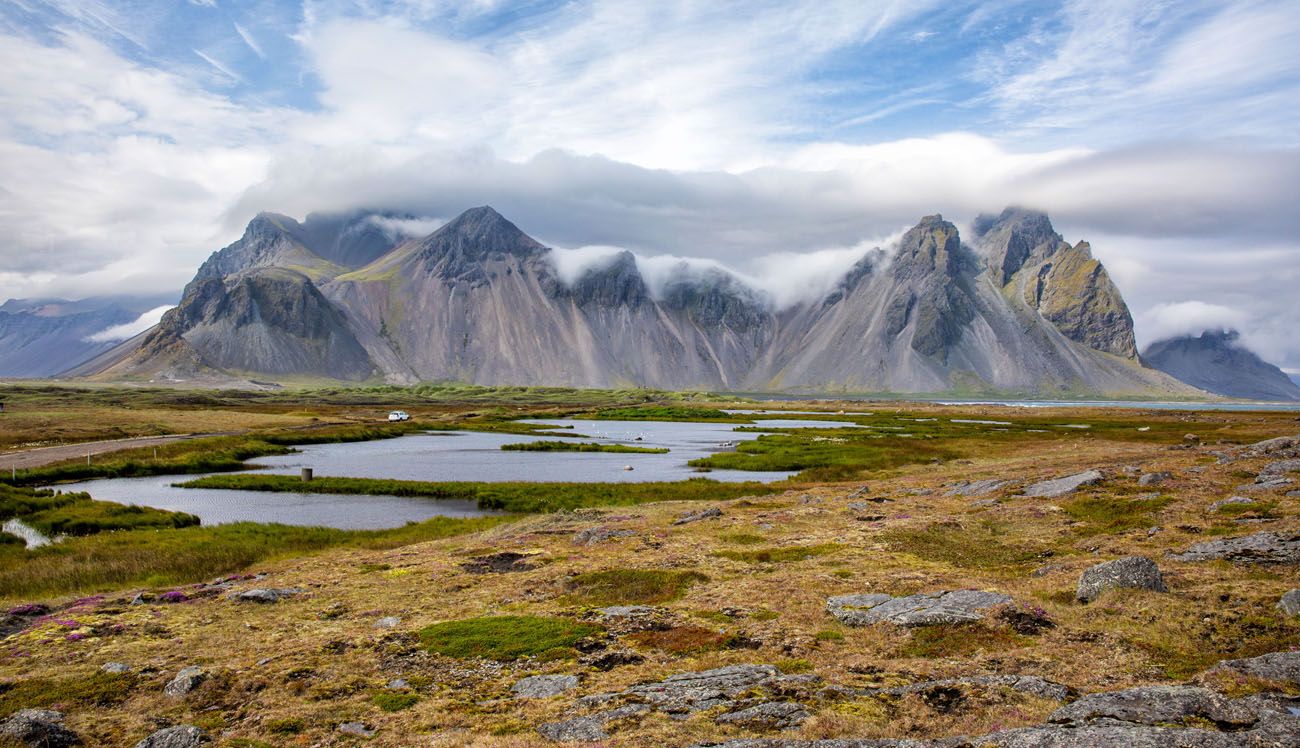 For photographers, this is one of the top spots to visit in Iceland. Capturing Vestrahorn with the ripples of sand on the beach, the bumpy sand dunes covered in grasses, and the beach at high tide, all make stunning photography material.
How to Visit the Stokksnes Peninsula: The Stokksnes Peninsula is located near Höfn on the south coast. To get access to the beach, visit the Viking Café Guesthouse. You will have to pay a small admission fee that will allow you to drive down to the Stokknes Peninsula and the beach.
Haifoss Waterfall
Haifoss is one of the tallest waterfalls in Iceland. In the early 20th century, it was believed to be the tallest waterfall in Iceland, earning it the name "high waterfall." Now, it is thought to be the fourth tallest in Iceland.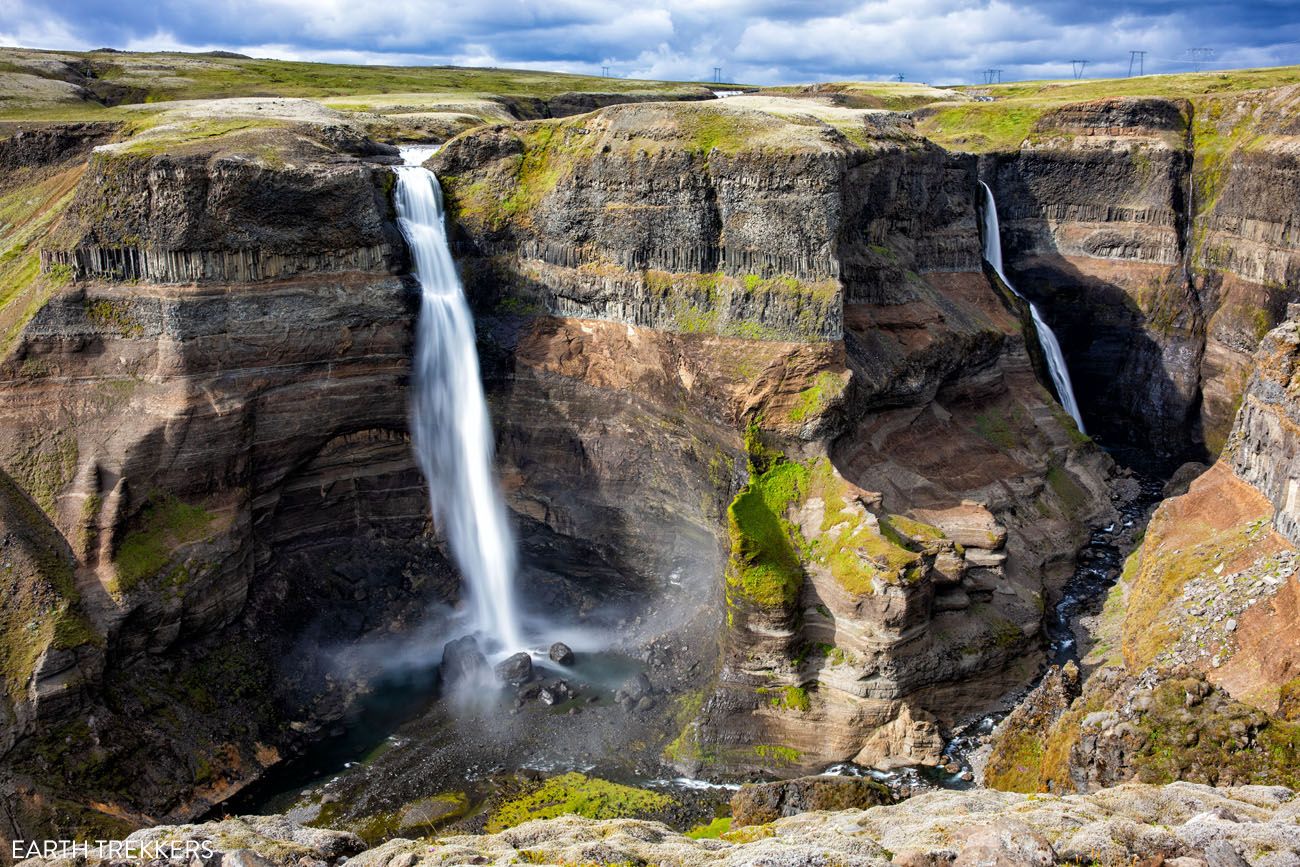 How to Visit Haifoss: Haifoss is located near the Highlands of Iceland. It makes a nice detour on a road trip around the Golden Circle and during the drive out to Landmannalaugar. From route 32 through the valley, turn right onto 332, a gravel road that takes you to Haifoss. You need a 4×4 to drive on this road.
Reykjanes Peninsula
The Reykjanes Peninsula is an underrated area of Iceland. The Blue Lagoon is located here, but most visitors do not take the time to explore the area further.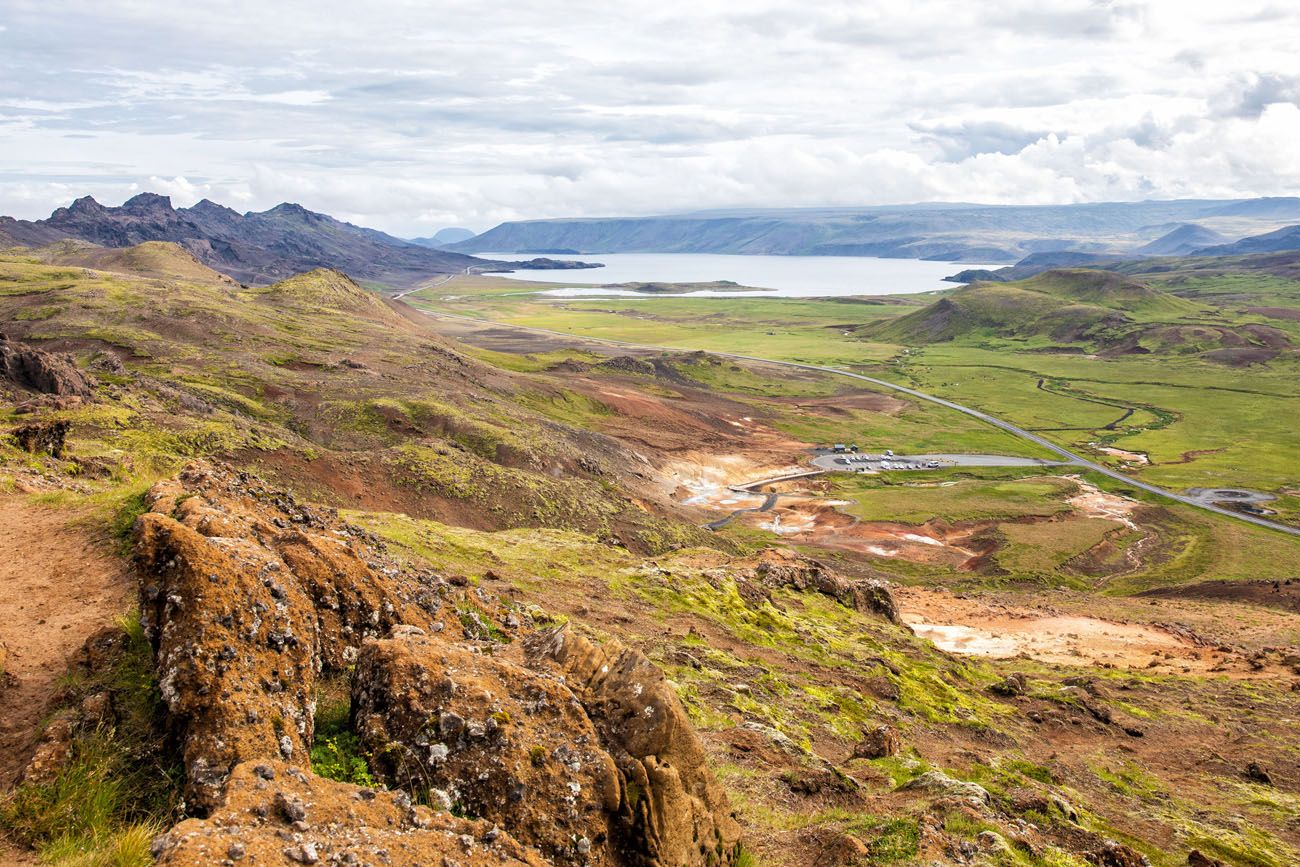 Overlooking the Gunnuhver geothermal area.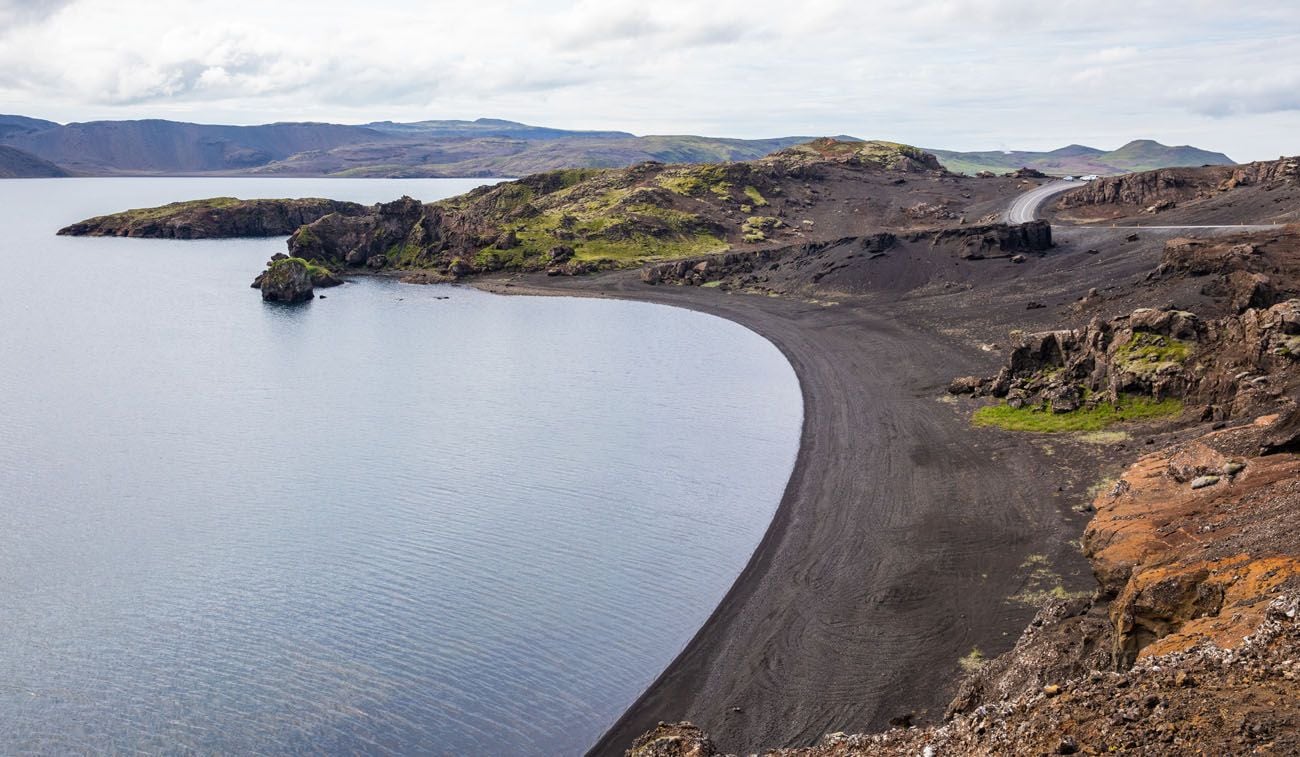 Black sand beach on the Reykjanes Peninsula.
Aside from the Blue Lagoon, other noteworthy places to visit are the Gunnuhver geothermal area, Krýsuvíkurleið Lake, the bridge between continents, and the beautiful Harnarberg Cliffs.
Kerid Crater
Last but not least is the Kerid Crater. This volcanic crater makes a great addition to your Golden Circle tour. The Kerid Crater is a 3000 year old volcanic crater that is filled with water. The crater gets its reddish color from mineral deposits in the volcanic soil. Throw in moss covered slopes and you have one of the most extraordinary lakes in Iceland.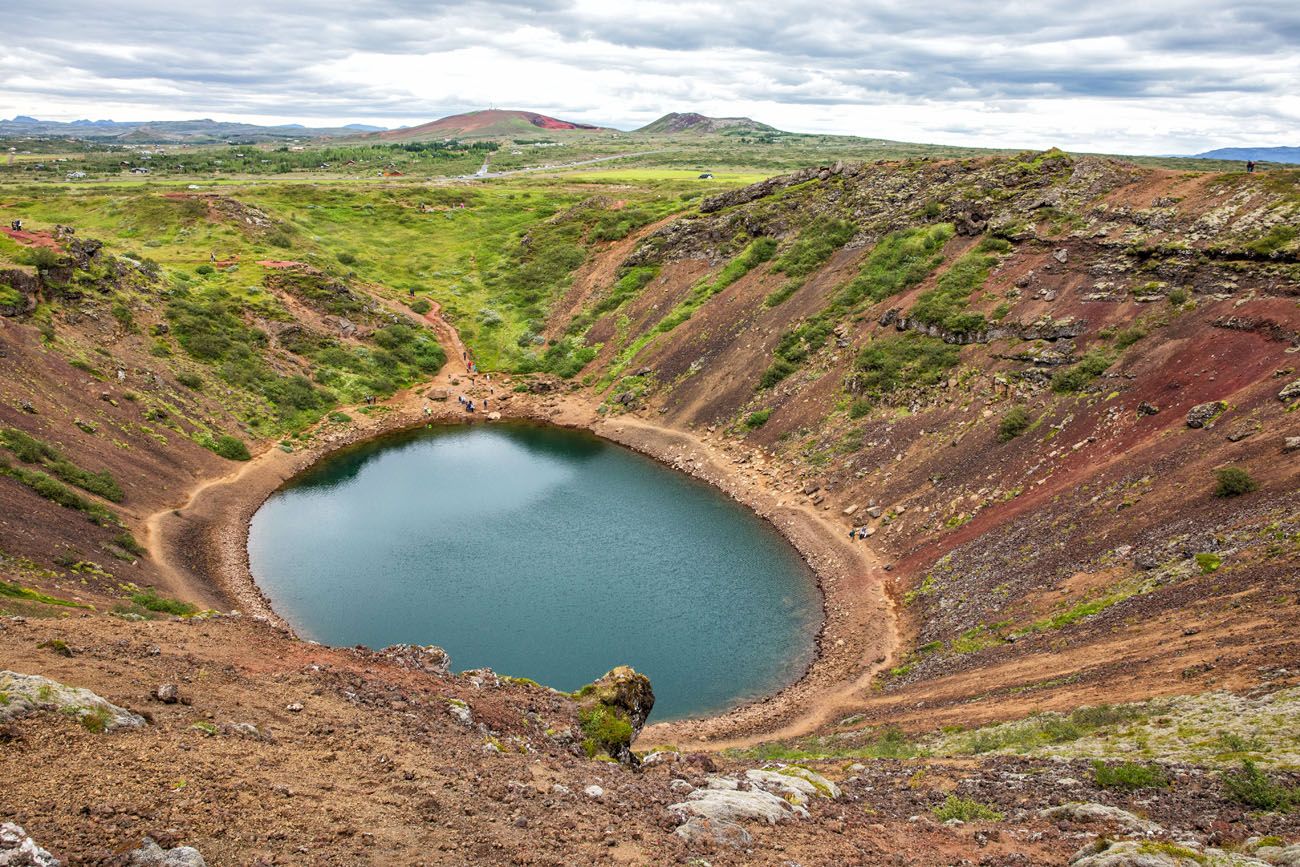 ---
The Most Overrated Attraction in Iceland
In 1973, a United States Navy DC plane crashed on the black sand beach of Solheimasandur. This plane wreckage, set against the barren black beach, became one of Iceland's top photography locations.
At one point, it was a quiet, under-the-radar photography spot. To get here, it was a difficult drive on a gravel road, with a little hiking thrown in, so it felt like an adventure.
Oh, how things have changed.
In 2015, Justin Bieber filmed parts of one of his music videos on this plane wreck. He shot video of himself skateboarding on top the wreckage. Now, people come from around the world for photos of themselves in this same spot.
Getting here is no adventure. Now, you simply park in a parking lot on the Ring Road and walk 2 miles along flat, gravel road out to the plane wreck. It is Iceland's most boring walk. Once at the plane wreck, this is what you will see.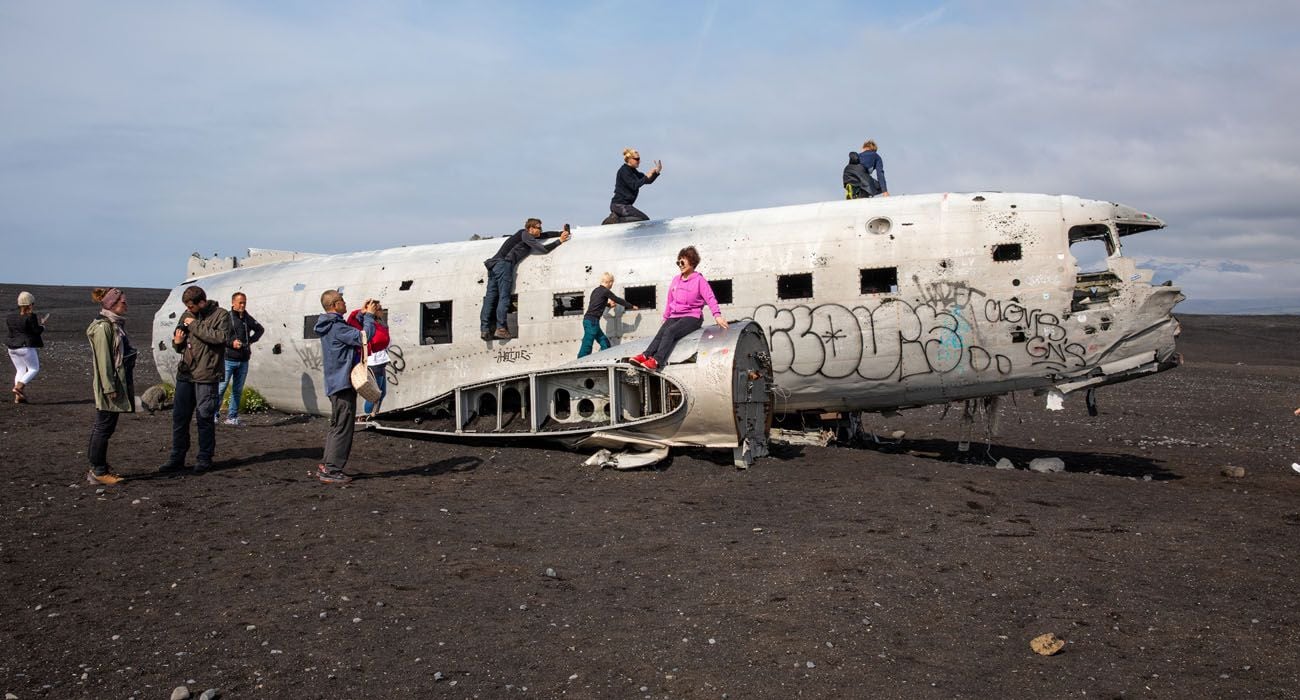 Despite the signs forbidding it, tourists climb on top of the plane, taking their photos inspired by Justin Bieber. For those who follow the rules, it can be incredibly frustrating if you want to capture a photo of the plane without tourists sitting on it.
Oh, if you don't feel like walking four miles round trip, there is a shuttle that you can take. For 2000 ISK (about $16 USD), you can ride the bus round trip from the parking lot to plane wreckage. It's a big price to pay for an overrated attraction.
---
See Them All on a Map
How to Use This Map: Click the icons on the map to get more information about each point of interest. Click the star next to the title of the map to add this map to your Google Maps account. To view it on your phone or computer, open Google Maps, click the menu button, go to "Your Places," click Maps, and you will see this map on your list.
---
Comment below if you have any questions or if you want to share your experience.
You Might Also Like: