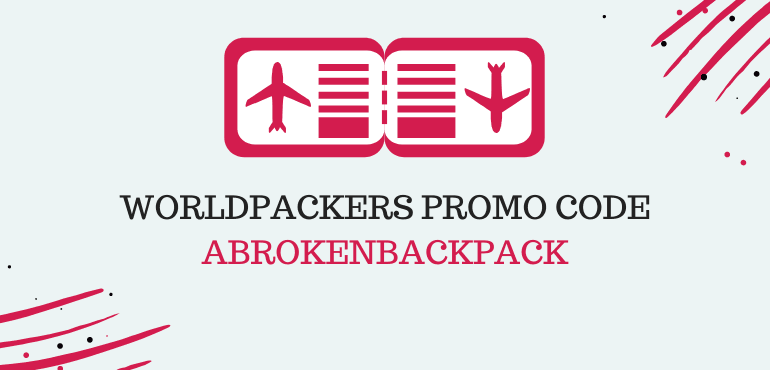 Want to join the Worldpackers crew and you're looking for a Worldpackers promo code? We got your back. When using the code ABROKENBACKPACK you will get a $10 discount on your annual plan.
If you still need to learn more about Worldpackers, in this post, you will find a short description of the program offered by Worldpackers. If you want a full article on Worldpackers and want to learn more about volunteering abroad – you can check this post about free accommodation in exchange for work.
What is Worldpackers?
Worldpackers is a platform that connects travelers and hosts around the world. It allows you to exchange your skills for accommodation and food. It's an excellent way to save money while you're abroad so you can travel longer. More importantly, it's a safe way to experience something unique while you travel.
Where can you volunteer with Worldpackers?
At the moment, it's the high season in South America and you won't be surprised to find tons of opportunities there.
Worldpackers offers project everywhere around the world. You can consult all the opportunities here.
Type of projects offered with Worldpackers
There are currently three types of projects offered with the Worldpackers program.
Work exchange: The work exchange projects are a typical option when it comes to volunteering abroad. You basically exchange your skills for accommodation.
Social impact: The social impact projects are the ones where you have an exchange with the local community. For example, you could be volunteering with an NGO, a school or a social project to develop the social economy.
Eco program: The eco-program projects are the ones where you will find yourself in the middle of an Ecovillage or a farm. Obviously, you will be working on an eco project and you will learn about sustainability.
Solo, Couple & Friends annual plan
There are two types of plans offered at Worldpackers. You can sign up as a solo traveler or you can sign up as a couple or friends. Good news – the promo code also applies to the couple & friend's annual plan.
That said if you're planning on traveling with a friend or your lover, why pay for two plans? You can have a better deal with the couple & friends plan as you will share the costs.
How much does it cost?
Of course, you will get a discount using this promo code: ABROKENBACKPACK.
Here's what to expect in terms of pricing.
| Plan | Price in USD | Price in USD with discount |
| --- | --- | --- |
| Solo annual plan | $49 | $39 |
| Couple&Friends annual plan | $59 | $49 |
What is included in the annual plan?
Apply on projects and discuss with the hosts

Support before, during and after your trip including emergencies

Worldpackers insurance if something doesn't go to plan

Some programs allow you to earn extra money

Access all the information on projects and hosts
How to get started with Worldpackers?
If you're not sure how to get started with Worldpackers, here's a great way to get inspired before signing up on your first project. You can follow these easy steps to ensure a better experience with Worldpackers.
In the menu, go to "Volunteer Opportunities" and select a category. If you're not sure where to start, you can pick the option "See all volunteer opportunities".
Select a destination and if you're flexible with destinations you can directly select "Top Hosts". The top hosts usually have higher ratings and great reviews.
Select the type of projects (work exchange, social impact or eco program).
Select availability – there's also an option for last-minute projects.
Read about the project and apply for it.
Below, you'll find a list of examples of top host projects. This way, you can get a great overview of what type of volunteer opportunities you could potentially do yourself.
Work in a hostel in Spain, Argentina or Croatia. (You can actually find hostel projects pretty much everywhere around the world.)
Work with NGO and animate art workshops with children in Colombia.
Teach sports in a school in Tanzania.
Work in a kitchen in an eco-lodge in Argentina.
Not quite sure if Worldpackers is for you? Read about my own volunteering experiences around the world. Volunteering abroad is a great way to travel longer and further.
Want to give it a go?
Have you ever been volunteering abroad? Share your story in the comments.
---
READ MORE
‣ Backpacking in Southeast Asia
‣ Backpacking in Bali
‣ Bali or Thailand?
BEFORE YOU GO
☑ Book your flight: If your flight isn't booked yet – check out the flights on Skyscanner or via Google Flights. My top saving tip is flexibility. If you're flexible, you should be able to find a cheaper flight.
☑ Book your accommodation: I always use Airbnb and Booking.com. If you'd rather stay in a hostel, you should take a look at the options on Hostelworld. If you click on the Airbnb link and you don't have an account yet – you'll get a $30 discount on your first booking.
☑ Protect your cute face: Oh, you may want to protect your cute face with a travel medical insurance. I would suggest SafetyWing as they offer the best rates, especially for long-term travelers. Otherwise, you can also take a look at World Nomads.
☑ Pack the essentials: You can consult this list when it's time to pack your bag! Do not leave without a universal charger, a power bank and your passport!
☑ Do you need a visa? If you aren't sure if you need a visa, it would be a smart idea to take a quick look before you go. You can use iVisa – it's super useful and easy to use.
SUPPORT US
Get your monthly (and funny) dose of adventures! Subscribe now! You may also want to follow us on Facebook.
Disclaimer: This post may include affiliate links. If you click one of them, we may receive a cute commission at no extra cost to you. Thank you.