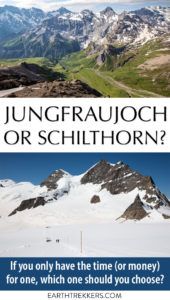 If you are planning a visit to the Bernese Alps and only have the time, or the money, for Jungfraujoch or Schilthorn, which one should you visit?
Both are extraordinary experiences, offering panoramic views of the Alps with a few unique differences. Both also come with a big sticker price.
In this article, get an overview of what to expect at each visit, how much you will spend, and then get our recommendations for which one to visit, based on your traveling style.
An Overview of Jungfraujoch
A trip up to Jungfraujoch is one of the most popular things to do in the Bernese Oberland. Stand on one of the highest points in the Swiss Alps, walk through an ice cave, play in the snow, get panoramic views over the Alps, and hike out to Mönchsjochhütte.
Also called the Top of Europe, there is a lot of marketing and advertising to make you, as a tourist, feel like this something you must do. And it's working. Jungfraujoch is getting to be a very crowded experience, especially in the summer months.
How to Get to Jungfraujoch
The only way to get to Jungfraujoch is by train. Depending on your starting point, you will most likely take a series of trains to get here. And this can take several hours.
First, you will have to get to Kleine Scheidegg. The final train to Jungfraujoch leaves from Kleine Scheidegg. It is here that you will board the Jungfraubahn and then it is a 35-minute ride, mostly in a cold, dark tunnel, to get to Jungfraujoch. You exit the train at Jungfraujoch, the highest train station in Europe.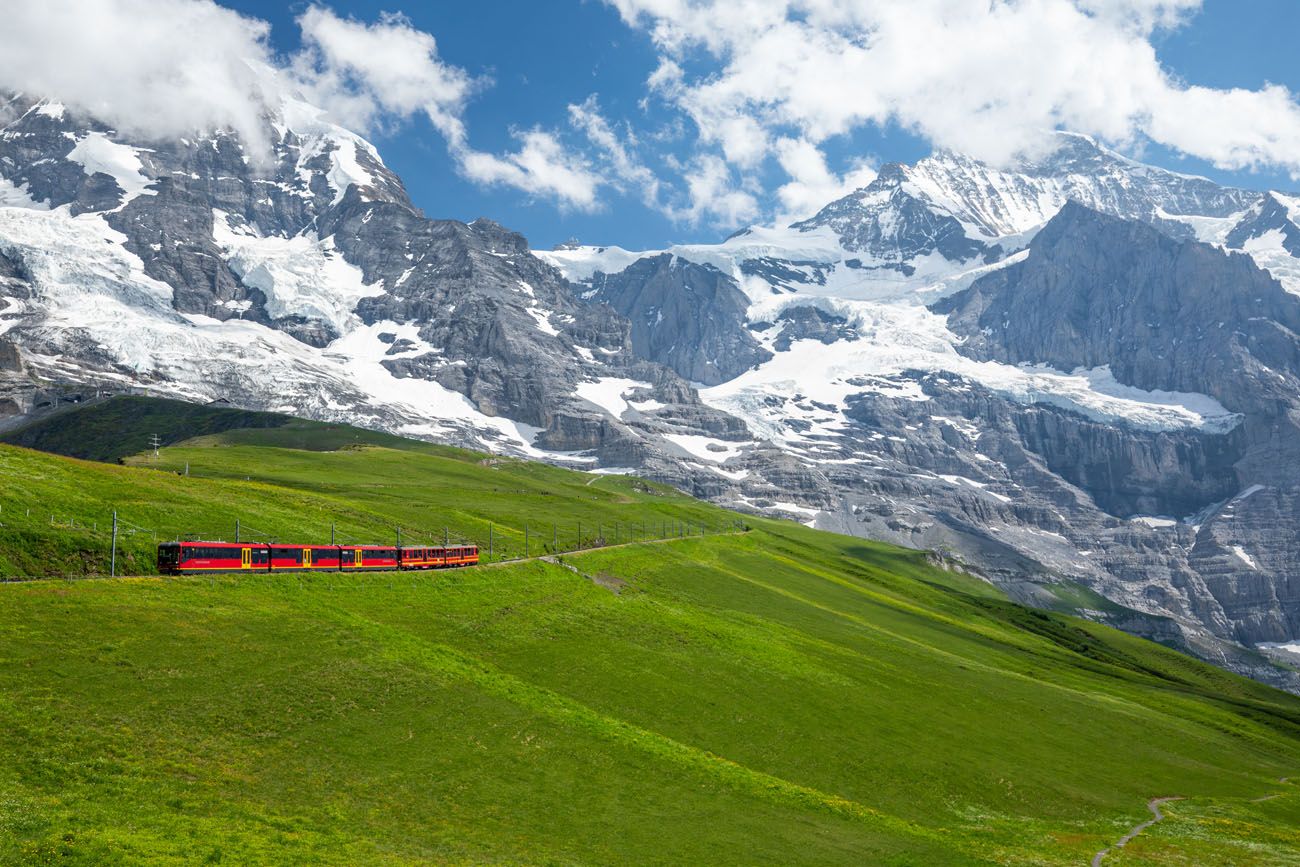 The Jungfraubahn, before it enters the tunnel.
How Much Does a Visit Cost?
Without any discounts, tickets can cost at least CHF 200 per person (roughly $200 USD). The final train ride (Kleine Scheidegg to Jungfraujoch) costs CHF 152 in the high season.
There are discounts to make this cheaper. If you have the Swiss Travel Pass, you will get a 25% discount. Kids travel free with a Junior Travel Card. The Jungfrau Travel Pass also offers discounts. And if you are on one of the first two trains of the day, your ticket is offered at a reduced price.
What Can You Do on Jungfraujoch?
There is a lot to do, once you are here. Enjoy the panoramic views from the Sphinx Terrace, go snow tubing or skiing on the Aletsch Glacier, hike out to Mönchsjochhutte, and see the ice carvings in the Ice Palace. There are also several restaurants and gift shops where you can spend more money.
A visit typically lasts 4 to 5 hours, a little bit longer if you also plan on snow tubing or skiing.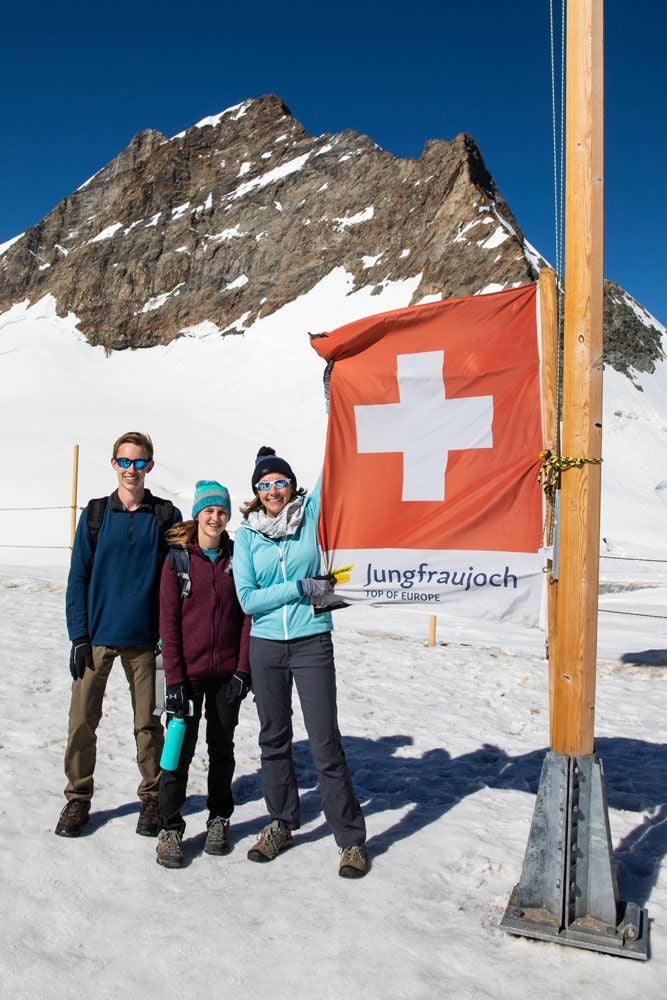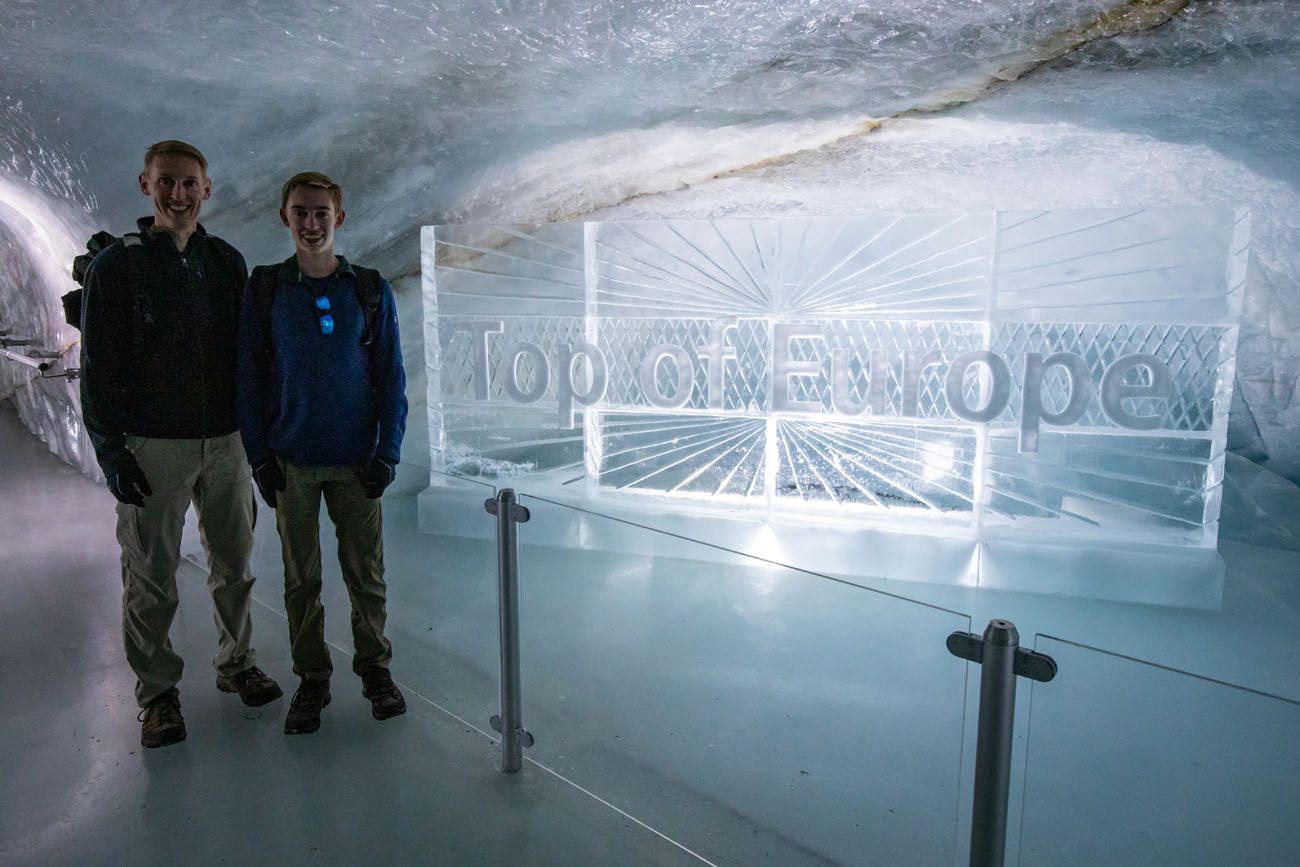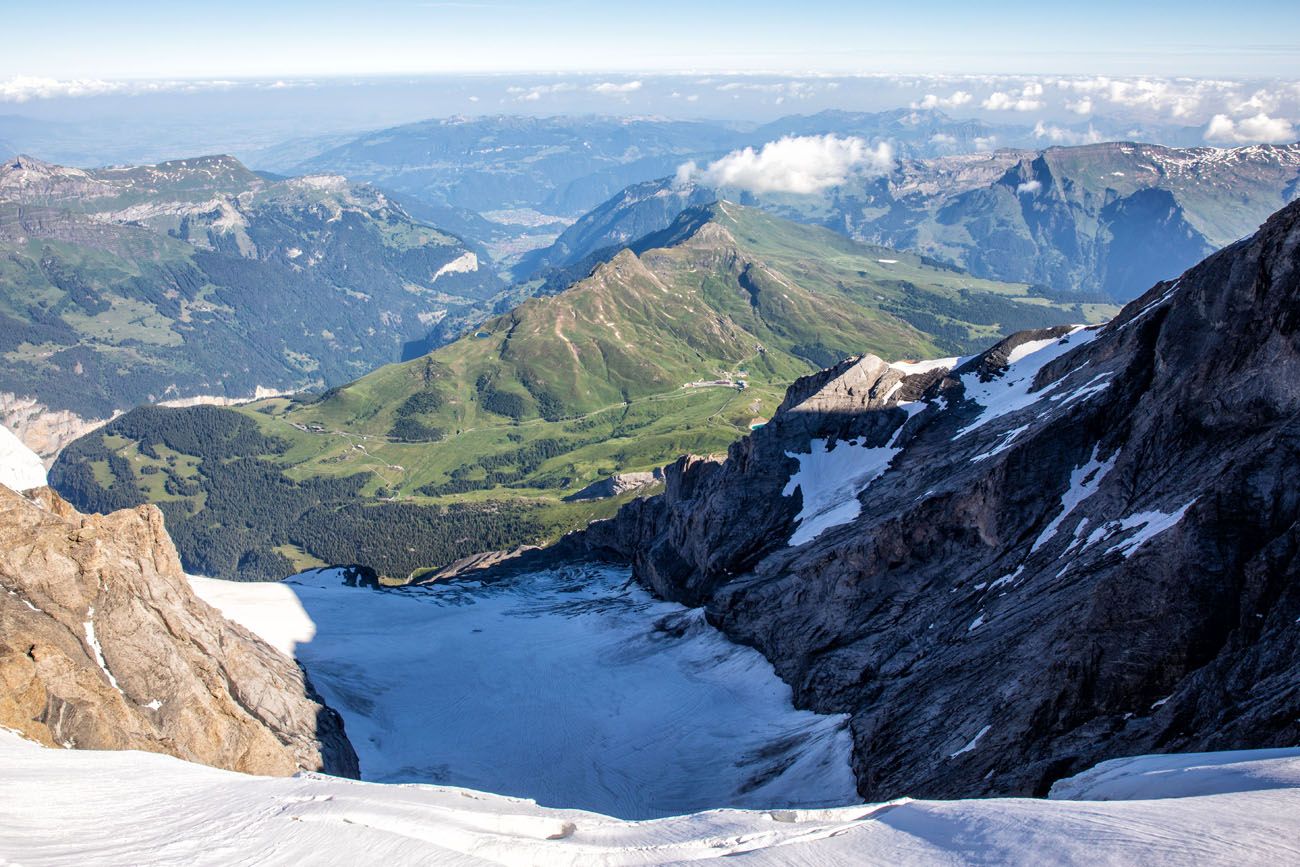 The view from the Sphinx Terrace.
---
An Overview of Schilthorn
Schilthorn is another high alpine peak in the Bernese Oberland. It sits across the Lauterbrunnen valley from Jungfraujoch.
Piz Gloria, the main complex of buildings on Schilthorn, was featured in the James Bond movie On Her Majesty's Secret Service. While you are here, you can dine in the rotating restaurant that was featured in the movie.
How to Get to Schilthorn
Most people get to Schilthorn by riding the series of cable cars that starts in Stechelberg. There is also a hiking trail to the top.
The ride on the cable car is one of the best parts of the visit to Schilthorn. You silently drift over small towns and hamlets, past farms and their cows and sheep, and the views of the mountains get better the higher you go. There are no cold, dark tunnels on this journey, just sweeping views of the Bernese Alps.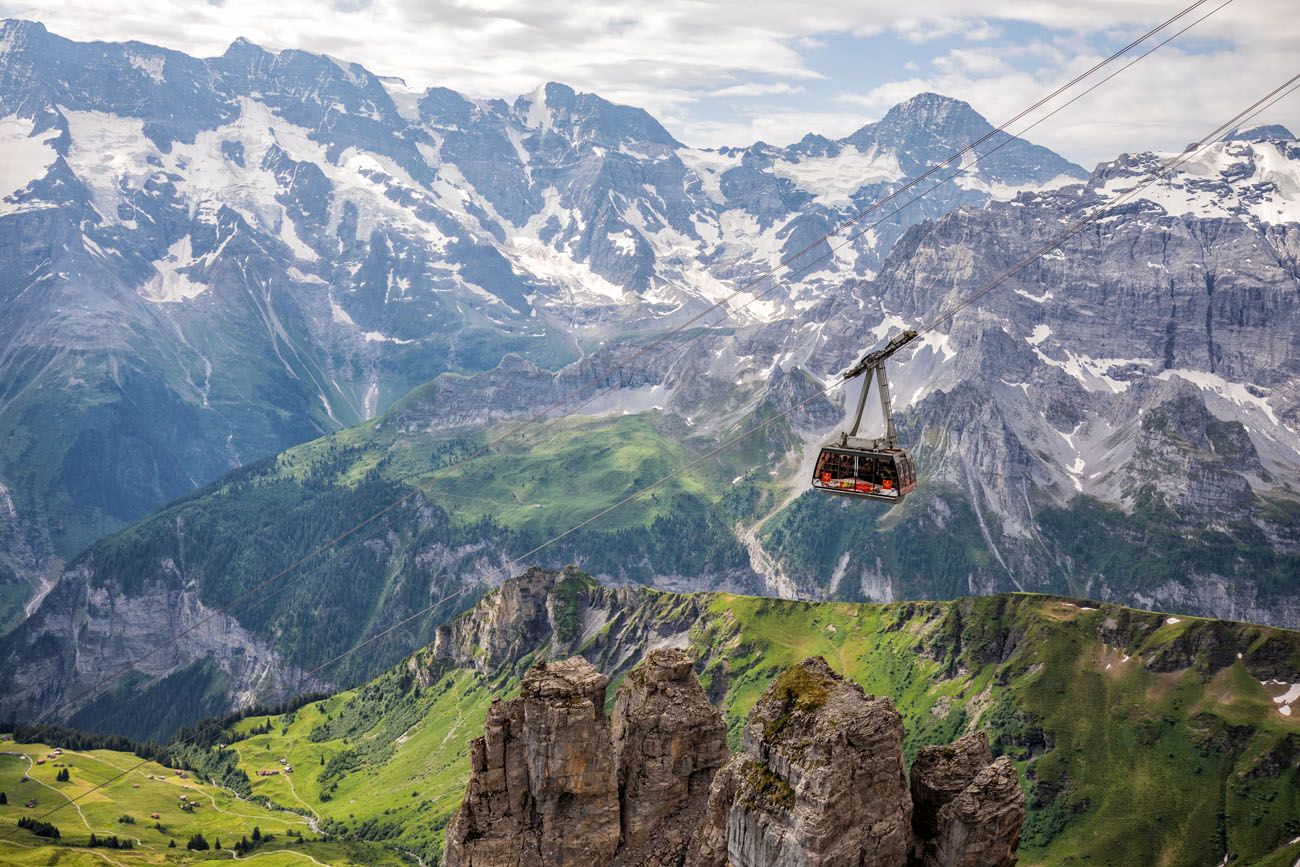 A view of the cable car, taken from Birg.
How Much Does a Visit Cost?
A visit to Schilthorn is much cheaper than Jungfraujoch. Again, your cost depends on your starting point, but prices range from CHF 85 to CHF 125.
Similar to Jungfraujoch, you can also get discounts on these prices. The Swiss Travel Pass gives you a 50% discount (starting January 1, 2020…before this, the visit to Schilthorn was free with the Swiss Travel Pass). Kids travel free with the the Junior Card.
Of course, if you hike to Schilthorn and ride the cable car down (or vice versa), you save roughly 50% on the ticket price.
What Can You Do on Schilthorn?
From the viewing platform at Schilthorn, you get amazing views of Mönch, Eiger, and Jungfrau, not to mention 200 more mountain peaks. Have brunch at Piz Gloria, the rotating restaurant, and visit Bond World.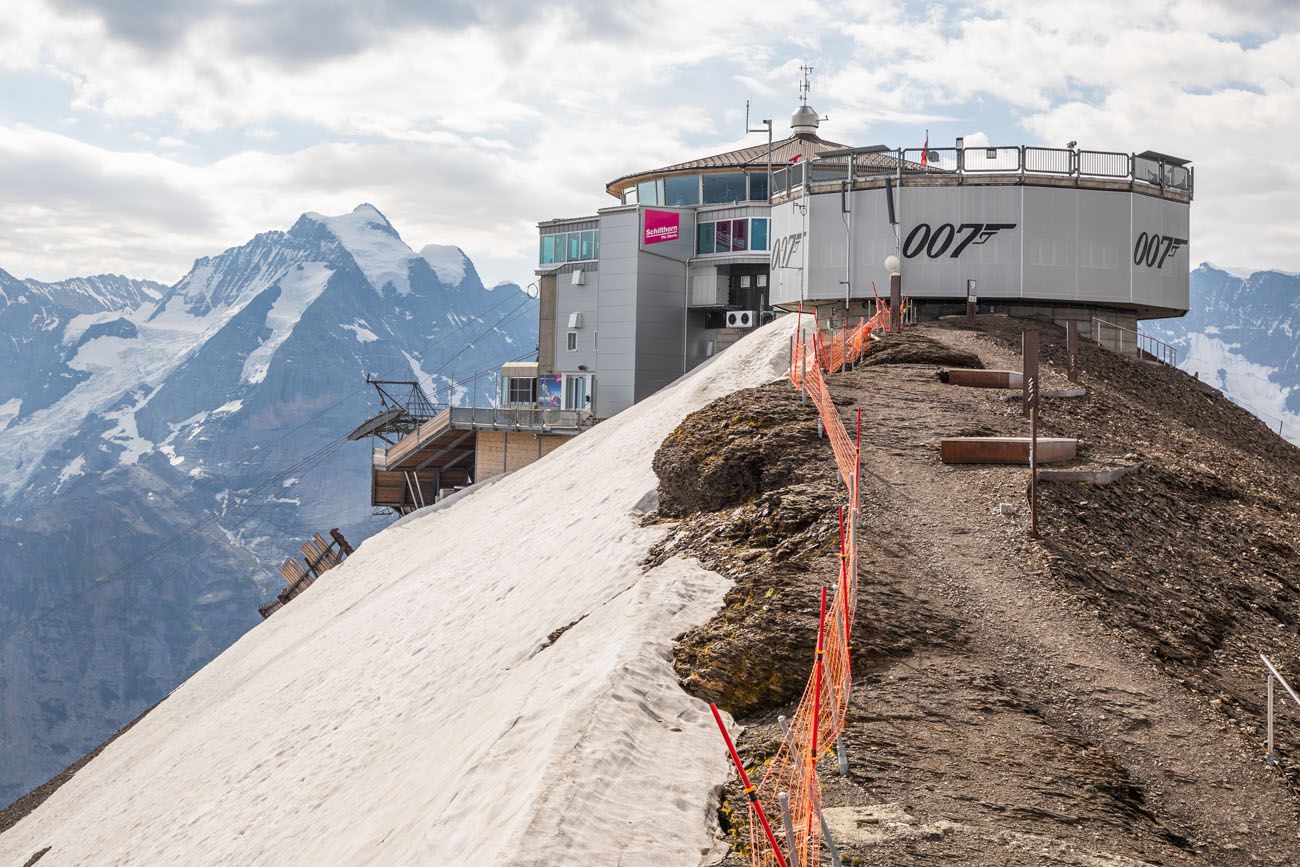 On the cable car ride to Schilthorn, you will transfer in Birg. Walk the Thrill Walk and enjoy more stunning views of the area.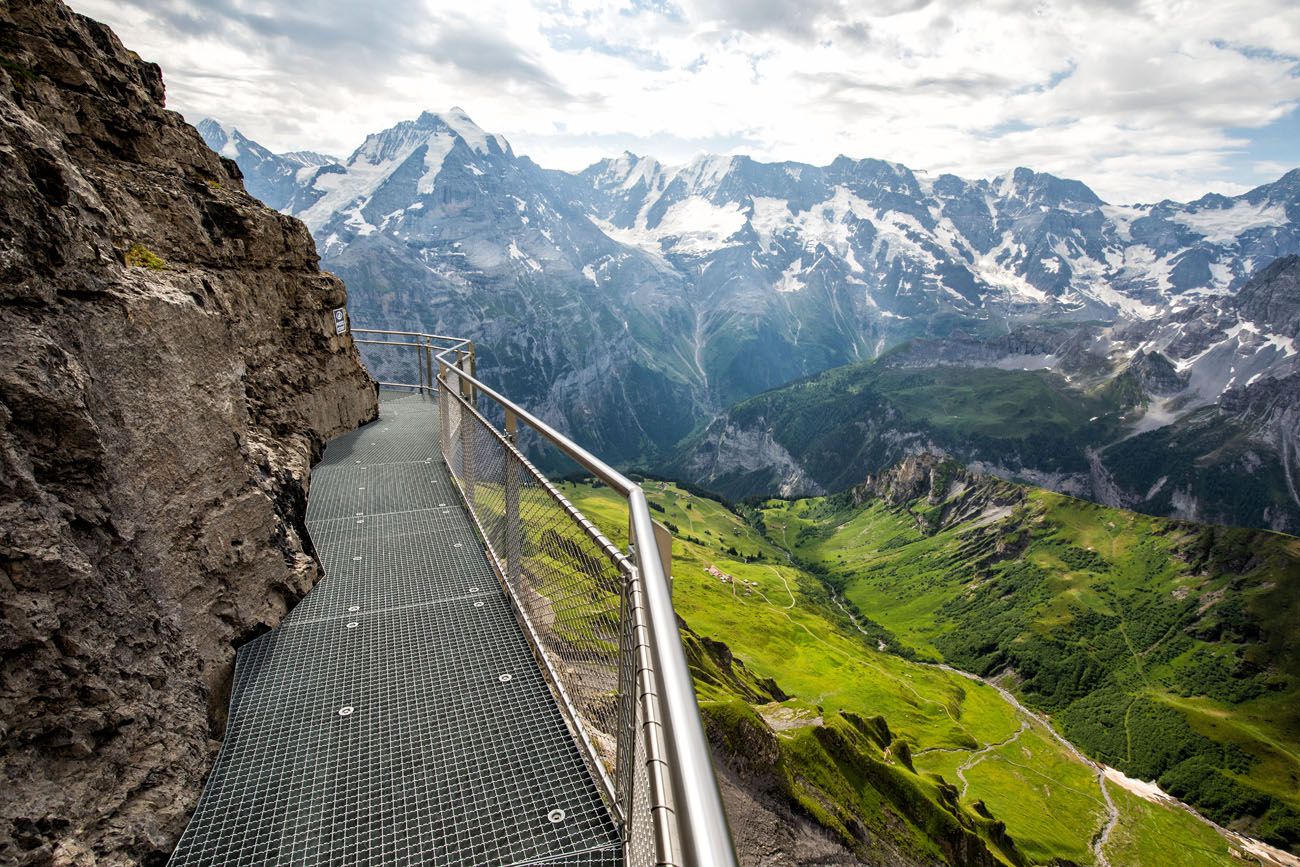 Birg Thrill Walk
---
Jungfraujoch or Schilthorn?
So, how do you decide which one to visit? Here are the advantages and disadvantages of both.
Jungfraujoch…The Good
Visit a UNESCO World Heritage Site
Jungfraujoch is located within the Jungfrau-Aletsch Region, an area that was chosen as a UNESCO World Heritage Site in 2001. For those who are trying to see as many UNESCO sites as possible, this would be one for the list.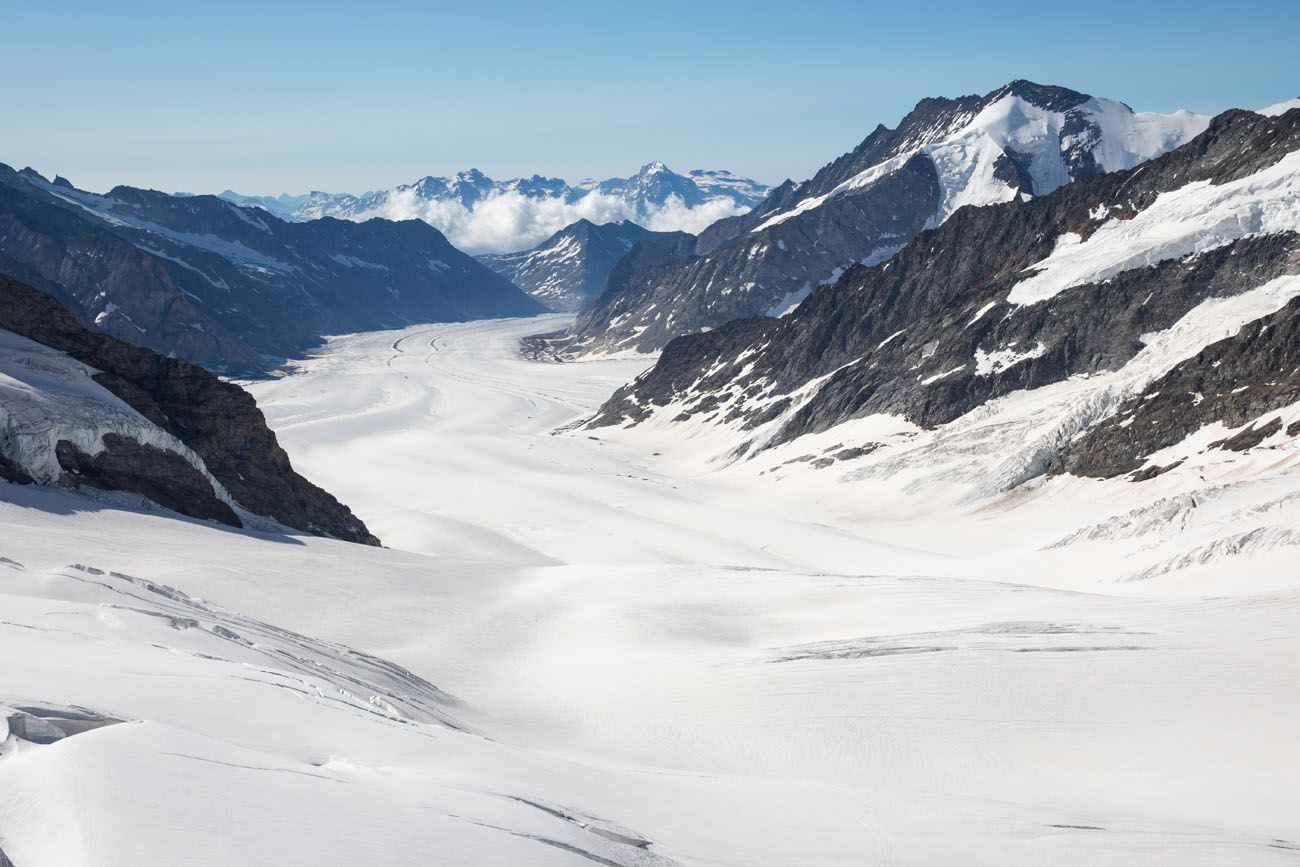 View of the Aletsch Glacier from Jungfraujoch
Ride a Historic Train
Jungfraujoch is the location of the highest train station in Europe. Construction of the railway began in 1896 and was all done by manual labor: pick axes, shovels, and human labor. It took sixteen years to complete the railway, officially opening in 1912.
Play in the Snow/Walk on a Glacier
At Jungfraujoch, you get to go hiking, skiing, and snow tubing, even during the summer months. For many visitors, this chance to play in the snow is one of the highlights of a visit here, especially for visitors who typically don't get to see snow where they live.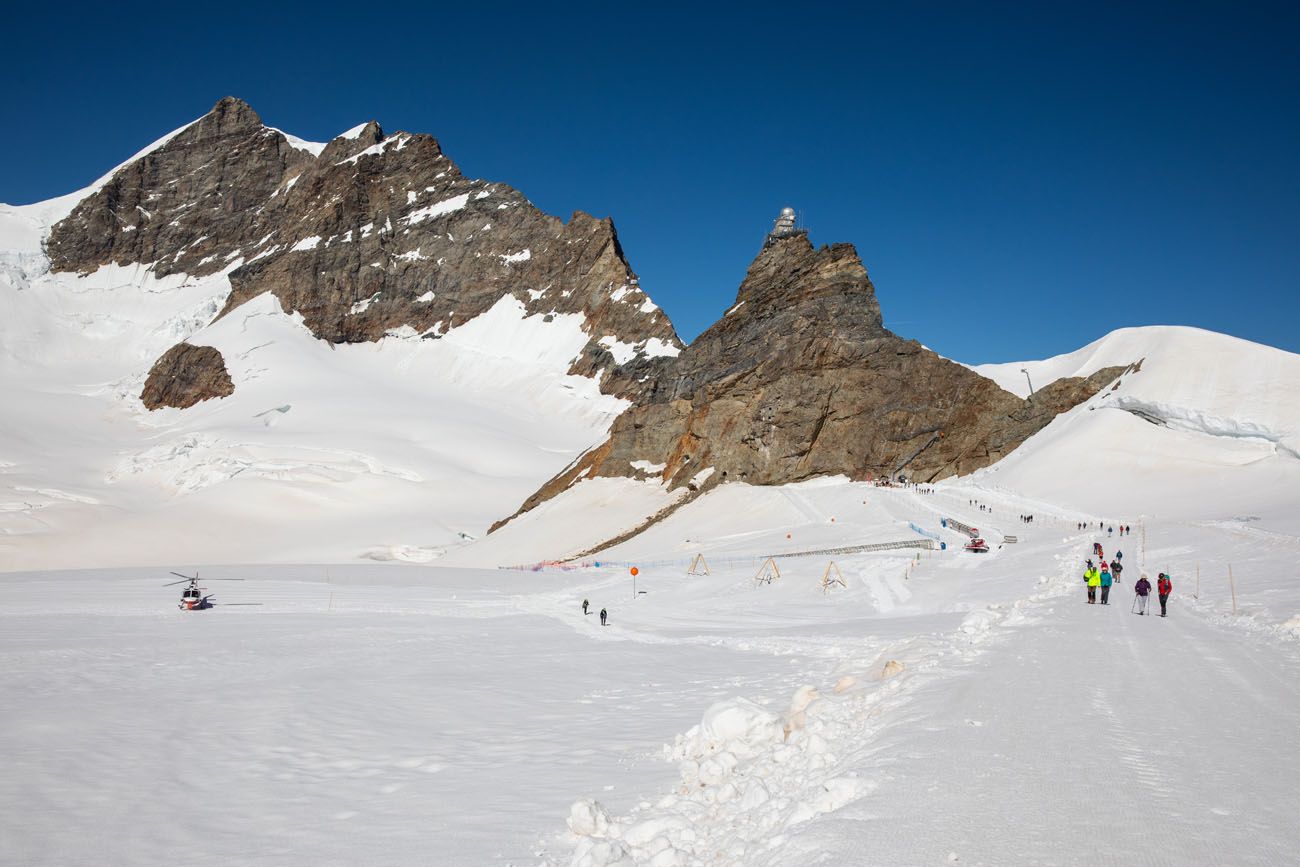 Best Choice for Kids
With the chance to play in the snow and the ice carvings in the Ice Palace, Jungfraujoch is a better choice if you are traveling with kids.
Jungfraujoch…the Bad
It's Expensive
The visit to Jungfraujoch is nearly double what you will pay to visit Schilthorn. Yes, you get to do more once you are here, but CHF 200 is a lot to spend.
It Feels More Touristy and Crowded
There is a lot more marketing to draw visitors to Jungfraujoch. Not only will people be arriving from nearby locations like Grindelwald and Lauterbrunnen, but also Lucerne and even Zurich.
To avoid the crowds, make sure you are on the first train of the day. Even then, it will still feel crowded, especially in the summer months.
You Should Book Your Tickets in Advance
This is such a popular activity that if you want to be on that first train, you should book your tickets 1 to 2 days in advance. Watch the weather and keep your fingers crossed that the forecast doesn't change, if it's predicted to be a clear day when you reserve your tickets.
Schilthorn…the Good
The Ride to Get Here is Thrilling
No expensive train ride. No ride through a long, dark tunnel. Just a series of thrilling cable cars get you to Schilthorn.
Brunch at Piz Gloria, the Rotating Restaurant
We loved this! It takes 45 minutes for the restaurant to do one complete revolution, and during this time, you get to enjoy the view as over 200 mountain peaks slowly drift by outside your window.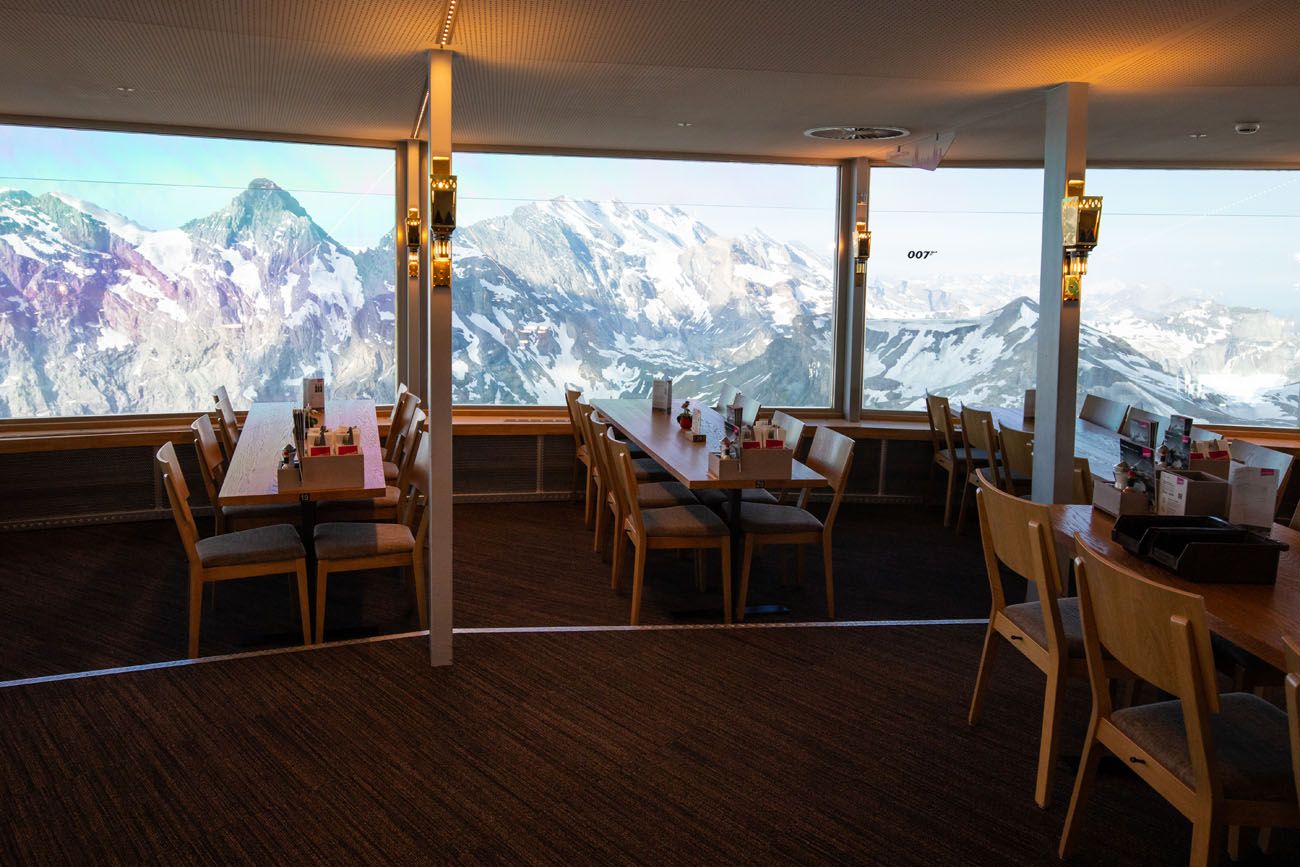 The View is Better than Jungfraujoch
This is just my opinion, but I think that the view is better from Schilthorn. Since Piz Gloria sits on top of a mountain peak (versus Jungfraujoch, which sits on a saddle between two mountains), you get 360° views of the Alps. Plus, you get a spectacular view of Jungfrau, Mönch, and Eiger, with the Lauterbrunnen Valley stretched out in front of it.
At Jungfraujoch, your main view is of the Aletsch Glacier, which is wonderful, but it's not jaw-dropping like the views from Schilthorn.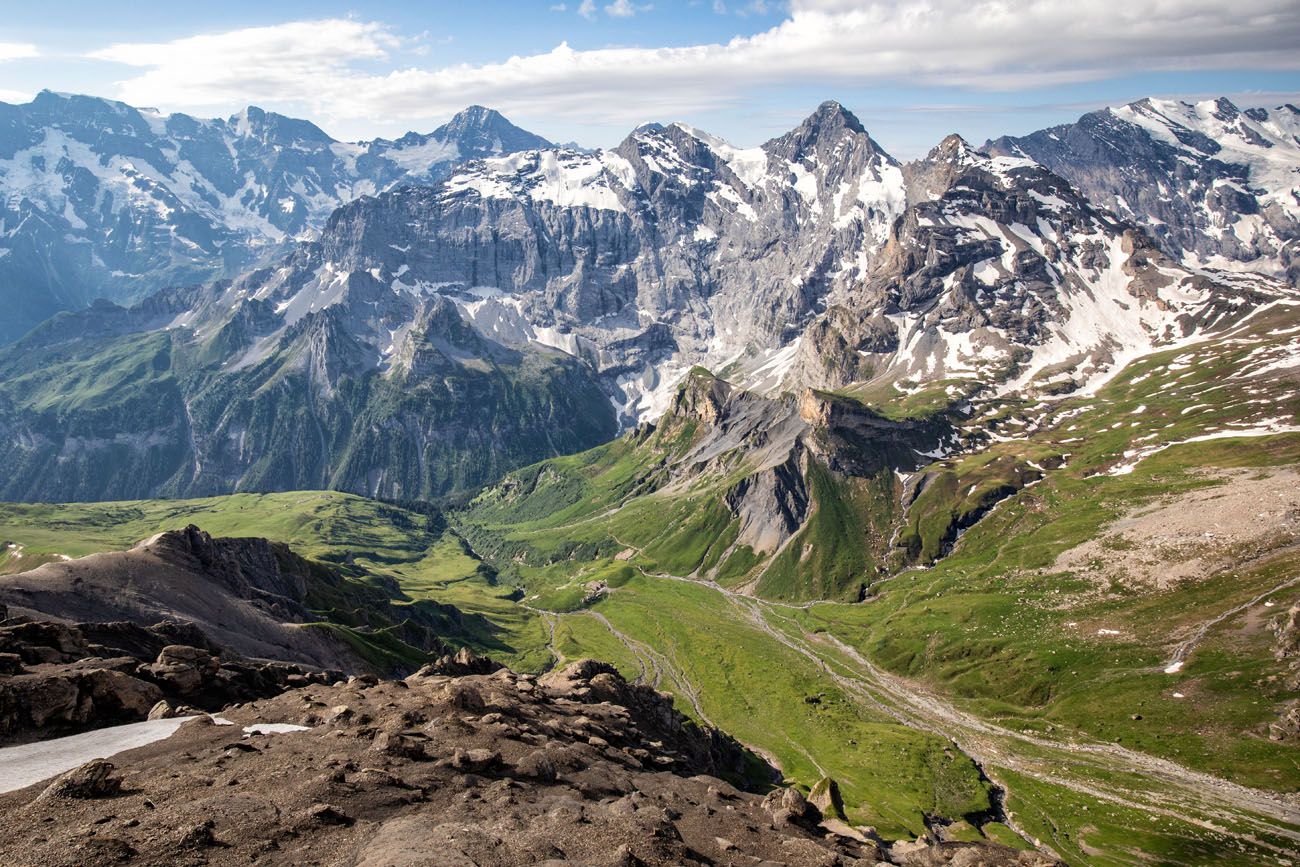 The view from Schilthorn
It's Cheaper
Ticket prices are roughly half of what you spend to visit Jungfraujoch.
You Can Hike to Schilthorn
For those looking to add on an epic hike with even more amazing alpine views, you can hike to the peak of Schilthorn (or ride the cable car up and hike back down to Mürren or Gimmelwald).
You cannot hike to Jungfraujoch.
Takes Less Time
If you are staying near Mürren, you can be at the top of Schilthorn in less than 30 minutes (it took us 2 hours to get to Jungfraujoch from Mürren). There is also less to do here, so in general, most visits last 3 hours. If you are short on time and staying in or near the Lauterbrunnen Valley, choose Schilthorn.
It's Less Crowded
For both experiences, we were either on the first train or the first cable car of the day. The train to Jungfraujoch was completely full, so that's a lot of people immediately flooding the building.
For Schilthorn, we shared the much smaller cable car with just a handful of people. While we dined at Piz Gloria, we almost had the restaurant to ourselves.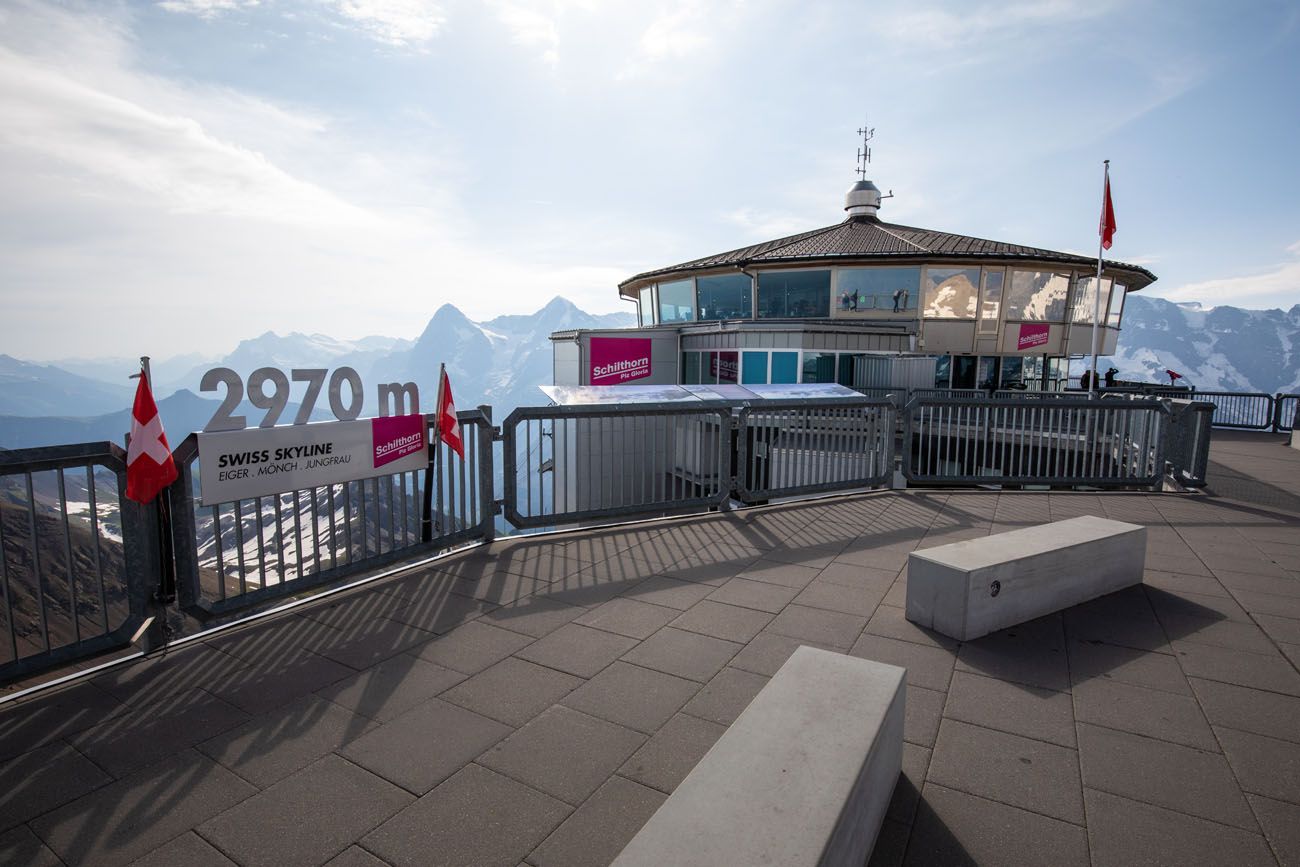 The Schilthorn terrace first thing in the morning.
Schilthorn felt wonderfully empty compared to our experience at Jungfraujoch.
It does get crowded on Schilthorn, typically between 10 am and 4 pm. But at least you have the chance to have a quieter, less crowded experience here, if that is important to you.
Birg Thrill Walk
On the ride up to Schilthorn or back down to Mürren or Stechelberg, get off at Birg and walk the Thrill Walk, for more stunning views of the Alps.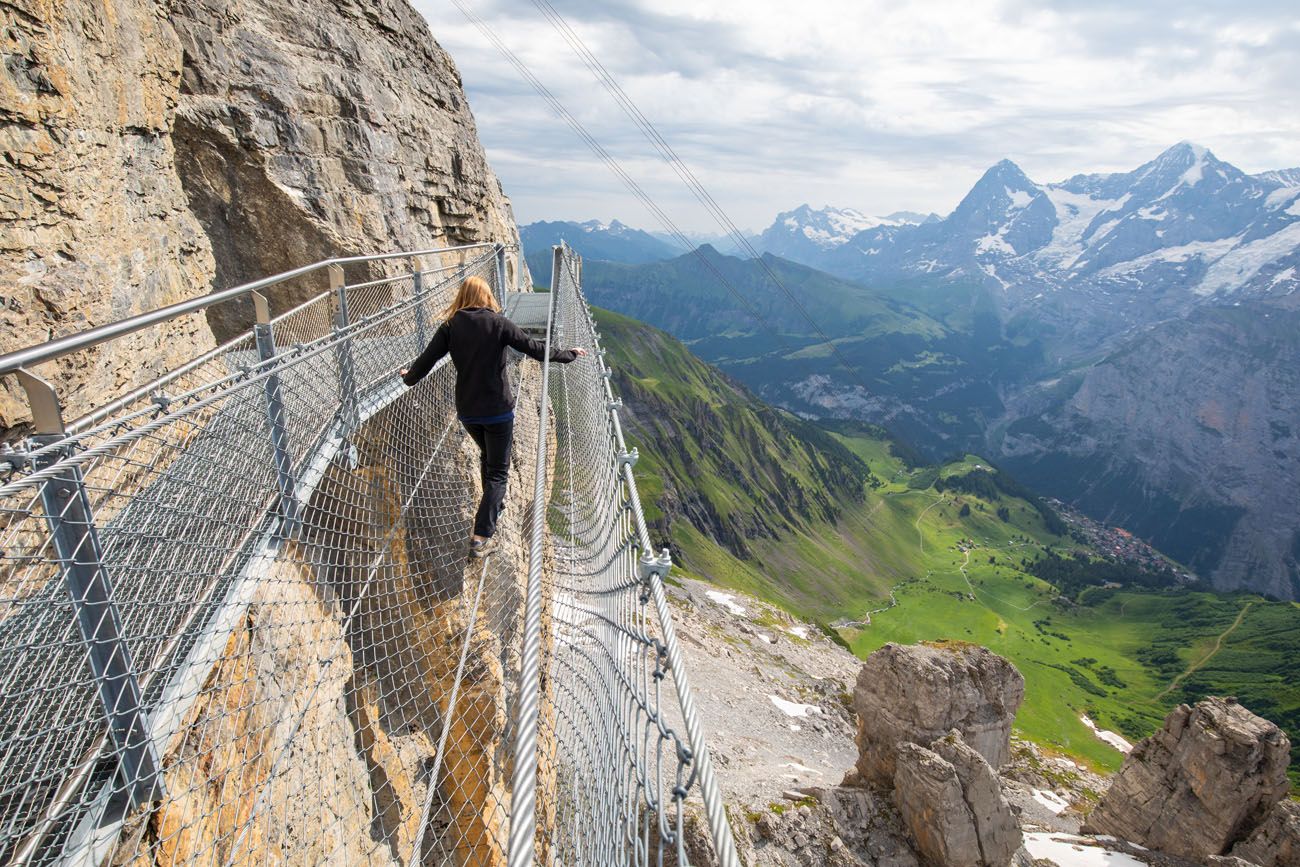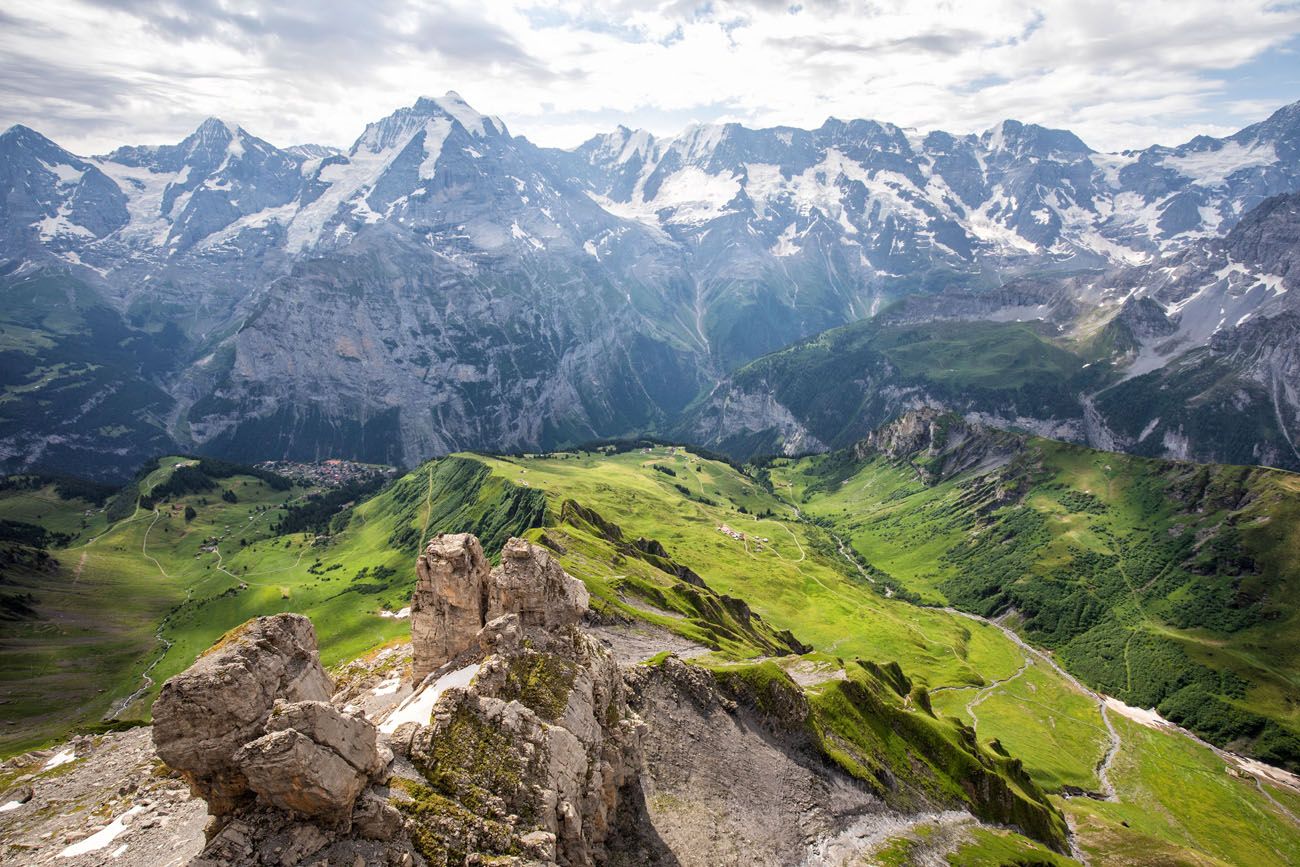 The view from Birg
Schilthorn…The Bad
Less Likely to See Snow
Mid to late summer, there is not much snow left on top of Schilthorn. However, new for 2020, an area will be opened up where visitors can touch the snow.
But if you want to walk on the snow, Jungfraujoch is the clear winner.
---
In Conclusion
The main reasons to visit Jungfraujoch are for high alpine views of a wintry wonderland, the chance to walk and play in the snow, and to ride a historic train to the highest train station in Europe. The downside is the huge price tag (up to CHF 200 per person) and the possibility of spending at least 3 to 4 hours on trains, depending on your starting point.
The main reasons to visit Schilthorn are to ride the series of thrilling cable cars, take in 360° views of the Alps, dine at Piz Gloria, and walk the Birg Thrill Walk. This is much cheaper and quicker to visit, so if you want high alpine views without spending a small fortune, choose Schilthorn.
Of the two experiences, Schilthorn was our favorite. We enjoyed both, but the price and length of time to get to Jungfraujoch is a big minus. Plus, the crowds get to be insane mid-morning. But we loved walking out to Mönchsjochhutte and this was our favorite experience at Jungfraujoch.
Schilthorn was an all-around great experience. From the cable car ride to the wonderful brunch and the Birg Thrill Walk, we enjoyed every single minute of this experience.
If you can visit both, do it, because I think that they are worth it, since they offer different experiences. Just make sure you do this on clear days so that you get to enjoy the spectacular views.
I hope this helps you make your decision, and if you have any questions, let us know in the comment section below. Also, if you have done both, which one do you recommend?
---
More Information for Your Trip to Switzerland:
Read all of our articles about Switzerland in our Switzerland Destination Guide.
You Might Also Like: