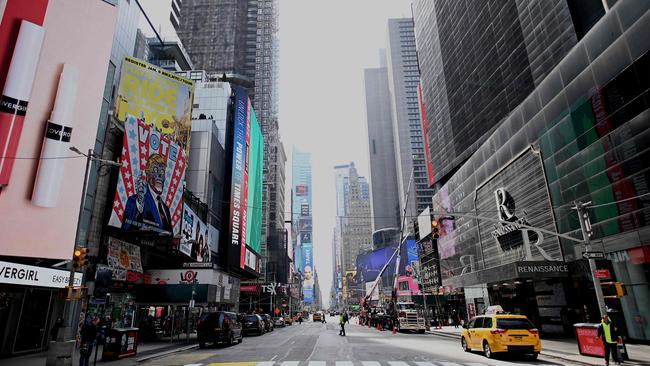 The US is facing the prospect of going into complete lockdown where residents can only leave their homes for food, medicine and exercise, according to New York's mayor.
In an interview on Tuesday morning local time, Bill de Blasio told CNN he may soon issue a shelter-in-place edict for New Yorkers, similar to the one in San Francisco.
The San Francisco order prevents people from leaving their homes except for necessities over the next three weeks.
"We're absolutely considering that," he told the network.
"We're going to look at all other options, but it could get to that for sure for the whole country.
The move would mark a major escalation of the Big Apple's coronavirus containment plan, which last night saw the city's restaurants, bars, cafes, clubs, theatres and schools closed down until at least April.
Mr De Blasio also said he expects the city's bars and restaurants to be closed "for months" except for takeout and deliveries. He put the timeline through to June or "longer." So far, 1,374 positive cases have been confirmed in New York state, and 12 deaths.
"We need to have in our minds that this could be a crisis of at a minimum several months," Mr De Blasio said.
Nearly seven million people living in a wide swath of Northern California, including Silicon Valley, are currently under the "shelter in place order."
Along with San Francisco, residents in San Mateo, Santa Clara, Marin, Alameda, and Contra Costa counties, along with the City of Berkeley are being required to stay home, per an order from Health Officers of those jurisdictions.